Hello All. I just arrived home about an hour ago from a very busy afternoon and evening. I'll try to make this brief because I have an early day tomorrow – you'll see why at the end – he he!
After breakfast, my husband and I headed out to run errands, go to Target, etc. Then we stopped for lunch at a Chicago favorite – Portillos! I do not eat fast food very often, in fact very rarely. But, I do love Portillos. I usually get an all-beef, Chicago style hot dog, but today I went the semi-healthy route…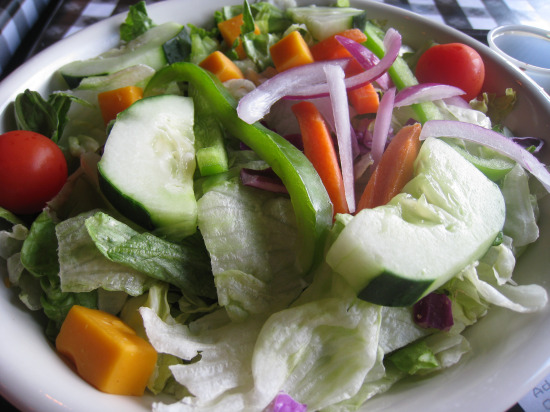 I had a gourmet garden salad with mixed greens, green peppers, carrots, grape tomatoes, and cubed cheddar cheese, topped with raspberry vinaigrette. It wasn't the best salad that I've had, but I needed something healthy to balance the other thing that I ate…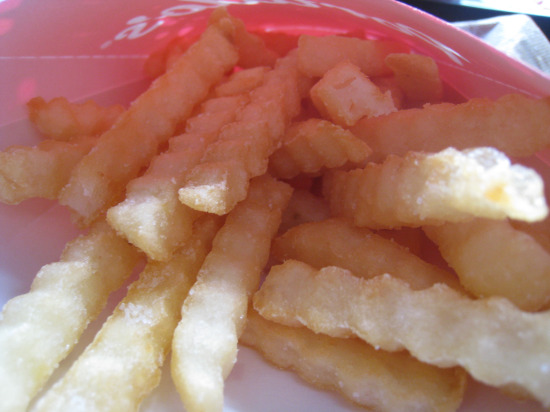 Yummy crinkle-cut French fries! I try to avoid eating French fries for the most part, because when I eat them, I just can't seem to stop. And, Portillos fries are some of the best I've had – thank goodness they are not bottomless like Red Robin!
After lunch, we headed home to do a little work. My husband did paperwork for his consulting business and I did research for work and answered a few emails. I then became so sleepy that I dozed off for about 30 minutes. It was a perfect cat-nap to keep me going for the rest of the day.
Around 5 PM, we headed to a local fair/car show near our house. It was located on the grounds of a school and they were raising money for charity. I am not a car person, whether the car is old or new. But, the fair also had many local vendors displaying their products/crafts, which were fun to browse. 
Dinner was a quick one at TGI Fridays. When my husband and I first moved into our house, we went to Fridays nearly every week. I have no idea why we were such loyal patrons other than, at the time, there were very few good restaurants in the area. After doing that for a couple months, I became burned out on Friday's and never wanted to go there after that.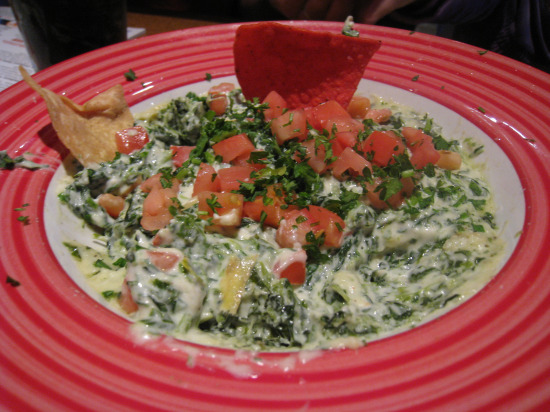 Tonight, we did a double split – splitting both the appetizer and the entree. We started with one of our old favorites – the Tuscan spinach dip. It was really good and tasted just like I remember. Next, we split the parmesan-crusted chicken with 3-cheese tortellini and a side of caprese salad.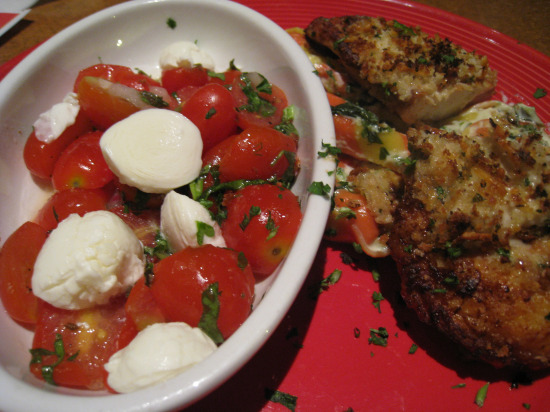 I had so much spinach dip that I seriously could have not eaten a bite of the entree and been fine. However, I did end up eating about 1/4 of the chicken, 1 bite of the tortellini, and scoop of the caprese salad. The meal was good but I will probably not be heading back to the restaurant anytime soon. There are too many other restaurants to choose from to rely on Fridays for my meal.
After dinner, we headed to Trader Joe's to pick up a few staples, like feta cheese, yogurt, and whole almonds. I was so surprised to see how busy the store was and it was after 8 PM! 
Well, I am now off to bed. I know, 10:15 PM is so early for Saturday, but my husband and I are headed to downtown Chicago tomorrow to watch the annual triathlon! I'm so excited because it's the first triathlon I have ever seen in person. My brother-in-law is racing in it and he starts around 8 AM. I don't plan on getting down there that early, but we want to see at least one transition and see him cross the finish line. I can't wait to cheer on all of the athletes. I remember running in the 1/2 marathon and feeling so appreciative of all the people who came out to cheer for us.
Because Sunday is my run day, I need to get up extra early (like 6 AM) in order to be done with my run and ready to leave for the event by 8 AM. We're driving down there and parking somewhere near the finish line, which is probably a mistake because it's going to be a madhouse down there. Oh well, I'll keep my fingers crossed!
Good night!