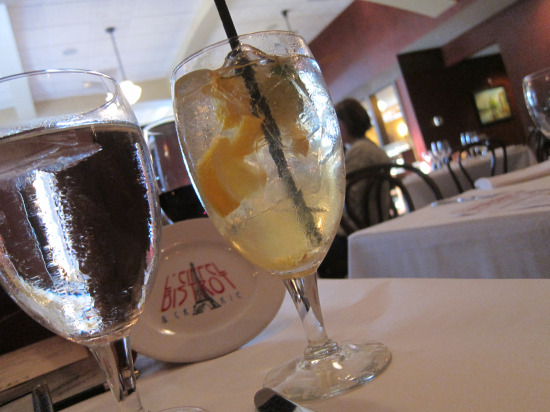 Last night, Scott and I had the "night off" from parenting. We took advantage of our time alone and headed to a local French bistro. Although I love going out for French food, I don't usually stray too much from what I normally eat – salad, chicken, fruit, etc. Of course, we started with drinks – mine being an awesome French sangria made with a splash of Grand Marnier – that's what makes it French. The GM made all the difference in the world with this drink – fabulous! Who knew French restaurants offered Sangria? Notice the plate that Scott strategically placed behind my glass.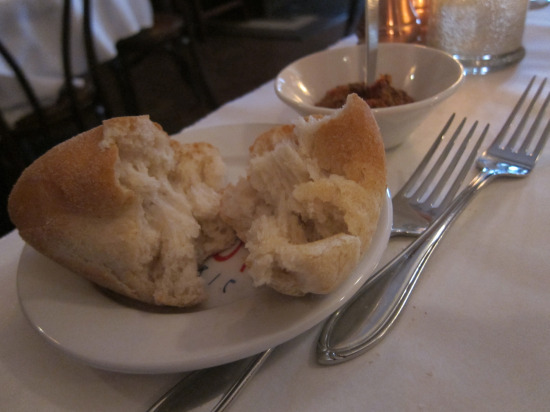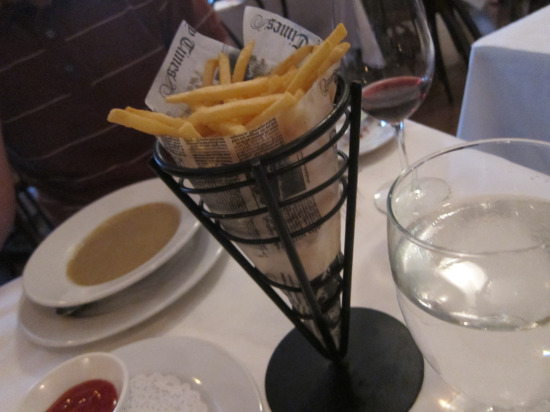 When you're drinking, it's good to soak up some of the alcohol with food – I think that's what French bread was made for and this was some of the best I've had! I am sooo glad that they did not put a big basket of this bread on the table – it was delivered in individual pieces by a "bread server" – I seriously would have eaten the whole basket, complete with the olive and red pepper tapenade that it came with.
I was going to pass on the appetizer but then I saw this cute little cone-shaped holder on someone's table – ahh French Fries! Yes, I did get them, but only because they were served in the traditional French metal holder with a piece of "newsprint" to soak up the oil.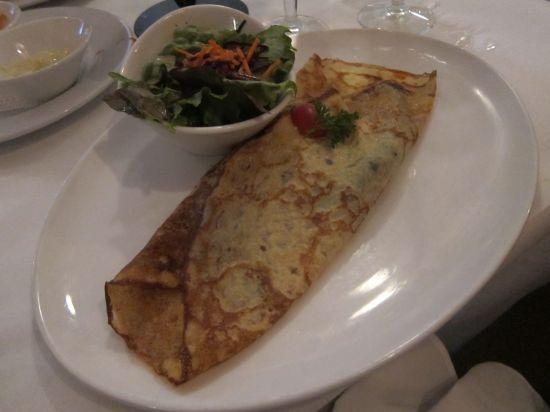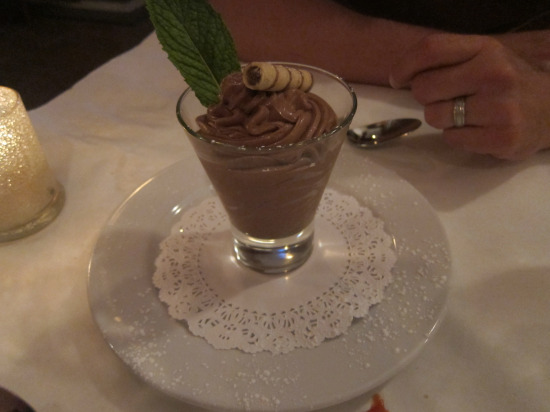 I was not in the adventurous mood (no cow tongue or snails for me!) so I opted for an eggplant and goat cheese crepe. Not gonna lie to you, it was just ok – rather uninteresting and blah by crepe standards. I decided not to waste the calories and only ate about 1/2 of it. Last but not least, Scott and I shared his dessert fave, chocolate mousse. The mousse was divine and I kept my tastes to just two bites – that's really all you need with super rich mousse.
The best thing about this dinner was that I did not have to eat it with a 2-year old sitting on my lap. I'm all about sharing the love but not when I'm eating!