It's hard to believe that two weeks ago today I was just starting my week-long vacation in Florida. How time flies! This morning, I jump-started my day with a 5 mile run outside. Woo Hoo! I love running outside! My calves are killing me though which is so weird since the terrain is pretty flat.
After running, I enjoyed a leisurely breakfast…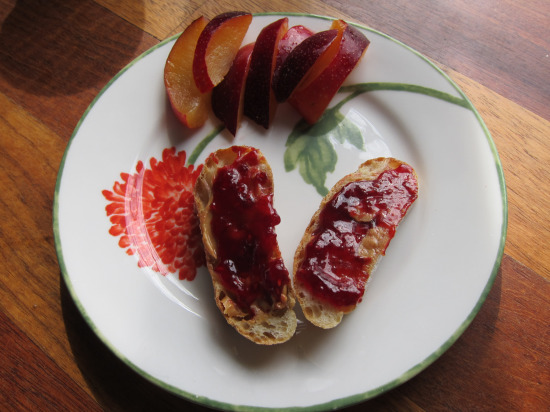 I cut a few slices of the French bread I bought last night and topped them with all-natural creamy peanut butter and Bonne Maman raspberry jam. This breakfast was so awesome! I even gave some to Mr. C and Miss M who asked for more. I guess I wouldn't normally put peanut butter on a baguette, but I really wanted the protein and MUFA. I wonder how the French would feel about peanut butter on a baguette!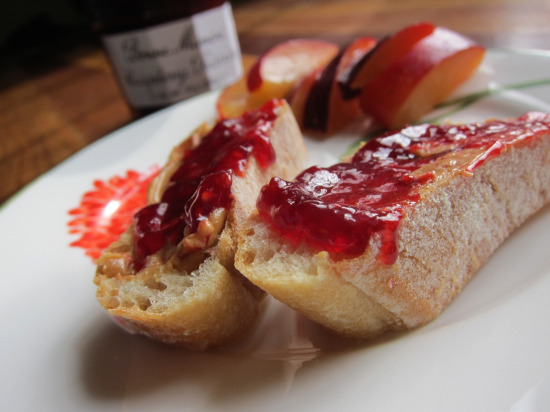 This morning was a first for me – the first time I ever ate a fresh plum (that I know if anyway). It was pretty good too – tasted a little like a peach that was not fully ripe. I would definitely buy plums again though, just for a change.
Scott and I took the kids out for lunch today – surprise, surprise. Fridays during Lent are also a little iffy when it comes to meals. I don't like any type of seafood, so I'm pretty limited on what I can eat. Today, we headed to Go Roma for a veggie panini made with red peppers, spinach and basil, and goat cheese..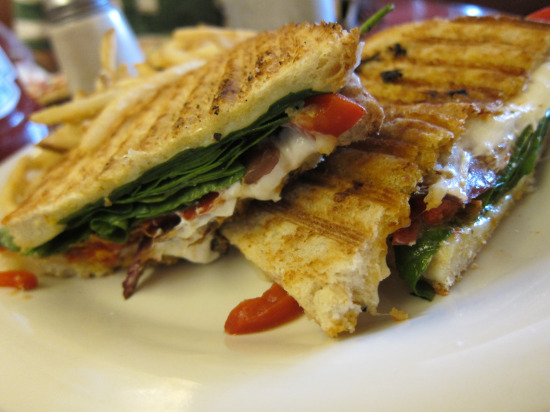 Great sandwich, as always. I was in charge of dinner tonight and had no clue what to make. You may find it hard to believe but we did NOT go out to eat again for dinner. I cooked up some whole wheat pasta and mixed it with Newman's mushroom marinara…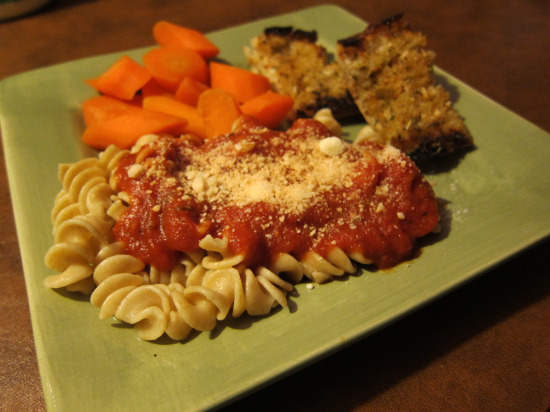 …meatless and adequate – so it met the requirements for today.
I'm contemplating what to do tomorrow…shop for new clothes for Fitbloggin and/or head downtown for a little fun – we'll see!