Hello everyone! I am super tired right now because I stayed up until 12:30 AM to wrap Christmas presents (exchanged on Thanksgiving) and then woke up at 6 AM! Somehow before we went to bed, our alarm clock radio was turned up full blast. So when the radio alarm went off this morning I woke up to a blaring opera! I don't think I've ever jumped out of bed so fast – it was pretty funny, now that I think about it. But it definitely was not amusing at the time.
I think the shock of the music may have given my body a jolt as well because I had a fantastic run this morning! Despite being a bit chilly outside at 6:30 AM (40 degrees), my body seemed to be in supercharge mode. I ran nearly 5 miles in 40 minutes and felt like I could run even more!  Typically, I do not run more than 4 miles on weekdays just because I don't have the time.
I ended up eating my breakfast at work, which worked out just fine…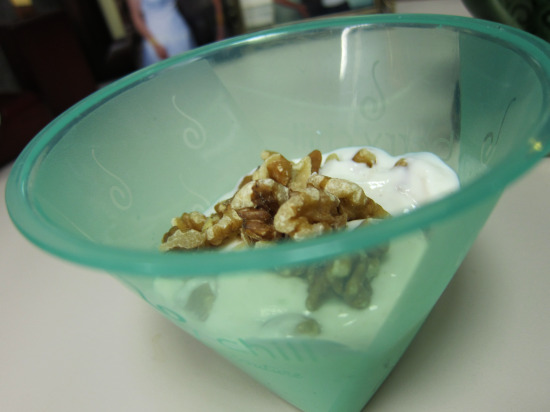 My Trader Joe's Greek vanilla yogurt with walnuts kept me full until lunch. I also had a humungo cup of Tazo Awake tea love goin' on today…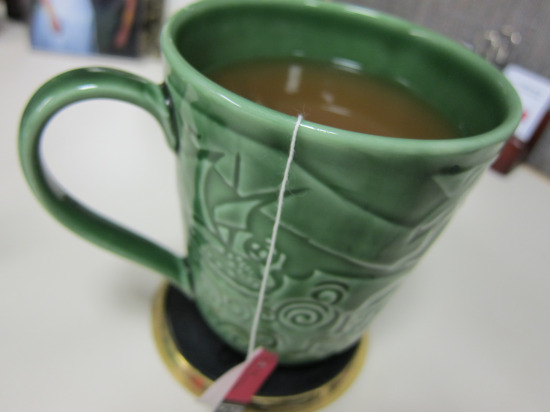 My boss returned to the office today after being gone for nearly 10 days in Seoul, Korea on business. He was thoughtful enough to bring a little something back for everyone on our team (5 women). He gave me a very cute little orange purse..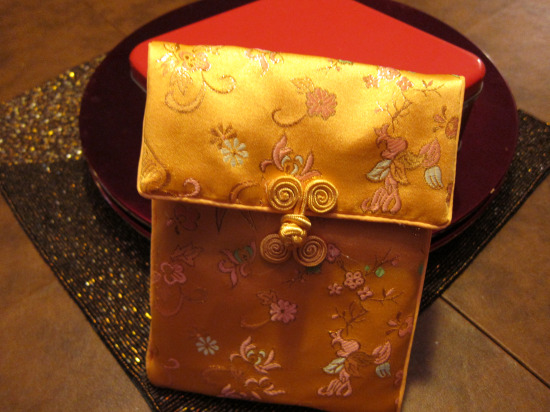 I love the color and the soft, shiny texture. Because it is on the small and dainty side, I think I will end up using it as a jewelry carrier when I travel, rather than for a purse.
I didn't end up eating lunch until 2 PM due to an unplanned meeting. I was sooo hungry by the time I ate my cream of chicken and wild rice soup…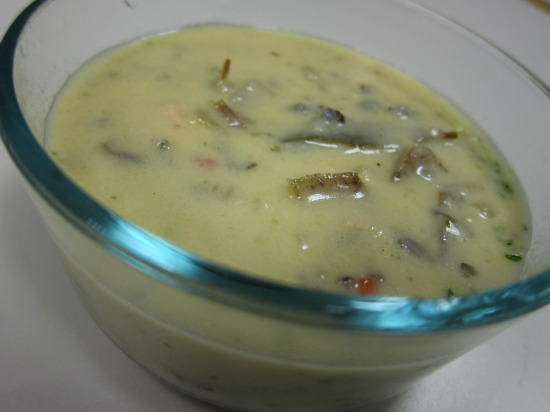 It was Scott's turn to make dinner tonight but he pulled one of my tricks and decided we should just go out to eat instead. We ended up at our favorite Asian bistro Big Bowl. We ordered our traditional crispy chicken egg rolls, which I promptly ate so fast I nearly forgot to take a picture. I was reminded by Scott only after I had already taken a bite – he he!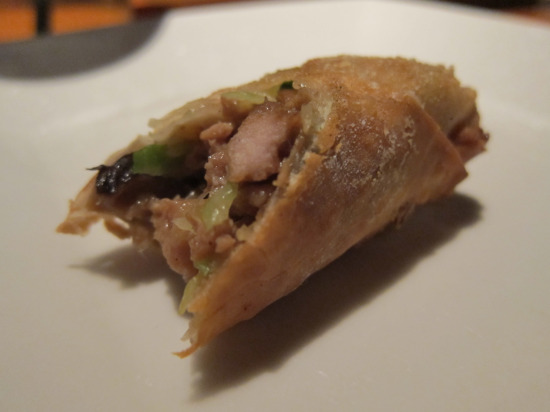 Next up, we split the make-your-own stir fry bar where we chose crispy chicken in a kung pao sauce over brown rice. We also added a bunch of fresh veggies from the stir-fry bar…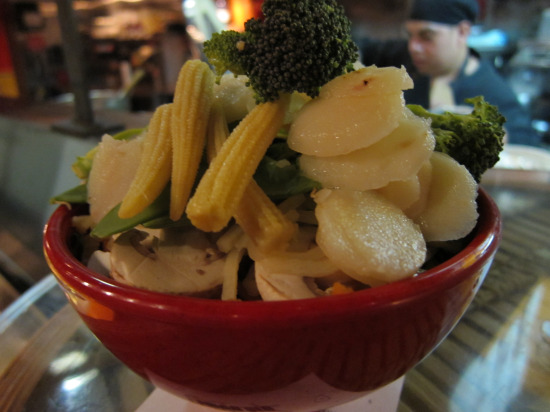 Scott and I have this unspoken competition about who can fit the most veggies in the bowl. It's all about how BIG the bowl (or the veggies in it) can get. To give him proper credit, Scott is a very good stacker and somehow manages to get twice the amount of veggies stuffed in the bowl than I think most people can. However, when he chooses the veggies, he usually choose the ones HE wants even though they are for us to share. He nearly always leaves out my favorites – mini corns, water chestnuts, and bamboo shoots. So today, I took over the "big bowl", and grabbed all of my favorites and stuffed them in. I didn't do too bad of a job as you can see above! Aside from my three favorites, I also added:
Mushrooms
Spinach
Zucchini 
Red and Green Peppers
Shredded Carrots
Pea Pods
Broccoli 
Tomorrow is my last day in the office until Monday – woo hoo! Plus, I'm thinking of only working a 1/2 day so that I can run a few more errands related to my Thanksgiving family dinner.
By the way, any of you who still want to vote for your favorite foodie magazine, you have until tomorrow at 9 PM Eastern. Right now, Cooking Light is in the lead!
Have a great night everyone!