Hello All. Hope you had a great day. My afternoon went very well. Although it rained for most of the day, the clouds broke and the sun came out around 4 PM. What started as a chilly day turned out to be rather warm and muggy. But, no worries, we all had a great time celebrating my 2-year old nephew's birthday.
The party was a BBQ style dinner with all of the fixins', like hot dogs/hamburgers, relishes, fruit, and pasta salad. Oh, and there was a random feta and kalamata olive salad too.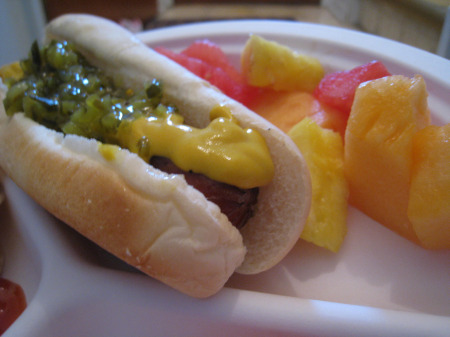 I had an all beef hot dog with a little mustard and relish with some chopped watermelon, cantelope, and pineapple on the side.
I also munched on a few very plump baby carrots (more like toddler carrots!) with some low-cal veggie dip. And, I just had to throw in a few chips and salsa, because who doesn't love this low-calorie appetizer?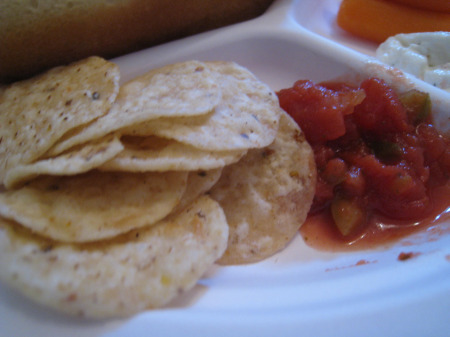 I didn't finish my hot dog, or the chips and salsa, so overall, it was a pretty light dinner for me. But, that's what I like to do on days where I've overindulged the day prior. 
I did, however, have some fabulous birthday cake. Well, it wasn't really a full cake, it was an Elmo cake face, made up of all cupcakes. I had a chocolate cupcake with yellow frosting with some Heath bar ice cream (sorry, no pictures). It was awesome! It's been so long since I've had a cupcake that I've forgotten how much I love them. That's why I don't keep them in the house – ha!
After the party, we headed back to my parents for a little night cap, which was mainly bottled water sipped while sitting on their huge porch. 
Tomorrow, the whole family (including cousins, aunts/uncles) are having a picnic/bbq for lunch. It's been such a long time since we've had everyone together. It's supposed to be 92 degrees tomorrow. Yikes! That's the hottest it's been in a long time…hope we all survive the heat!
Alright, off to bed for me. I'm going to try to get up early to run a 5-miler before we head out for the picnic. Have a great night and see you in the AM.