Hello All! I just finished watching Psych on USA. I love that show! It's one of the very few shows that I watch regularly. It's also one of the very few shows that can make me totally laugh out loud – along with The Office of course!
The afternoon was spent doing a little lounging outdoors and then running more errands, including making yet another trip to the grocery store.
Dinner was grilled lemon pepper chicken, courtesy of my 1/2 chef, 1/2 computer guru husband. We also had wonderful, late summer veggie risotto…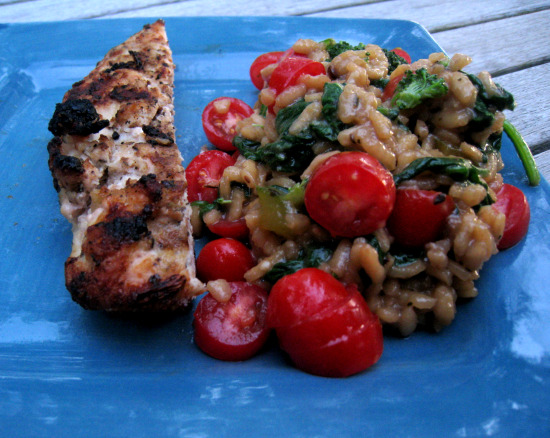 The risotto was made by taking traditional arborio rice and cooking it as directed. But, we also added several sauteed veggies to the rice, including:
Chopped bell peppers
Onions
Broccoli 
Grape tomatoes
Spinach
Parmesan cheese
Risotto is simply amazing and versatile. You can add pumpkin or squash to make it more of a fall/winter dish, or add a ton of veggies for spring and summer.
Ok, girls, it's Friday night and I am spent for the day. See you all tomorrow.