Hello everyone!
Thank you all for your kind words about my last post and my 2 babies! I really struggled with whether or not to tell all of you about them. But then I realized that it's really hard to talk about some aspects of my life (like travel, stress, etc.) without mentioning that I have children! Now you can understand why I've only been posting once a day and so late at night 😉
Anyway, the day started off per usual, with a fast 40-minute run on the t-mill, followed by a big, green, juicy pear – just ripe for the pickin' eating…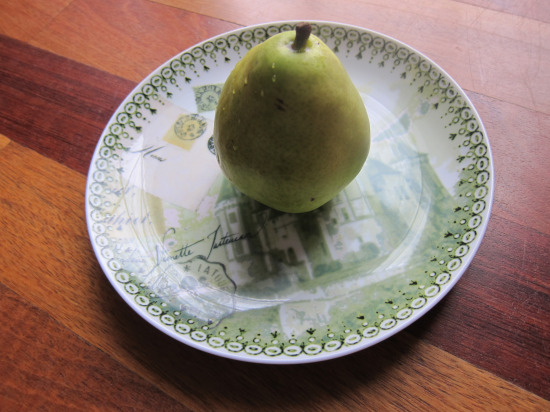 And it looks too cute on my oh so pretty plate from Anthropologie!
On Friday, I will head out to Phoenix/Scottsdale for the 1st of 6 trips I have planned for the next 5 months (5 of the trips being work-related). So this week, I'm trying to get a bunch of things done before leaving the office on Thursday. I really want to use any extra free time I have on this Phoenix trip to STUDY for my personal trainer test. It's only about 5 weeks away – yikes!
Lunch ended up being leftover chicken noodle soup from Sunday, along with another LUNA bar. I was actually in the middle of a project when I paused for lunch and completely zonked on the picture taking.
Scott doesn't start teaching his night class until next week, so he was home tonight! Thank goodness too, because he had dinner almost ready by the time I came home from work (and from picking up Mr. C and Miss M). He made an awesome one-pot meal of sausage, leeks, and tri-colored bell peppers…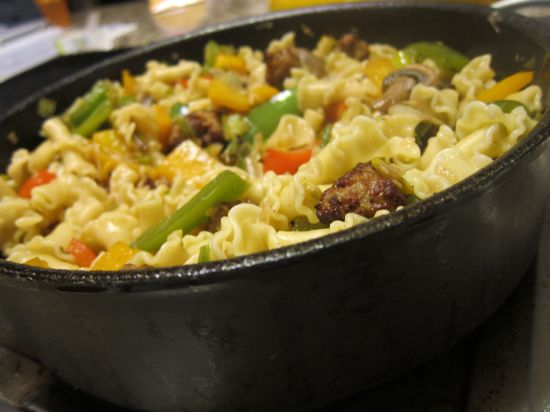 I do want to point out that I made this dish FIRST, so in essence, I taught Scott everything he knows about this lovely meal!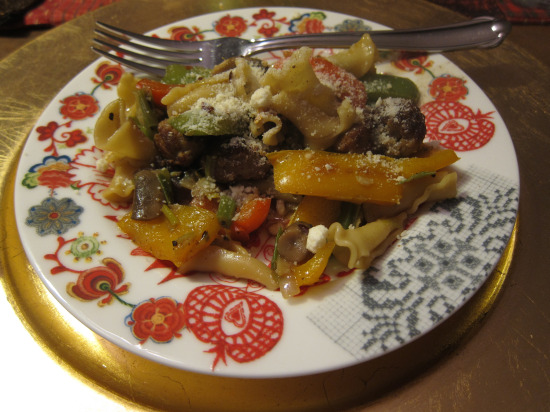 After dinner, I was soooo wanting a cookie or another somethin' somethin' from Barnes and Noble Cafe. But, seeing as we just started our Restaurant Diet, I went to freezer to see if it would magically reveal something that I like – and it DID!!
I bought these little beauties just before Christmas at Trader Joe's! Who would have thought that TJ's would have French macarons (yes, they are spelled with just one "o", unlike American macaroons). Now I absolutely adore French macarons – love them, love them, love them! So, when I saw them at TJ's, I just about squealed with delight. Normally, I would prefer fresh macarons from a patisserie but seeing as those are few and far between in the Chicago suburbs, TJ's macarons would do just fine – and that they did!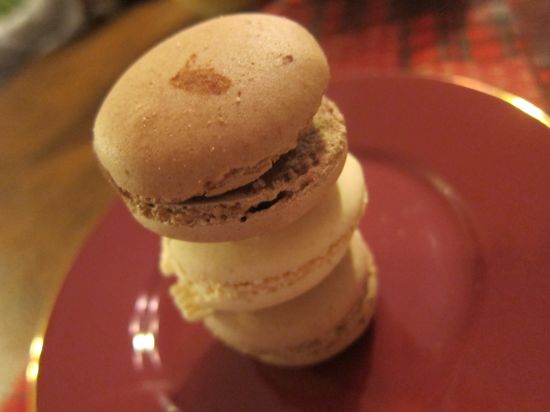 After about 15-20 minutes of thawing, I anxiously tried the vanilla flavor. Oh my – this cookie was so light and creamy and the flavor was incredible! Since they are a Trader Joe's product, you know that they are using natural ingredients. Plus, they are only 45 calories per cookie – perfect for a little after-dinner treat. 
Ok, enough fun with my macarons, it's time to hit the books. Have a wonderful night!