Hey everyone! How has your day been? My day began with an awesome 4 1/2 mile run followed by a juicy and sweet…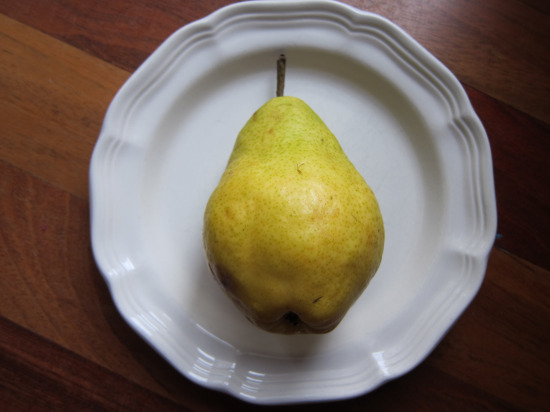 PEAR! I love this photo because it almost looks like I took a picture of a picture on the wall – just wish the pear had fewer blemishes.
Early this morning, I received a package in the mail from JCrew! Woo hoo! I ordered a beautiful olive velvet blazer and a few other things. But, I realized two things: 1) the blazer was too big, even for a size 4, and 2) I just received a 25% off coupon via email from JCrew. Decisions, decisions…. So, I decided I would take my whole order back (after all, I didn't pay for shipping) and then reorder all of my items, but try the size 4 petite. This saved me $30 – and brought the blazer down to $72 from $148. I love when I get a deal at JCrew!
Because of my meager breakfast, I had a snack attack around 10 AM so I munched on some low-cal popcorn…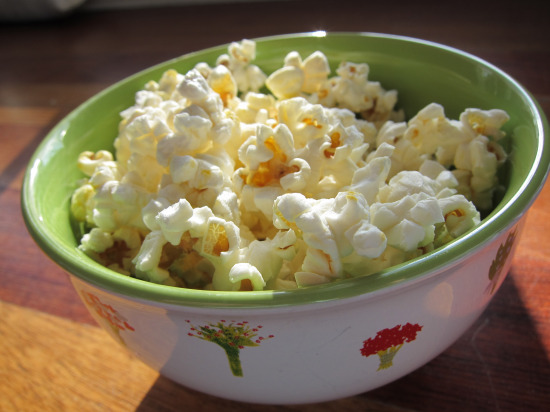 For lunch, I grilled char-grilled an Italian sausage…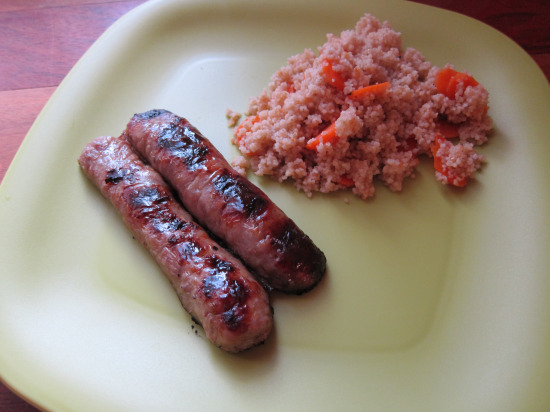 I was spending a little too much time on the computer and not enough time paying attention to the grill. Oh well, it was still good, especially with dijon mustard for dipping. As you can see, I also made a little whole wheat couscous. I don't eat a whole lot of couscous – although it's very high in protein, it's also high in calories. But, when I do make it, I doctor it up a bit by adding a chicken boulion cube to the water as well as a carrot sliced really thin.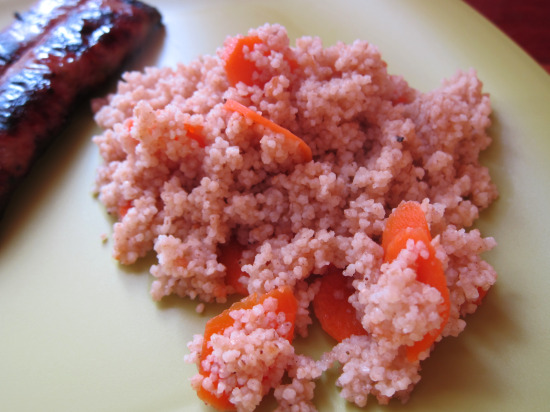 Very easy and yummy!
Later in the afternoon, I got the urge to finally make Red Velvet Cupcakes! Plus, I have been seeing them EVERYWHERE – bakeries, grocery stores, the book store, etc. I'm sure it's just because it's Christmas time, but I figured it was a sign that I should make them for myself. 
Red Velvet Cupcakes are my favorite kind of cupcake but I have never actually made them. For my first time, I decided to try the Dunkin Hines boxed-version. Of course, I prefer to make most things homemade, but I wanted to be sure these actually turned out good!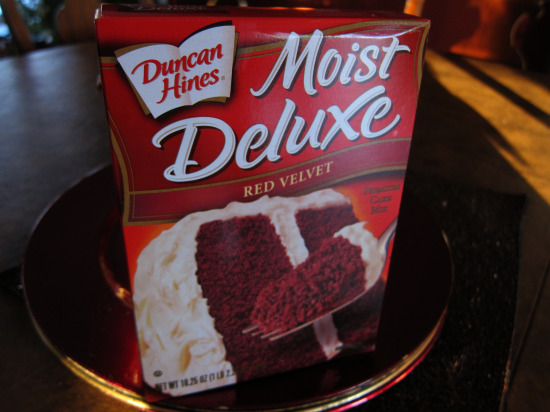 It was pretty cool to make this mix -but also a little creepy.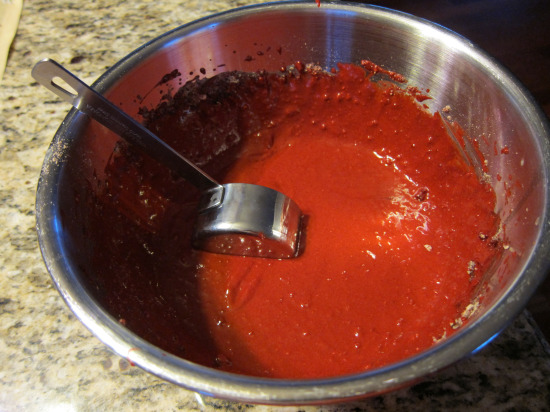 The mix looked like a big bowl of blood – icky! But, despite the bloody batter, the cupcakes turned out fantastic!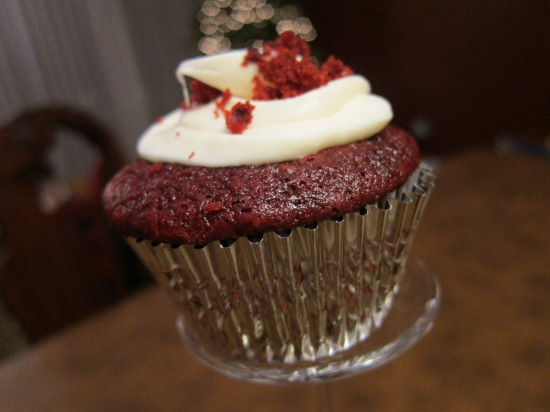 Talk about Red V-V-Velvet Goodness! I have to admit, I wanted to eat one of these as soon as it was frosted, but I made myself wait until after dinner, which happened to be my homemade potato and leek soup…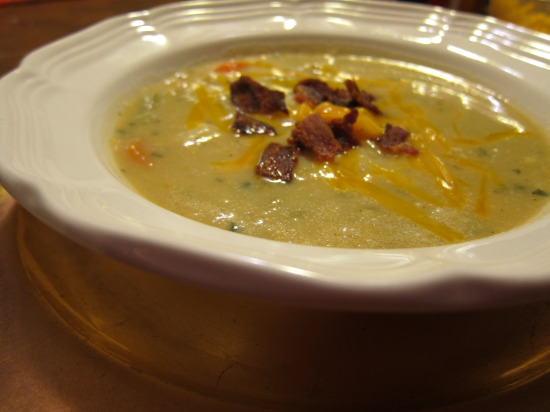 You got that right baby – it's Friday and I DID cook tonight! This soup is so rich and creamy, but it's actually low in calories (or relatively low – because it uses skim milk and not cream). But, what really makes this soup is the uncured maple bacon – because bacon makes everything taste better.
Of course, dinner, was followed by one of these beauties…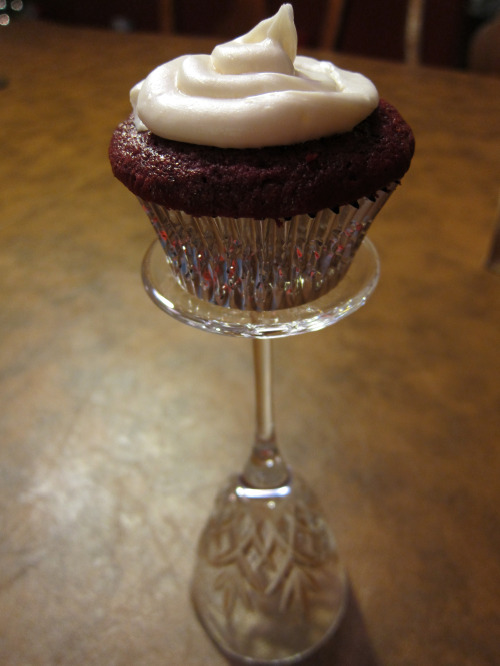 Surprisingly, the batter is not as rich as I thought, but the cream cheese frosting I used (Dunkin Hines) was very sweet and "cheesy".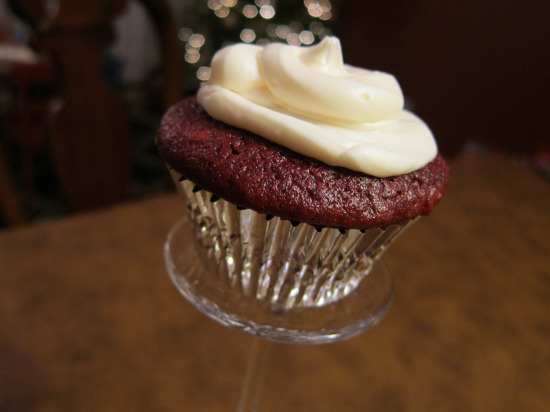 I'm seeing a theme here – velvet blazer, velvet cupcakes…hmm, what's next on my velvet radar 😉
Now, Scott and I are watching Elf – too funny! I love when Buddy bangs into things – it's so slapstick but Will F. plays the part so well.
Have a great night everyone!