Hi Girls! Sorry I've only been posting in the evening for the past few days. I forgot to mention earlier this week that not only am I crazy busy at work but I am also SICK! I've had a bad cough for about 2 weeks and this morning I woke up and my chest hurt so bad I could not even RUN! That really says that I'm sick because I can usually run through just about anything – a headache, a cramp, leg pain, etc. But, when your chest feels like someone is squeezing it to the max, it's probably time to take a day off. But, being the stubborn Polish girl that I am, I walk for 45 minutes instead. My chest still hurt when I walked, just not as bad.
For breakfast, I made a quick PB sandwich with MaraNatha all-natural creamy PB…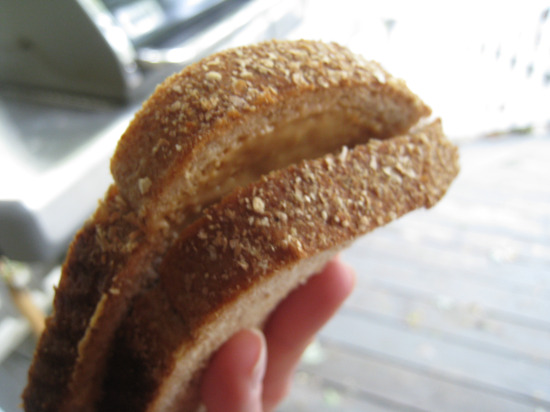 Not fancy, but still adequate, nutritious and portable!
Of course, when I arrived at work, there were still more temptations around every corner. There were THREE coworker birthdays today so the sweets were plentiful! We started with a full table of Panera coffee cakes, followed by sweet breads from Costco. Then, when everyone was pretty full on that, another coworker brought out the PIES…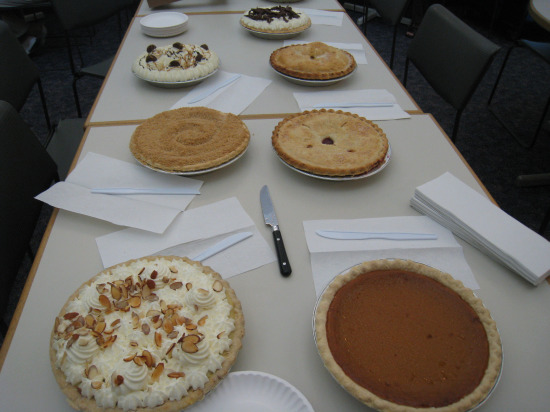 There were 8 Baker's Square pies in all – I can't believe someone spent all this money on pies for work! Because I was feeling achy all over I was not easily swayed to have a piece. But, then I saw the holy grail of pies! The banana cream pie – bottom left!
As I mentioned in my anniversary post last weekend, banana cream pie is probably my favorite pie EVER, yet it seems to be the most elusive pie EVER. Whenever I go to Baker's Square, they always say it's "out of season" and when I ask them when IS it in season, they say that it varies. Could you be more vague? As a result, whenever I am presented with banana cream pie, I nearly always take a slice. Today, I took a slice but immediately put in the fridge to take home. I didn't want to spoil a good piece of pie by eating it when I felt crappy. And, I still hadn't eaten lunch.
And speaking of lunch….it was slim pickins' today. I was running late as usual this morning and didn't make anything to take. And, I was too busy to go out for lunch today. Luckily, we had our second staff training session today and I specifically ordered a veggie tray for us to snack on…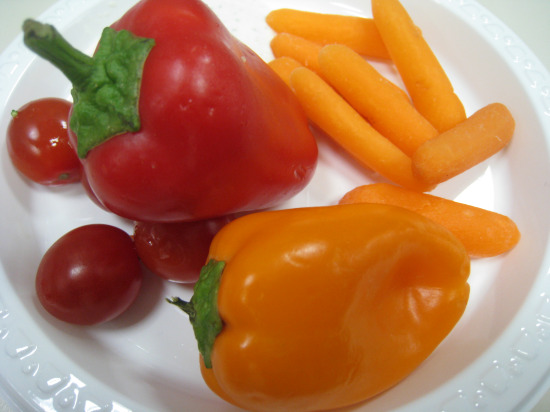 I had a bunch of little bell peppers (they are so sweet and yummy!), tomatoes, and carrots with a little veggie dip. I also scoured through the staff fridge and found a TJ's Greek yogurt I left in there from last week.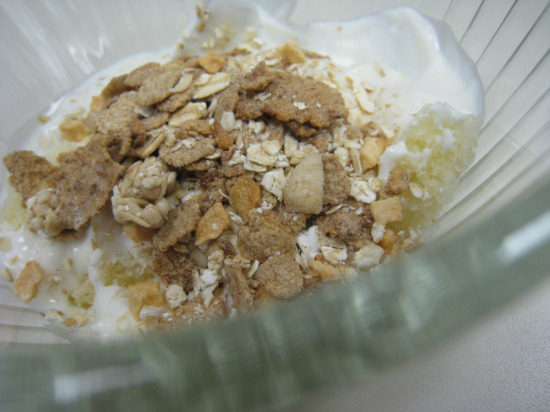 I added some of Bear Naked's new banana nut cereal to the mix as well as a little vanilla pound cake. This was incredible, but probably too much like  dessert to eat for lunch – he he!
I was feeling incredibly achy and feverish later in the afternoon but I stuck it out until 4 PM. I felt a little better once the Tylenol kicked in, but after 4 hours, I felt bad again and took more.
I really didn't have the energy to make dinner when I arrived home. I just heated up whatever I could find in the fridge, which happened to be leftover tacos…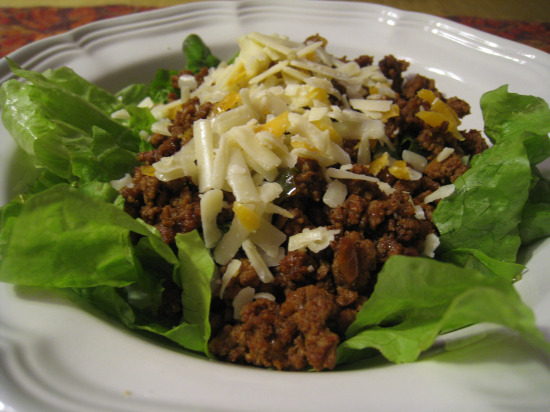 They ended up making a very nice taco salad.
Tomorrow is my day off, but I'm actually headed back into work – or I should say near work. Our CEO is retiring so we are having an all staff retirement party for him at his country club. Free food and drinks? How could I miss that? I just hope I feel well enough to go and to partake in the festivities. Don't know if I'll be able to take pictures…could be a very awkward situation if I do.
Anyway, I'm outta here. Gotta rest up tonight so that I can actually run in the AM.
BTW – the pie is still sitting in my fridge at home. I swear it's mocking me because I don't feel well enough to eat it.
Night all!