Hey All! As you may have noticed, I've been slightly increasing the distance of my early morning runs. On Friday and Sunday, I did a 10K on each day – Friday in 50 minutes and Sunday in 48 minutes! This morning, I ran 5.5 miles in 42 minutes. I just can't seem to slow down – he he! I'm trying to recruit some of my friends to run the Chicago Rock and Roll Half Marathon – so far, no takers 🙁
Although I've been loving these fast and furious runs, my legs are not very happy. My hips and calves are very sore. It's been ages since I've been sore from running – I almost forgot what it felt like!
When I arrived home from work today, I had two surprises waiting for me. Surprise #1 – a care package from POM, special delivery from Fitbloggin – yeah!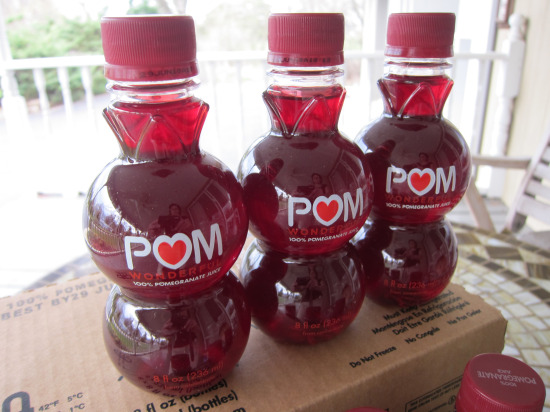 The great folks at POM sent Scott and I 8 bottles of pure pomegranate juice. I never really tried pomegranate juice until Fitbloggin, but I'm so glad that I did (mmm…memories of POM martinis!). After Baltimore, I ended up getting the flavored POM juices at the store and loved them – so did the kids. Just wish they didn't have so many calories in them 🙁
Surprise #2 – Scott stopped off at a bakery on his way home from class and bought me French macarons…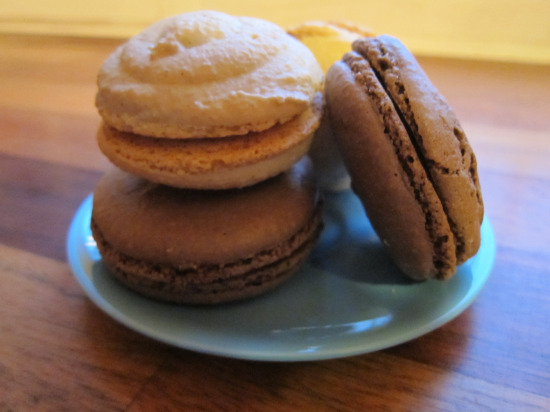 I have honestly never had macarons that were so huge! They were easily 4 inches in diameter, which is very uncharacteristic of a French macaron. But they were delicious!
Tonight is a packing night because I'm headed out to Orlando early Wednesday morning. I'm going to have 4 days of sun and warm weather – kind of. I will mostly be attending a conference indoors, but will have a day or so to roam around Disney. If you all remember, my last trip to Disney in early March ended up being a very cold trip. It only got above 70 degrees on one day while we were there. At least this time, I can pack lighter clothes because the weather is supposed to be in the 80s!
Alright, must get to bed. I'm hoping to do an easy 3-4 miles tomorrow to give my legs a break. Night all.