Hey Y'all – I'm blogging live from Austin, TX! Hence, the Y'all. One thing I will say about Texas is that it's HOT! It was 86 degrees today, which is so hot for me coming from 55 degrees in Chicago.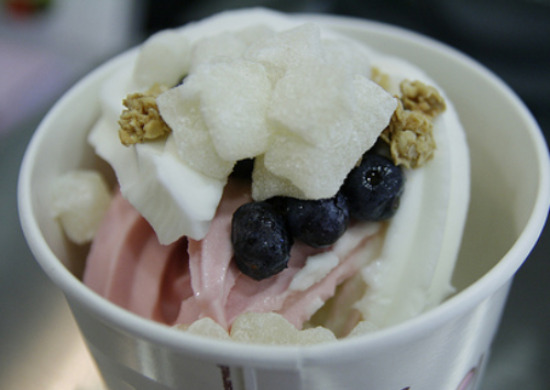 (Photo courtesy of Flickr)
The warm weather made me temporarily lose my head and walk right into a Tart frozen yogurt cafe. Why do we not have one of these cafes in Chicago! This is a made-to-order "yogurt bar" where you can portion out as much yogurt as you like and top it with whatever you fancy. Then, you take your creation up to be weighed and voila! $5.00 later, you are enjoying your very own frozen yogurt creation!
Unfortunately, I did not have my camera on me at the time of the yogurt purchase, but I had a mixture of the following:
Tart yogurt
Blueberry yogurt
Strawberry banana yogurt
Chocolate yogurt
Mini M&M's
Walnuts
Butterfinger crumbs
Now before you jump to conclusions, I took very small portions of each yogurt and less than a teaspoon of each of the toppings. It ended up being a small-medium size yogurt – and I enjoyed every bite! I am so glad that frozen yogurt is low in calories (please tell me it is!!!)
Gotta run, my meetings start very early tomorrow! Have a great night – y'all 🙂