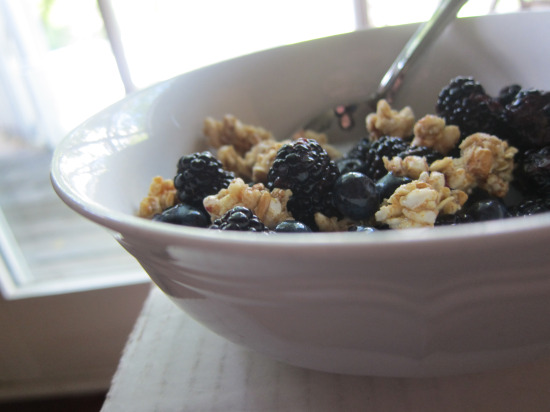 After yesterday's fast 7-miler, I decided to slow it down today with an easy 4-mile run. Post-run breakfast was a bit of Kashi Go Lean and a full cup of a blackberry/blueberry mix – fantastic!
Scott is teaching class this week which means our schedule is totally crazy. In order to run before he leaves for work at 6:45 AM, I must be up by 5:30/5:45 AM and out the door for my run by 6 AM if not sooner! Although I am a morning person, getting up this early is not always easy. Sometimes, I have to psych myself up a bit before a run because I'm so groggy. But, on any given day, I rely on many different motivational strategies to keep me going. Here are some of my favorite ways to motivate myself to run:
Running Motivation
I set my alarm at least 20 minutes before I know I need to head out the door. This gives me time to wake up a bit.
I get all my running clothes ready the night before so as soon as I wake up, I see my clothes sitting there – almost beckoning me to put them on. I also try to have all of my work-related things ready the night before – clothes, lunch, bag, etc. – so that I have no excuse to skip a run.
If I really need motivation, I plan a new route to take. Planning it out and then having to actively think about where I'm running (not just zoning out) helps the time pass faster.
And, for those really bad days, I tell myself that if I run, I will reward myself with a treat during the day, whether it's Starbucks or a muffin. I know it kind of defeats the purpose of the run, but it works every time!
How do you psych yourself up to run or exercise when you really don't want to?