Oh my, if you are at all a foodie or even like eating food (who doesn't?) then I highly suggest you see the movie Julie & Julia. I saw it this afternoon with my husband and it was fabulous. I want to give you my thoughts on the movie, but I'll get to that in a sec. 
After eating a decent size lunch (although it was mainly grilled veggies) I was still not hungry for dinner after the movie. And I had such a headache by the end of the movie – the second day in a row that I've had a headache. So, instead of a big dinner, I had an RWC kid's meal: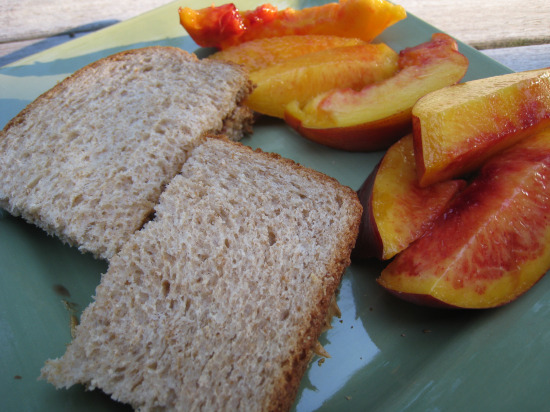 Yes, it's just what it looks like – peanut butter and jelly. Now, I love high quality, gourmet food, but sometimes, you just need to eat peanut butter and jelly. I made my 1/2 sandwich with one piece of Brownberry Grains & More bread. I love it because it's super high in fiber – 6 g per slice! On it, I spread about 1 tsp of all-natural raspberry preserves and 2 tbsp of all-natural creamy peanut butter.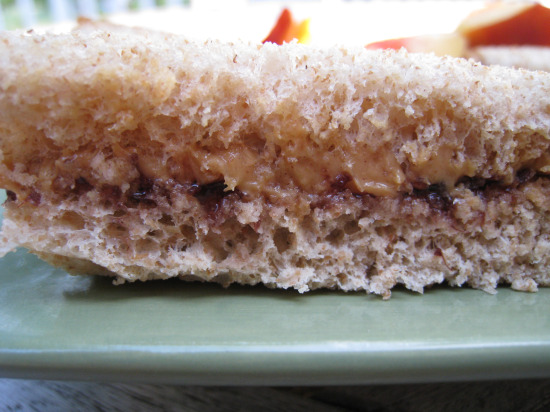 Not very glamourous, but adequate nonetheless. I also had a really juicy nectarine which was just delicious…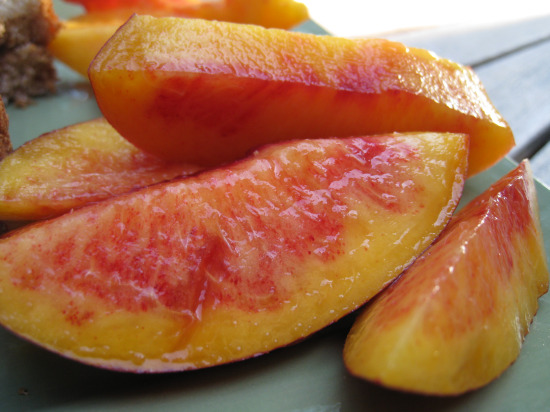 Now, I'm sooo tired, I just want to go to bed. But first, Julie & Julia…
I don't want to give away too many of the details but the movie chronicles a year in the life of an aspiring writer who cooks and blogs her way through, the now deceased, Julia Child's book, Mastering the Art of French Cooking. The movie was quite funny at times and very heartwarming. Meryl Streep was amazing as Julia Child and Amy Adams was just as good playing her distant protege, Julie Powell. The movie really showed you a different side of Julia that most of the public never got to see. And, I absolutely loved all scenes of France – so charming and rustic!
Although I loved the movie, it also made me a little sad. I saw how each women used food/cooking to fill a void in her life, and I could definitely relate. Although I've been a health and fitness writer for many years, I'm a novice blogger. Sometimes, I don't even know if it's worth writing, because why write when no one is reading anything that I say, except for my dear husband – and like Julie Powell's mother – he doesn't count. 
So, if you're out there and have any words of encouragement, I'd love to hear them. For now, I'll keep on writing, even if it's only to fill my own void – after all, that's what Julia would do.