Afternoon everyone! I didn't get to bed until after midnight! I was sucked into watching V for Vendetta – one of Scott's favorite movies. I've never had an interest in seeing it, but I caught the last half of it last night and decided to watch the rest of it. Pretty dark movie, but still entertaining and thought-provoking.
Because of my late night, I chose not to set my alarm for yoga. I wanted to see if I would wake up naturally, and early enough to make it there on time. Well, I didn't get out of bed until 7:30 AM, which was probably plenty of time to make it to 8 AM yoga if I rushed out the door. But I really didn't feel like rushing to yoga.
Instead, I opted for a nice leisurely breakfast. I have been eating so much cereal lately that I just had to have something different today. I'm out of Greek yogurt, so homemade oatmeal it was!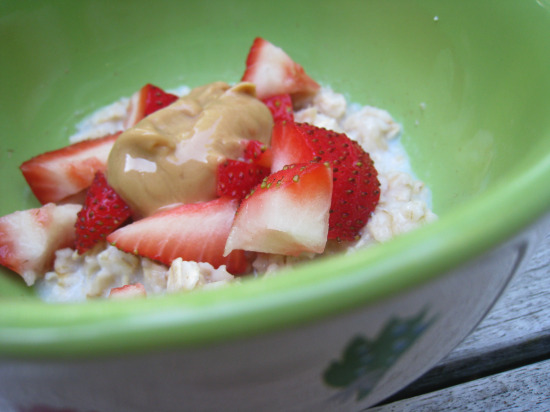 And so yummy it was too! I used a 1/2 cup of raw oats, combined with 1 cup of skim milk, topped with 2 strawberries and a dollop of MaraNatha creamy peanut butter.
After breakfast, Scott and I took a long walk in a forest preserve – something we used to do quite a bit before our schedules got so crazy.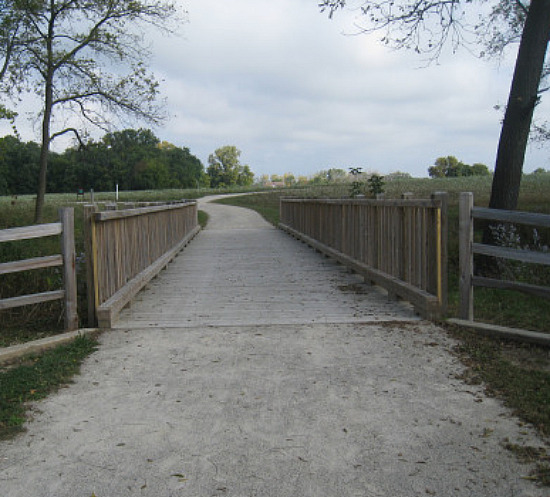 The whole trail loop is about 2 miles long and we ended up doing 1 1/2 loops for a total of 45 minutes. It was an absolutely gorgeous morning outside, just cool enough for a brisk walk. I'm really looking forward to walking this route when the leaves are in full color.
After our walk, we headed home to get ready for our lunch date. I was in the mood for a chicken sandwich and french fries (a girl can't always eat healthy!), so we headed to Red Robin. That place can be dangerous because of the bottomless french fries, but I do like their sandwiches. Today, instead of my usual chicken, I ordered the Garden Burger with fresh tomatoes, lettuce, and pickles…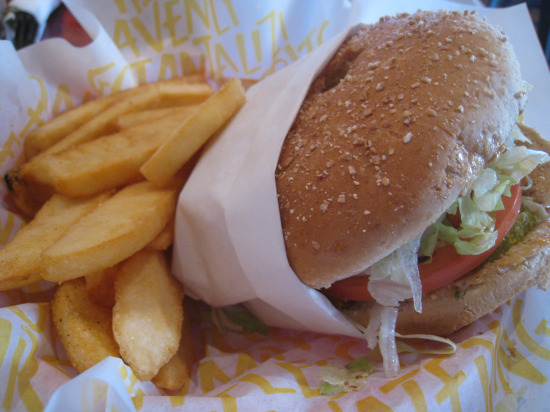 And, of course, it came with french fries.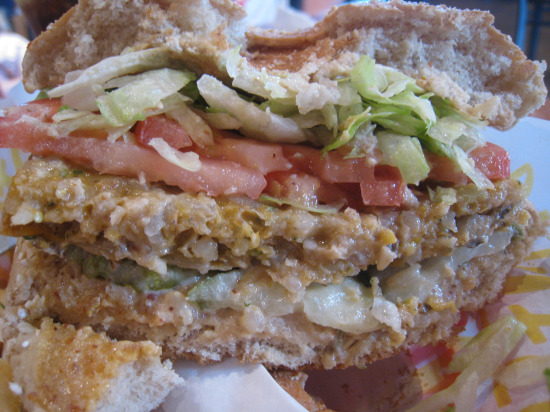 I'm usually a turkey burger or chicken sandwich kind of a girl. But, I'm really starting to like veggie/garden burgers more and more. However, I really haven't eaten that many to really know which brand is best. 
So, my question to you all is this – what would you say is the best brand of veggie/garden burger out there?
Ideally, I'd like something that is not overly processed, all-natural, etc. as well as easy to make with a delicious taste. I'd love to hear your thoughts!!
After our very filling lunch, we're relaxing until we head out to a late summer party tonight. One of our girlfriends is moving to Brazil on October 1 and her family is throwing her a going-away party. As of now, she only plans to be gone for a year – but you never know! I'm looking forward to the party because I know there will be a ton of fun people there, as well as great food and maybe a bonfire!
Must get back to relaxing, so I'll see you all tonight!