Boy, did I have a little scare this afternoon. I was going through some of my blog photos and ended up deleting a bunch of them. I didn't even notice that they were gone until my husband sent me a message from work saying that a bunch of my photos were missing from my posts. Panic set it. But then after I collected myself and got to the root of the problem, I calmed down a bit. Luckily, I had saved all of my photos in a folder on my computer and was able to reload the ones that I lost. Whew, that was close!
Aside from that, I had a pretty decent afternoon, catching up on reading and blogging. Oh, yeah, I had a little lunch too!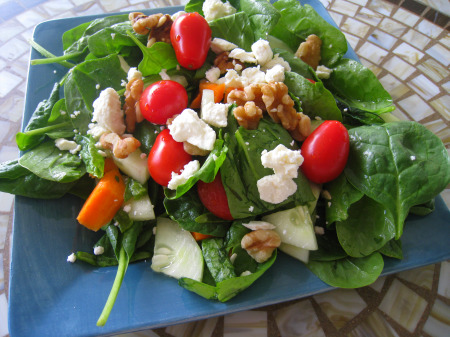 I had a wonderful spinach salad with homemade raspberry vinaigrette dressing. This was my first time making and eating a spinach-based salad. It was also my first time making the vinaigrette.
My husband and I have really been getting on the spinach bandwagon these days – if there is such a  thing. It's been said time and time again that spinach is one of the superfoods, packed with everything healthy under the sun. Ok, that's exaggerating a little, but spinach really does have tremendous health benefits. It's full of omega-3s and folate, while it also prevents against heart disease, stroke, and osteoporosis. Spinach also contains lutein, which is known to fight the ageing process. It's just crazy that one food can provide so many health benefits – I guess that's why it's a superfood.
Wanting to eat more spinach, I have purchased probably 4 bags of spinach in two weeks. I try to add it to everything, sauces, risotto, etc. But, it goes bad pretty fast. So when I saw that we still had nearly 2 full bags left, I thought I should try to make use of it.
For my salad, I used:
Spinach-Walnut Salad

About 4 cups of baby spinach

1/4 chopped cucumber

1 carrot

1/2 cup grape tomatoes

2 tbs walnuts

1/4 cup feta cheese

Dressing:

1/2 cup fresh raspberries

1/2 cup balsamic vinegar

3 tbs sugar

splash of olive oil

Mix all ingredients in a blender and pour over salad. Dressing makes 4-6 servings.
Both the salad and dressing turned out fantastic. And, the combination of flavors made this salad amazing. I will definitely be making this salad again. Too bad my husband didn't get to try it – sorry honey!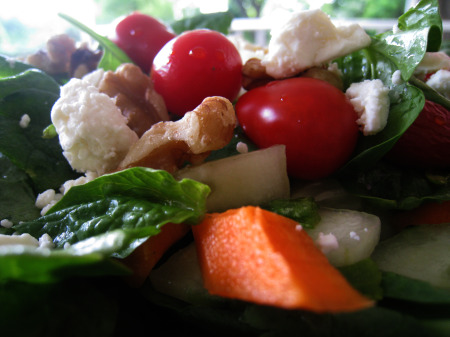 In spite of the overcast day, it was still hot and humid. To beat the heat from inside the house, I spent about 2 hours outside this afternoon in a tank top, without sunscreen (except on my face). So later today, as I felt a twinge of pain on my shoulders and back, I looked in the mirror and saw an unexpected sunburn. Serves me right for not protecting my skin!
Because Saturdays and Sundays are grocery shopping days, Fridays are usually a little light and unpredictable when it comes to dinner. We usually have leftovers or something quick – whatever is in the house that we can whip up fast. Tonight was no exception.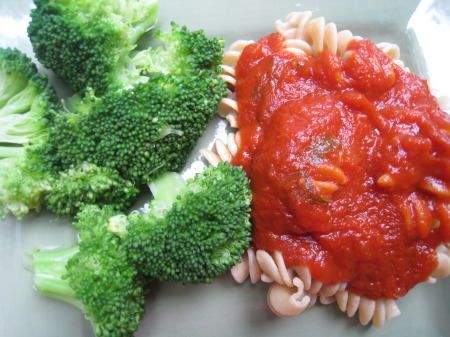 I made tomato-basil marinara with a side of steamed broccoli. I used Trader Joe's whole wheat organic pasta, which has higher fiber than white pasta. Trader Joe's pasta is also surprisingly less expensive than typical grocery store pastas – so we buy most of our noodles there.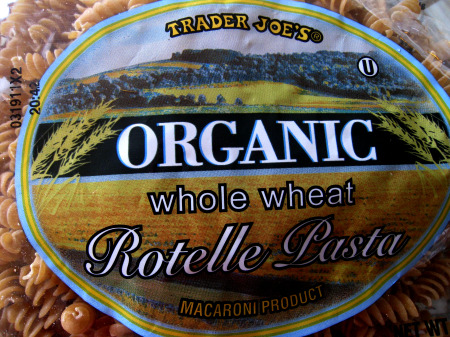 For the sauce, I used Newman's Own, Tomato & Basil Bombolina sauce. Newman's Own sauces are all-natural and many are also organic. Although my husband and I usually make our own pasta sauce and freeze it, Newman's is our go-to sauce when we run out of our own.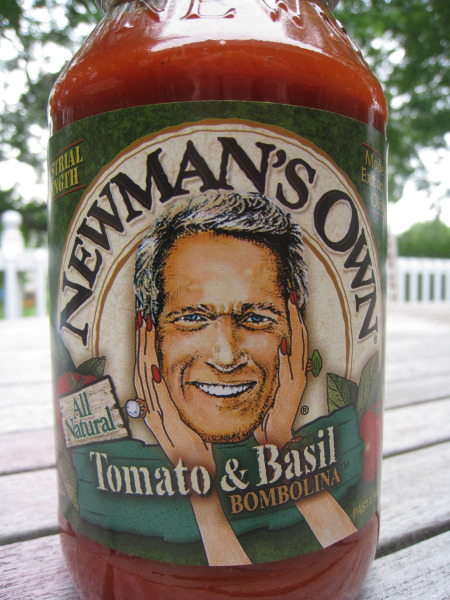 So, it was not the most exciting dinner, but it was still a low-calorie, all-natural, and nutritious one. 
Now I'm debating what I want for. Hmmmm…homemade cookies or chocolate peanut butter ice cream. I'll let you know tomorrow!!!