Afternoon everyone! Although today was my rest day for running, I set my alarm with the intent of getting in a quick 2-3 mile run to jump start my day. Well, when 5:30 AM rolled around, I looked at the clock and decided to stay in bed. I think my body is so used to taking a break on Wednesdays that it just expects to have extra rest on those days.
Because I didn't exert my usual energy this morning, I wasn't very hungry at ALL. In fact, I even felt full – which was weird because I only had soup and a couple pieces of bread last night for dinner. But, I never skip breakfast (unless I'm sick). That would not be RWC way! Besides, there's tons of research showing that if you don't eat breakfast, you are more likely to eat more calories than you normally would throughout the day, which can obviously lead to weight gain.
So, to accommodate my lack of appetite, I made a very small yogurt bowl – because even a light breakfast is better than no breakfast at all.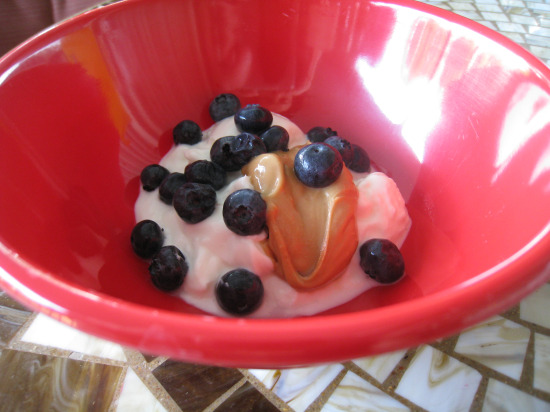 My yogurt bowl consisted of 1/2 a carton of Trader Joe's plain nonfat Greek yogurt. Plain Greek yogurt is NOT my favorite but it was already open so I wanted to use it up. I topped my yogurt with some fresh blueberries and a dollop of MaraNatha all-natural creamy PB. I would love to say that this was a great combination, but for some reason it just didn't taste right today. It could have been my tastebuds, appetite, or the fact that the yogurt had already been open and sitting in the fridge since Sunday.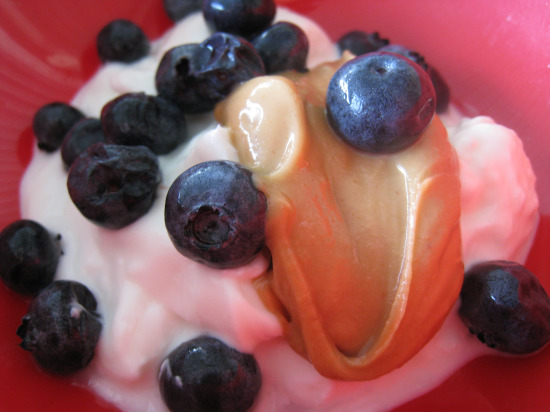 Needless to say, I had a few bites of this and then just tossed it out. But, I did have another shot of Zola's Daily Wellness drink…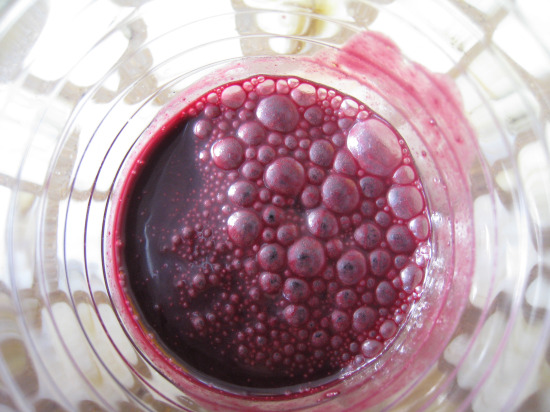 Hmm, now I'm waiting for that burst of energy to kick in – he he!
Well, eating such a small breakfast caught up with me around 10:30, I was so hungry I was ready to eat just about anything. But, I remembered that I stashed some crackers in my drawer the other day…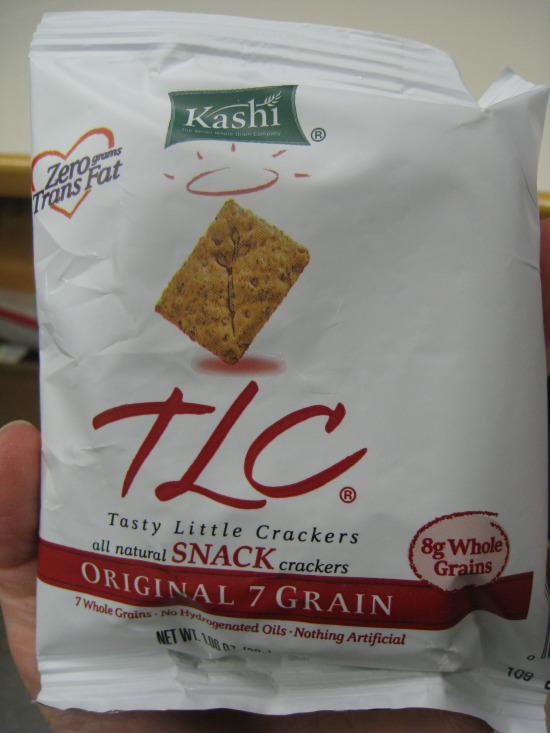 I received these Kashi original 7-grain snack crackers for free and thought they were quite good. The 1 oz bag had a total of 130 calories, 3 g of fat, 2 g. of fiber, and 3 g. of protein. However, it was such as small bag that it only subsided my hunger for a little while. It's definitely not meant to replace breakfast.
I decided to eat an early lunch at 12:30 PM (usual lunch is at 1 or 1:30) because I was still hungry after my meager breakfast…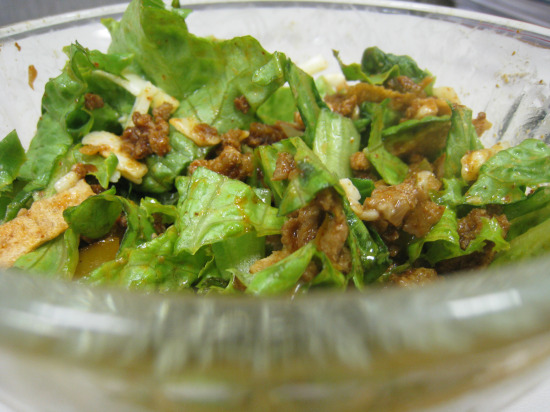 I put together a nice size taco salad bowl, full of red leaf lettuce, Tillamook Vermont White Cheddar Cheese, a few random tortilla chips, and about 6 oz of turkey taco meat. Oh my, this tasted REALLY good!
Now, I'm headed out for a brisk walk in the sunshine and 75 degree weather.
Have a great afternoon everyone!