The Good…
I just finished my dessert for the evening – a kid's size chocolate ice cream with Heath bar from Cold Stone Cremery…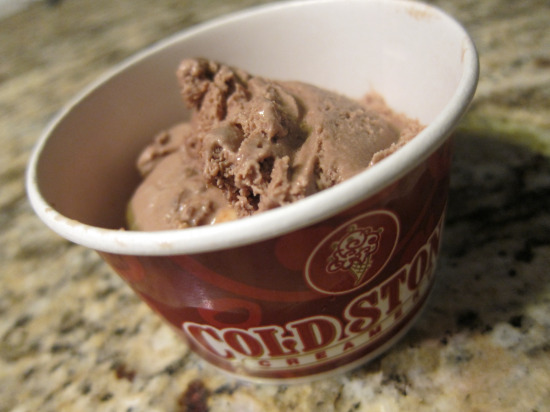 It was VERY small, we're talking a 1/2 cup at the most. But it was sooo good! Just enough to keep me satisfied. 
The Bad…Chicago's Earthquake
So, about 4 AM Central this morning, an earthquake rocked Chicagoland. It was a small earthquake – only 3.8 on the scale. To my knowledge it didn't cause any damage or panic in the streets. Did I feel it? Yes. It woke me up from a dead sleep. Was I scared? No. It wasn't that bad – more of an odd feeling, like you're not sure what's going on. The bed and windows were shaking. I thought it was a slow plow outside the house. But  then I realized I didn't hear the scraping of the snow and didn't see any truck lights. When the bed stopped shaking after about 10 seconds, I contemplated waking Scott up to proclaim that we had just experienced an earthquake. I decided against it and went back to bed.
It's rather strange though. Although I heard it all over the news on my drive to work, NO ONE at work said anything about it. Like it never happened. Strange.
The Ugly…
I received a note from my younger brother today. He moved to Orlando about a month ago to start his new job as a physical therapy assistant. I haven't seen him since Thanksgiving so we've been emailing back and forth about my trip to Orlando in a few weeks. Yesterday, I asked him how the weather was at Disney World and he replied…
It is cold at night. During the day, you will need something to cover your arms. When the sun goes down, you will need some type of pants. The water parks do not open unless the temp is in the high 60s.
I was sooo bummed when I read this!! I wanted to go to Orlando to get away from the cold, but it appears that the cold will be following me on vacation. I know that the whole country is experiencing colder than normal temps, but for some reason I always think of Florida as being immune to the cold weather. Like even when it's 70 degrees, it still feels hot. Hmm…not so much.
Oh please, please, please Mother Nature, Old Man Winter, and whoever else will listen, PLEASE give me at least a few 75 degree, sunny days on my vacation!