As you know, yesterday was my family's annual trip to the apple orchard to do a little apple picking. It was an absolutely gorgeous day for apple picking – about 70 degrees and sunny.
We all arrived at the country-style orchard around 10 AM- right when it opened. We were surprised to find that the orchard had just changed its prices/policy. Instead of all of us being able to pick apples and put them in one big bag, we now had to all have our own 1/2 peck bag, including the kids. This was rather annoying considering it was $10 a bag and by the time each bag was full, it weighed about 5 lbs. That's fine for adults, but for a 4-year old boy, that's a bit heavy.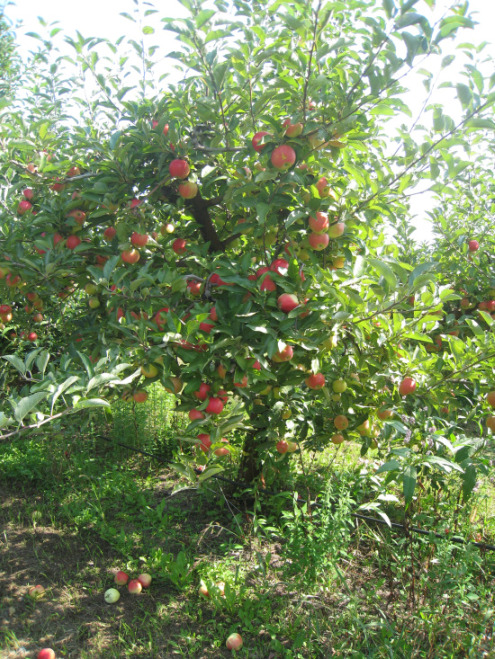 But, we didn't let this little hiccup ruin our day. We all piled on the tractor hayride-style and proceeded out to the actual line of trees. At this point in the season there was only one variety of apple available for picking – Gala. That was good news for us because Gala apples are really versatile – you can use them in pies, apple sauce, salads, and eating straight.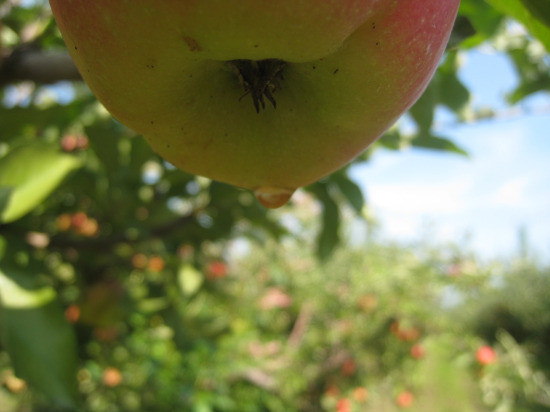 It was quite a foggy morning when we first started so there was still dew on the apples as you can see above. It made for a cool picture.
Bags in hand, we set out walking through the designated Gala rows. It was fun to see the kids running around and getting excited when they would find an apple good enough to eat. Although you're not supposed to eat the apples right from the tree, I may have had one or two as a sample – have to get my fiber in, ya know!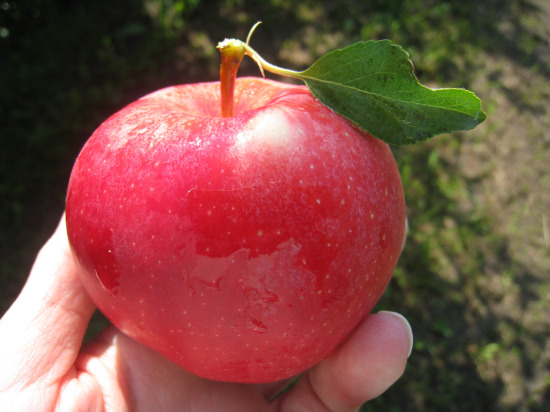 Most of the really red apples were way up at the top. Needless to say, there was a lot of shoulder sitting to reach them – ha ha!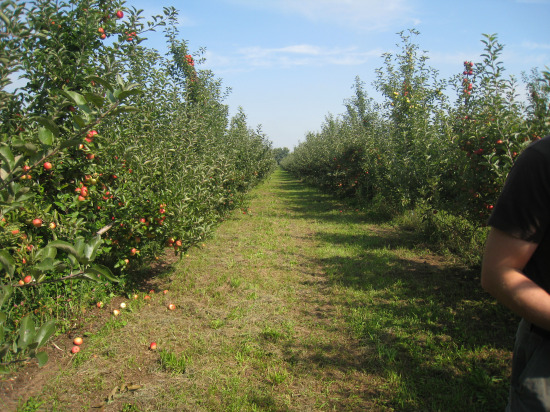 About an hour and a half, and 8 1/2-pecks later, we climbed back onto the tractor and headed to the drop-off point. A little later we dived up the bags between 3 families – somehow we ended up with 3 1/2-pecks of apples – way more than we can eat. I guess I'll be taking some to work!
At lunch, we all debated on who would make the first apple-dessert. I plan on making an apple crisp tomorrow – hmmm goood! I'll be sure to post the recipe and photos!
Now, I'm off to our final outdoor music event of the summer. We are going with my in-laws to hear the Chicago Symphony Orchestra play songs from Rogers and Hammerstein. I love musicals! I'll post a quick update later tonight although I don't expect to get home until after 10 PM. Have a great afternoon!