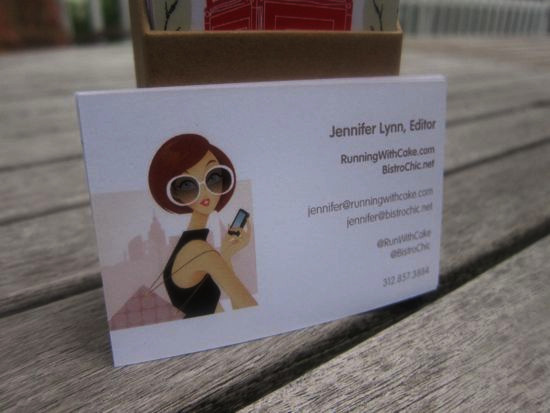 Morning everyone! I just came back from my awesome 5.5 mile run! We've finally had a reprieve from the heat so it's been much cooler in the mornings, which makes for much easier running.
This cooler weather reminds me that summer is quickly coming to an end, sniff…But that also means that Autumn will be here very soon. For those of you who have been following me all the while, you know that Fall is my favorite time of year. Aside from the cooler weather, I love all of the Fall activities – apple picking, pumpkin picking, hay rides, corn mazes, etc. I'm trying not to wish for Fall too hard, because it also means that my BIG business meeting will be here soon, and I'm so NOT ready for that.
Healthy Living Summit Update
Business Cards – I mentioned last week that I had ordered business cards for the Healthy Living Summit – well, they arrived yesterday, 4 days early! I am extremely happy with the service and the results – they turned out perfect! If you haven't already ordered business cards for your blog, I highly recommend ordering them from Moo Cards. They are a British company (which I love!) that specializes in design-your-own paper products, like business cards, holiday cards, etc. The Moo Card system is very easy to use and you can either choose from one of their many designs or you can upload your own images to put on the cards. I decided to go with one of the premade designs and add my own graphic on one side. I can't wait to show them off at HLS!

HLS Giveaway

– Also, for all of you bloggers going to HLS, I will be bringing a few goodies to give away! I will only have about 50, so find me early and you may be one of the lucky ones who gets a giveaway! I'm going to try posting a picture of it later so stay tuned!
Cocktail Dress Search – I've been out shopping twice this weekend to find a cute cocktail dress and I've had NO luck! I waited too long as usual so all of the cute summer dresses are picked over or gone completely. Blah! I hate when I procrastinate buying clothes that I need. It puts me in a desperate situation where I'll end up buying things I don't really like for too much money.
Frito Lay Tour – I'm also a little unsure about what I'm going to wear on the Frito Lay Tour. We are not permitted to wear shorts, jeans, or open-toed shoes. However, long capris are fine. I'm just not sure how capris look with close-toed shoes??? Some of you have mentioned wearing yoga pants, which I may decide to do – thank goodness Lucy always has cute yoga pants in stock!
Gotta run, my in-laws are coming over and I've got to get crackin' on the cleaning 🙂