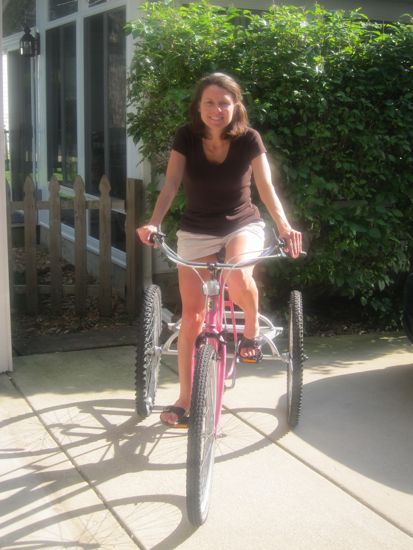 Hey all! Like my new bike? It's a tricycle for adults – how cool is that!!! Well, it's not really mine, it's my mother-in-law's and she bought it at a garage sale for $25 – what a steal! I was over her house for dinner yesterday and just had to take it for a test run. Although, I didn't go very far because I was blocked in by the cars – he he! All I need is a little basket and a bell and I will be all set for my next ride! Maybe I should convince MIL to pull a big seat behind her and start her own rickshaw business in downtown Chicago 🙂
On another note….I just ordered my Moo Cards (business cards) for the Healthy Living Summit. They are so cool! Because I write for two blogs, RWC and Bistro Chic, I tried to combine the two. I guess we'll see how they turn out next week!
Speaking of the Healthy Living Summit, I just received more details today about the Frito Lay tour in Beloit, WI. I'm so excited that there are 30 people going! It's going to be so much fun! But, I am sooo not thrilled about wearing a hairnet. I don't recall ever wearing a hairnet, so this will be my first time. They kind of freak me out a little, reminding me of the old lunch ladies at my elementary school. Anyone else have hairnet-a-phobia? Aside from that, the rest of the tour sounds very interesting. Although, they did tell us we are limited on taking photos – that is NOT something you want to tell picture happy health/fitness/food bloggers! But wait, they said there will be snacks on the bus – ok, you had me at snacks!
Before I sign off for tonight, I want to give a shout to to Leah at Bookieboo. She was featured on Yahoo today (via Woman's Day) for her amazing weight loss story and all of her work on Bookieboo (which I am very proud to write a running column for!) and Mamavation. Congrats Leah!
Remember, only two more days to enter my Yoga Book Giveaway!!
Ok, peeps, have a great night!