Hi Friends! So, what did you end up doing today? I mentioned before that my husband and I were going to the local Renaissance Fair for the first time (well, it was my first time anyway). We had left for the fair about 11 AM, after intending to leave at 10 AM. It also took us about 45 minutes to actually get on the road, because we had a variety of errands to run before leaving town.
On the way there, we snacked on one of the new Odwalla bars that I bought from Whole Foods the other day…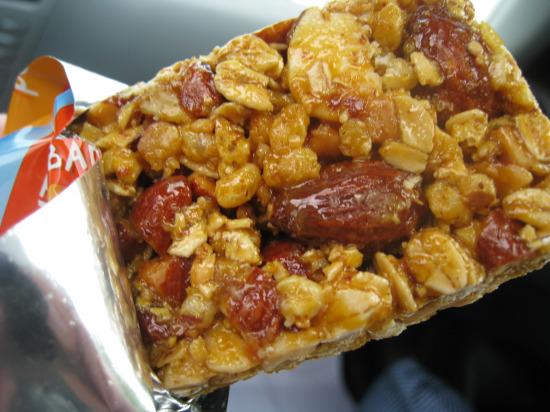 I decided to share my new Odwalla Chewy Nut Bar because it is over 200 calories and had 11 g of fat. A little too much for a snack if you ask me. The bar itself was very tasty – the whole almonds had fantastic flavor and it had just the right amount of sweetness to it. I think it could have used a touch of fruit though.
We finally arrived at the fair around 12:30 PM. It was perfect weather for walking around the spacious grounds – about 65 degrees. It was also not as packed as I thought it would be on a Saturday. We arrived just in time to see the Queen arriving with all of her subjects.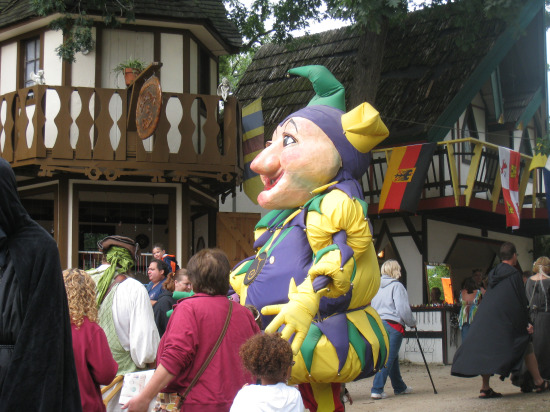 It was pretty different seeing everyone, from young wenches to knights to strolling minstrels, in costume and in true British character. The buildings and facades also looked relatively authentic, resembling the architecture you might see in Stratford upon Avon in England. I was so surprised not to see a Shakespeare impersonator there.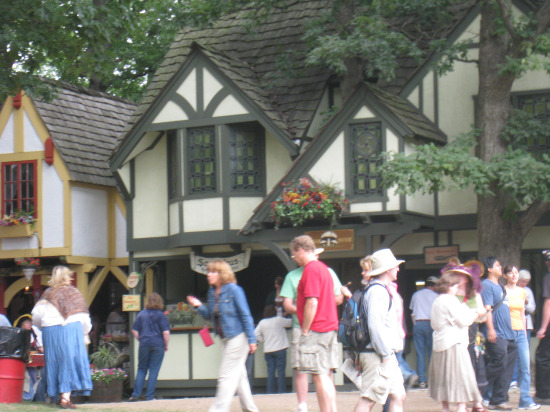 By this time, we were starving. We had heard the food was pretty good and were actually quite pleased with the wide selection of themed and regular food – turkey legs, sassafras root beer, bbq chicken, stew, etc. Not surprisingly, the longest lines were for the old world pizza and the curly fries! So American!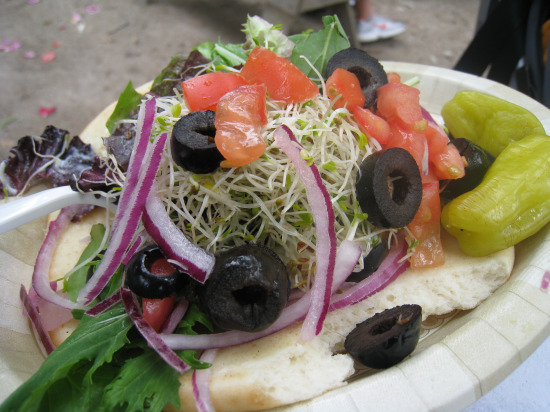 I ended up having the chicken salad on a pita with all of the fixins'….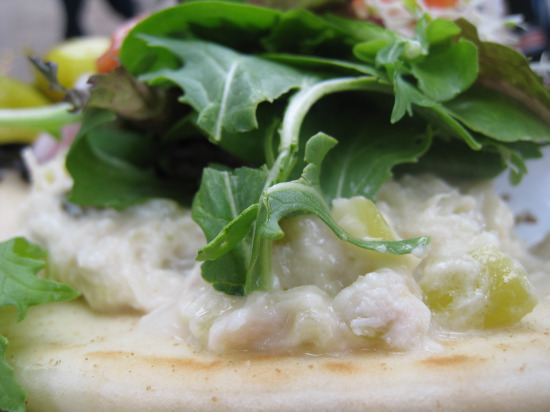 The sandwich had a great flavor and the pita was really soft and chewy. That was the only thing I had the entire 3 hours we spent there – I just wasn't adventurous enough (or willing so spend more money) to try anymore of the food.
On the way back from the fair, we stopped at Toys R Us to finally get the present we needed for my nephew. Then, we headed off to our favorite local Italian eatery for a little dinner…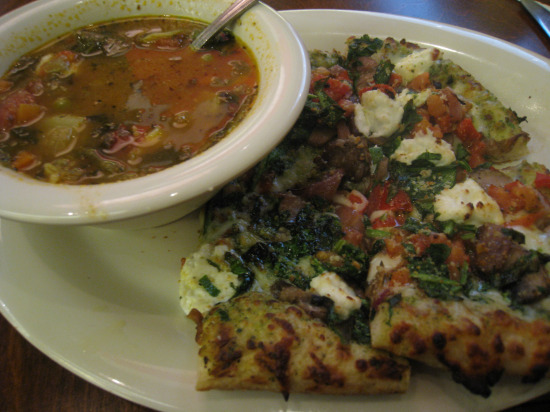 I had a cup of minestrone soup and a 1/2 personal pizza topped with spinach, mushrooms, and goat cheese. Totally yummy!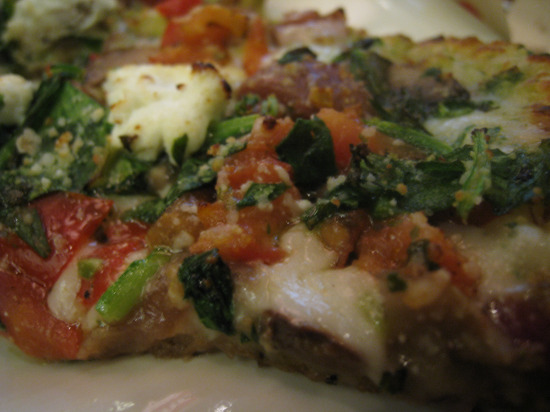 After walking around for hours and hours today, I am so ready to go to bed. Plus, tomorrow is my long run and my nephew's birthday party. 
I'm signing off. Have a great night everyone!