Hey All!
I worked at home today – with the kids! I hadn't planned on working at home at all and especially not with the kids. But, when push comes to shove, I do what I have to do.
Before Scott left to teach a class, I hopped on the treadmill for about 45 minutes. We have a separate heating system (electric heat) in our basement where the treadmill is. For some reason it is super hot down there every morning. So, I'm usually a sweaty mess by the time I come upstairs.
Breakfast was 1/2 a carton of TJ's vanilla Greek yogurt, with a teaspoon of all-natural peanut butter and a few walnuts…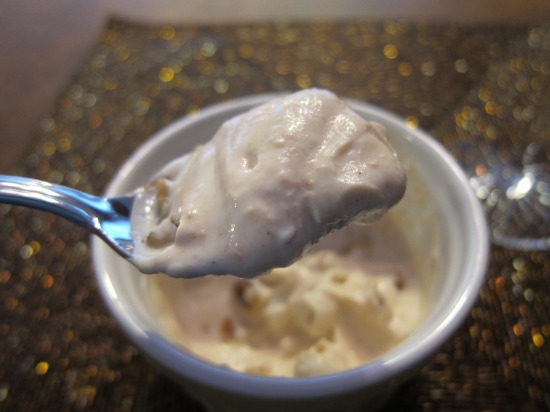 I also had the last of the OJ, which was seriously like 2 ounces!!! Why even bother leaving 2 ounces of juice in the carton? I just don't understand it.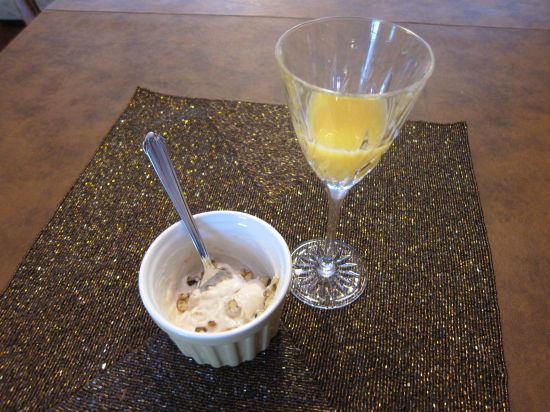 Lunch happened to be leftover homemade fried chicken from Saturday night…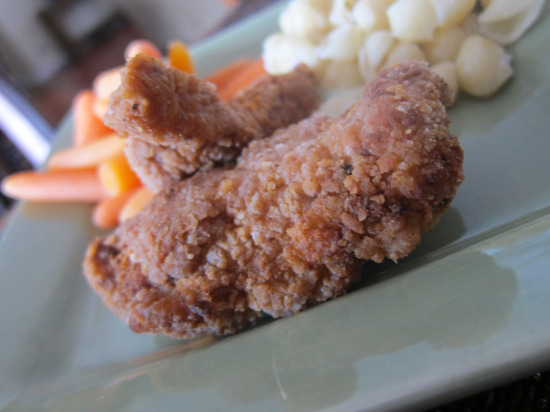 I had two small pieces, although I could have easily eaten more. I paired the chicken with some steamed baby carrots and about a cup of Trader Joe's shells and white cheddar..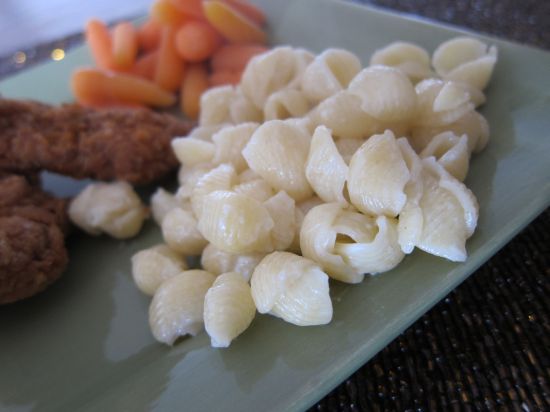 Let me tell you, it is REALLY hard to work at home with the kids! At their ages, they demand all of my attention – which is not a bad thing except when I need to work. Fortunately, they both take naps and can be calmed by a Disney show (desperate times call for desperate measures).
While the kids napped then watched a Disney show, I was heads down in a project for work. Between working a little before getting on the treadmill, and working in the afternoon, I was able to finish my project and put in about 3.5 hours at home. Whew – what a day! I was so busy – and HANGRY – that I just had to have a snack – 2 small homemade chocolate chip cookies and a 1/2 cup skim milk. Plus, right before dinner, I was starving and couldn't wait. Had a small, snack pack of Sunchips too – blah! Oh well, still under 1,600 calories for the day.
In all of my craziness today, I actually found the time to make dinner…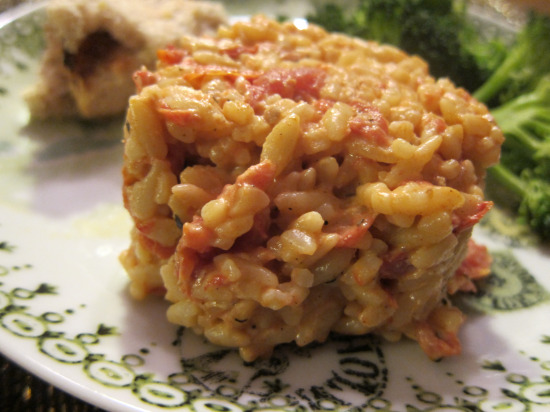 I tried a new Giada recipe for creamy orzo (at least it was new to me). Minus the peas, I thought this dish was really good, although I had to add a bunch of salt and pepper for taste. I'm glad I quartered the recipe because Scott and my son did not like this AT ALL! That's ok though – Giada will never know. The kids and I also split a turkey burger which is the reason why it looks so small in the picture!!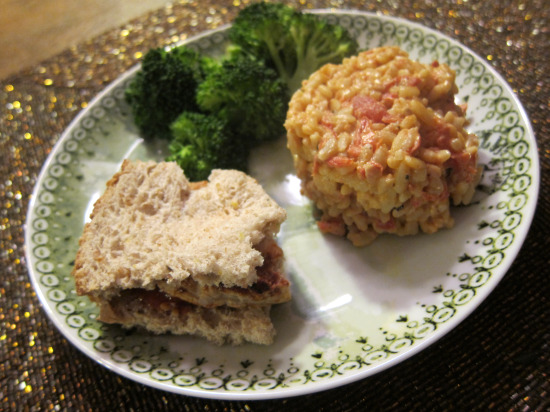 Now, I have about 200 calories that I could still eat to get to my 1,600 calories a day – I'm thinking a small brownie and a little Breyer's vanilla – what do ya think? 😉
Restaurant Diet Update
So today, it has been officially 4 weeks since we started our Restaurant Diet, vowing not to spend any of our own money on food outside of the house. So how did we do? We did fantastic!! By having gift cards from Christmas at our disposal, we were able to get our fix of eating out without spending money. So, for the most part, we really weren't tempted to stray.
That is, until yesterday. That's right, we decided to end the diet one day early. We contemplated going to Panera for lunch and using the last of our meal gift cards. But Panera just didn't sound good. So, we opted for the Italian cafe near our house. Kids eat free on Sunday and we actually had a free meal to boot. So, we spent about $14 to feed 2 adults and 2 children – about $3.50 a person. Not bad!
So how much money did we save? Well, we were regularly going out to eat 2-3 times a week with the kids – blowing about $75. Then, between Starbucks, Barnes and Noble cafe, and going out to lunch, Scott and I easily spent another $25 a week, if not more, between the two of us. Overall, we probably saved about $400 by on the Restaurant Diet, which is well worth the effort!
Gotta get to bed. See you all tomorrow!