It's going to be a hot one today. Even at 6:00 AM, when I started my morning run, it was already hot and humid. Weather like this makes for quite the sticky run.
After losing a ton of water from sweating, I made sure to drink plenty of H2O to replenish. I then made a breakfast that I hadn't make in quite a while: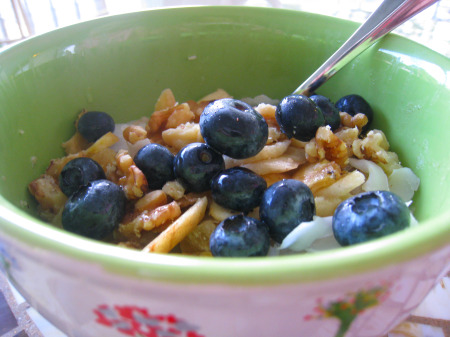 Oatmeal made with old-fashioned whole-grain oats. Today, I made tropical-style oatmeal which had:
Tropical Oatmeal

1/2 cup oats
1/4 cup skim milk
1/4 cup water
2 tsp fresh coconut flakes
2 tsp dried pineapple
2 tbs dried banana chips
Handful of walnuts
Handful of fresh blueberries

Combine the first three ingredients and microwave on high for 3-4 minutes, watching it carefully so it doesn't bubble over. Top with remaining ingredients.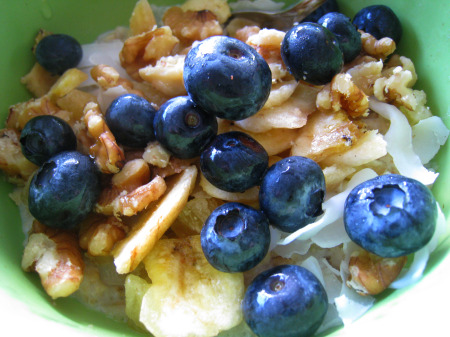 The oatmeal tasted awesome – even without added sugar – and it was so filling. It was also a nice change from yogurt and cereal. Oatmeal also has a ton of health benefits. It's an excellent source of fiber – and who couldn't use for fiber in her diet! – as well as antioxidants that help slow the process of aging by helping protect the skin. Not to mention, it's very inexpensive and fills you up with just one serving. So many reasons to eat oatmeal – why not try it? Plus, when you add fruit and nuts to it like I did, you get additional fiber, protein, and other important nutrients.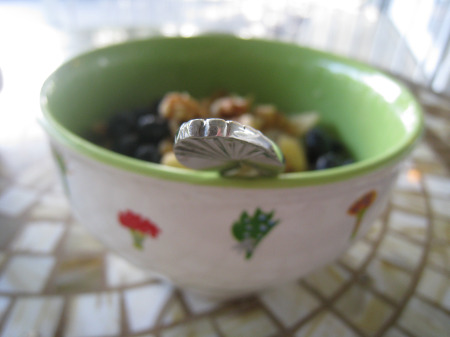 I enjoyed my awesome oatmeal outside on our huge front porch. I even had a little Tazo calm tea, which has chamomile, rose petals, and other soothing herbs. Just the thing I needed after a long hard week at work.
Have a great day everyone!