Hey all! Sorry I'm posting so late. I'm just now winding down from a full weekend of family and food-focused activities. To recap, we had dinner with my sis on Friday night, a family portrait and birthday bbq on Saturday, and today we had a family breakfast and huge family picnic at a park. Do you think that's enough family and food for one weekend? Also, why is it that whenever I get around family, everything seems to center around food? I'm not even Italian! Does anyone else ever have that issue?
Anyway, my day began with a 5-mile run which felt GREAT, especially after all of the food I've been eating. Then it was on to another family breakfast at the Ritz Carlton. The food was, once again, fabulous and the service was top-notch. I decided that I wanted to take my breakfast in courses today. So, I started with a 4 tablespoons of strawberry yogurt with a few fresh berries and about 2 tbsp granola.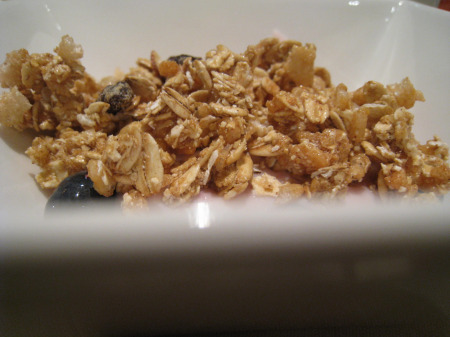 Next, I tried something I've never eaten before….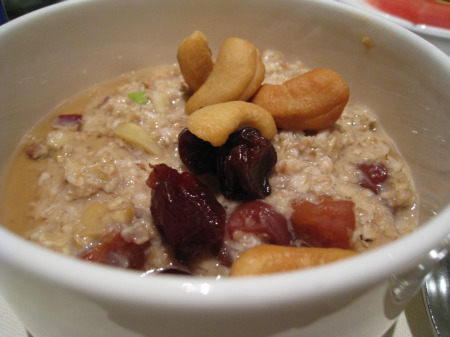 A very small bowl of Muesli! I know it probably looks like yogurt, but it's actually a cereal-based dish that's very popular in Europe. It has a base of uncooked rolled oats (soaked in water or milk overnight) mixed with dried fruit and nuts. Mine had dried currants and figs (I think) and a mix of cashews, walnuts, and almonds. Once I got past the "cold oatmeal" taste, it was actually quite good. I think I'll try whipping up my own version at home.
Next was a small plate of some other hot and cold breakfast items….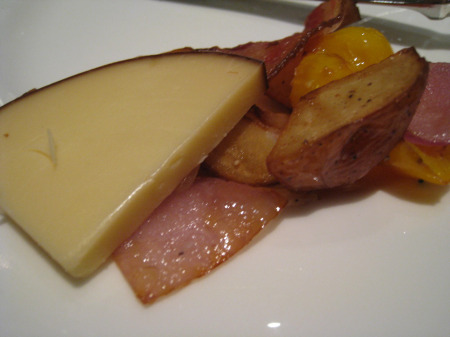 I had one small slice of havarti cheese, sauteed peppers and a few potatoes, with one slice of bacon. It was just enough of the "hot" breakfast to keep me satisfied. 
I also had a very small portion of a blueberry muffin.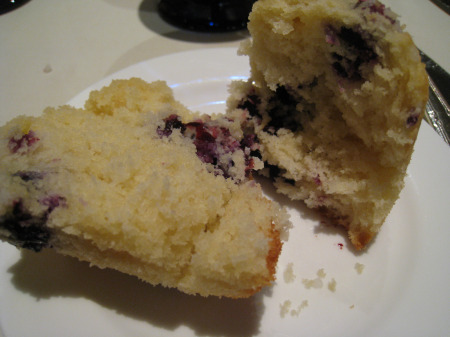 I seriously only had 2 bites of this because it was very dry and had a very strong "cake batter" taste, like it had too much flour.
Finally, I had my own pot of English Breakfast tea -Yeah! This time, I had Taylors of Harrogate tea and it was just lovely.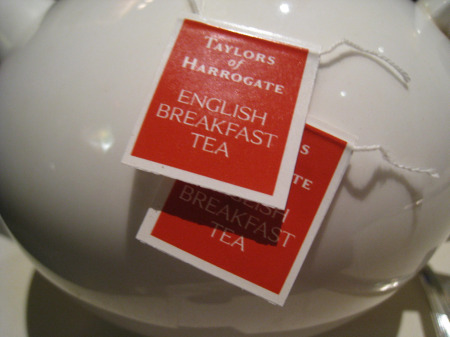 Although that was the end to my very hearty but balanced breakfast, I did have a sip of some hot chocolate that someone else from my table ordered. Although the hot chocolate just tasted average, the presentation was so cool. Take a look…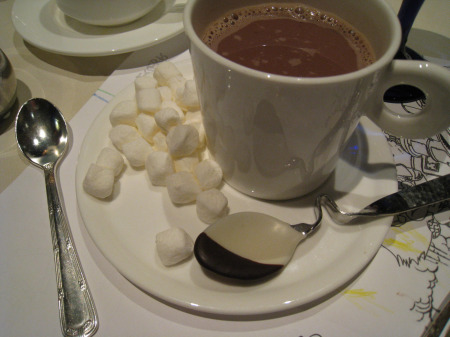 It was brought out with little marshmallows and a silver spoon dipped in dark and white chocolate.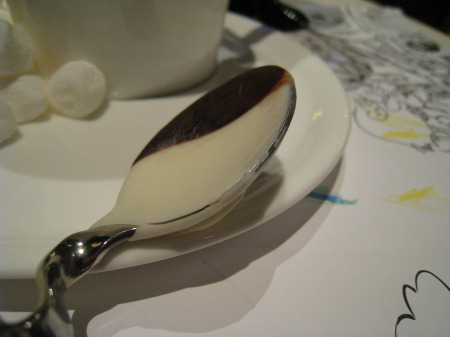 Way cool – makes me wish I had ordered it!
After our amazing breakfast, we headed out to pick up a few more picnic things. We arrived at the picnic around 12:30 PM and visited with all of our "lost lost" relatives, which was so fun! I was still full from breakfast so I only picked at some of the food that was there – had a little potato salad, a small scoop of cheesy potatoes, and a scoop of my cousin's ramen noodle salad (my portions were not even enough to take a decent picture). All of it was very tasty, but it would have been even better if I was actually hungry. It was also about 95 degrees outside which didn't help my appetite.
Now we're heading home and I am sooo tired. After this weekend's eating fest, it will be so nice to get back into my regular eating pattern and eating home-cooked meals!