Wow, what a hectic morning it's been! I've been working non-stop since I arrived at the office. Crazy I tell ya! 
After my fantastic morning run, I made a yogurt bowl for breakfast…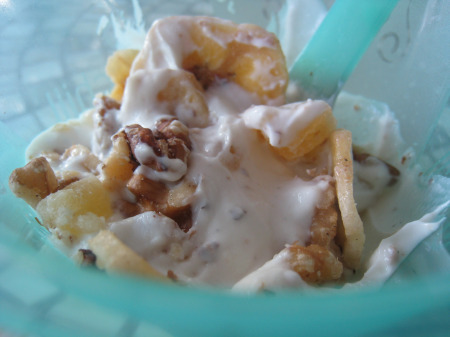 I started with TJ's low-fat Greek yogurt in vanilla flavor, then added a couple teaspoons each of chopped walnuts, dried pineapple, and banana chips. Awesome! I served it in my new cool bowl that I snagged at the outdoor concert I attended a few weeks ago…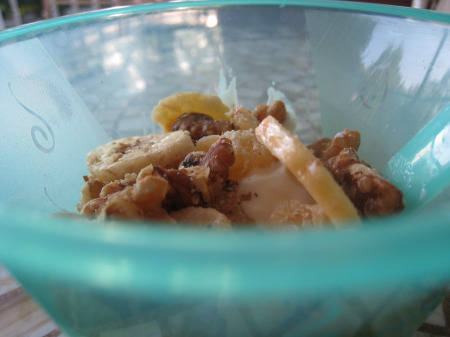 It also came with a matching, curly-Q spoon that changes colors with the temperature. It gets darker when it touches something cold and lighter when it touches something warm. How cool!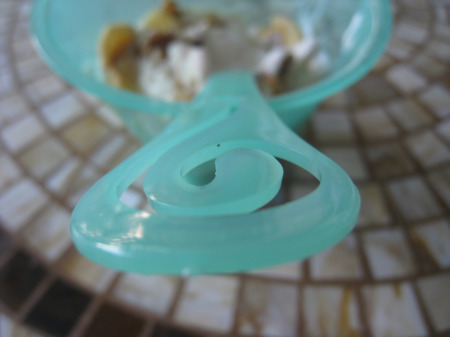 I also stopped at Starbucks on the way to work and grabbed a tall mocha frap. It's really not bad calorie-wise – only about 230 with light whip cream. But, it ranks very low on the nutritional needs scale if you know what I mean. I don't have a pic because I drank it before I remembered to take a picture. You all know what it looks like anyway.
The morning went by so fast. Before I knew it, my stomach was growling for lunch. I only brought a plain Jane chicken sandwich today – blah…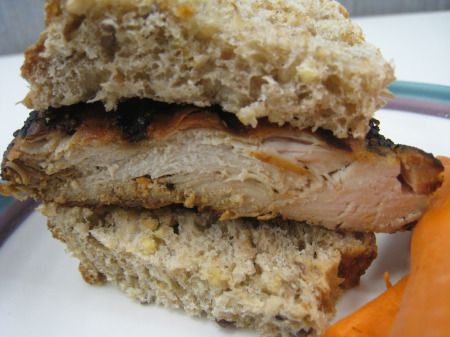 No frills, no fuss. A girl can't eat fancy everyday. But, it was on whole-grain bread (you can actually see the little seeds/nuts, which I love!). I also paired my sandwich with a few sweet carrots…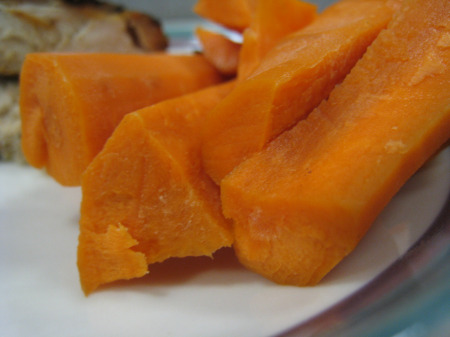 I know, I know, what a dull lunch. I'm hoping dinner makes up for it. We're having a basil chicken stir-fry dish, one of my husband's favorites. Can't wait!
Have a great afternoon and see you all after dinner!