It was an awesome morning for a run! It was 60 degrees, sunny, and no humidity. Perfect. So, it really goes without saying, I was so in my glory running this morning. On my way around the lake, I even threw in a few speed intervals on my 5-mile run because I had so much energy.
By the time I came home from my run, I was quite the hungry girl. For breakfast, I made a beautiful blueberry breakfast parfait…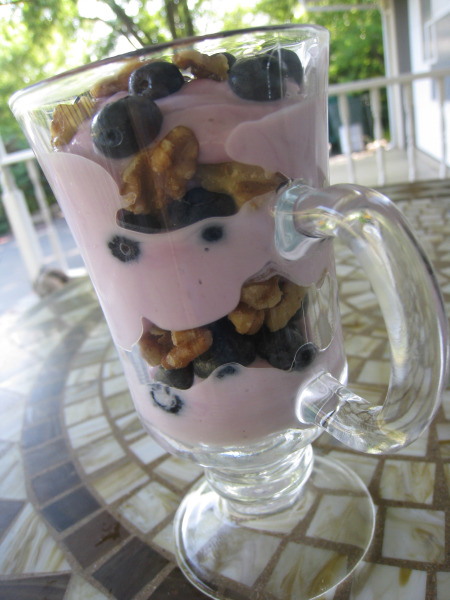 Here's what you'll need to make the parfait:
Blueberry Greek Yogurt Parfait

1 4-6 oz container Greek yogurt (I used Trader Joe's nonfat blueberry)
3 tbsp. chopped walnuts
1/2 cup fresh blueberries

Put a couple of heaping spoonfuls of yogurt in the bottom of a parfait glass (a glass mug or martini glass will also work), then add 1 tablespoon of nuts and about 1/3 of the blueberries. Continue to layer the ingredients in this order until all the ingredients have been used.

Serves one and is about 200 yummy calories. Enjoy!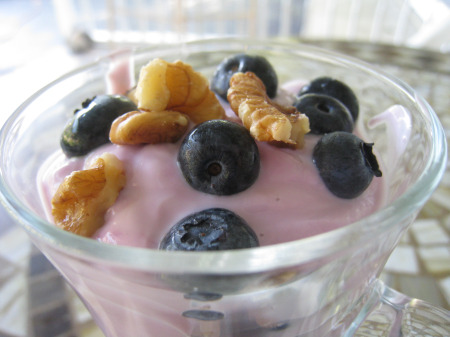 I just love adding walnuts or pecans to yogurt, because in between all of the creaminess, you get a surprise crunch! And the colors are so pretty, don't you think?
After breakfast, I spent most of the morning inside making the house acceptable again. Then, my husband and I headed out to do a few errands. We also made time for a little lunch at a local Italian cafe…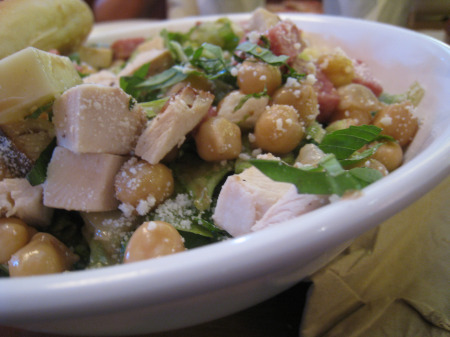 I had a huge Italian chopped cobb salad which was brand new on the menu. And I do mean a HUGE salad- it could easily have been split by two people. It included smoked chicken, salami, chickpeas, tomatoes, salad greens, provolone, and tons of fresh basil. It sounds sooo good, right? Well, I thought so too. But after a few bites, the balsamic vinaigrette  dressing was a little too much for me and the basil was really overpowering the taste of all of the other ingredients.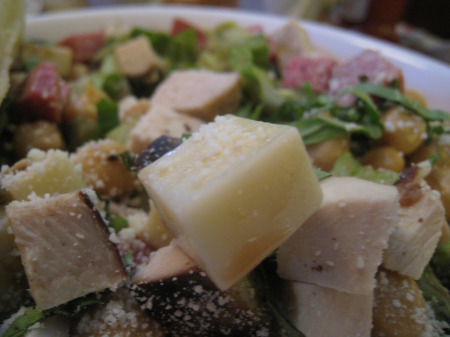 I ended up only eating about 1/3 of the salad. I really wanted to like this salad, but I don't think I'd order it again.
Now, we're packing up the car with our picnic supplies. We're headed to another outdoor concert – this time to hear a variety of waltzes, including the Blue Danube, which is one of my favorites (ok, I'm really not that old, I've just heard it so many times that it's grown on me.) 
Dinner is going to be great though – fresh chicken, hummus, and a raspberry white chocolate roll cake. Can't wait.
I'll post pictures later.