What a long day! I worked for 11 hours today and spent most of the time in meetings.  Now I'm soooo tired. 
Before all of the craziness started at 1 PM, I had a little lunch…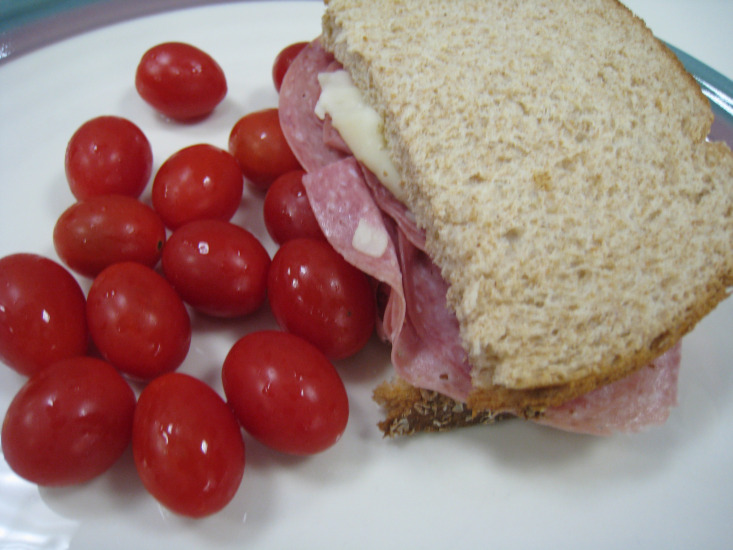 I had a salami and Swiss cheese sandwich on whole-grain bread. I also had a big handful of super bright red grape tomatoes.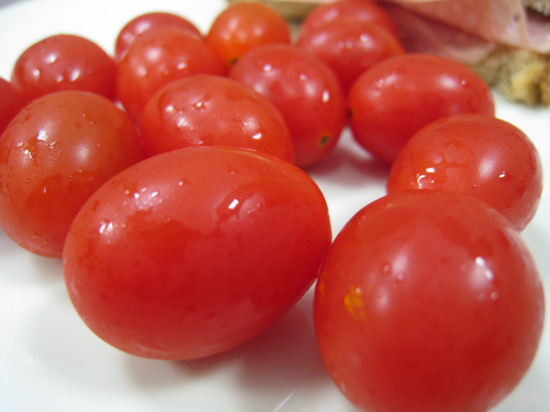 Just look at how bright they are!
During my very long meeting, I desperately needed a pick-me-up to stop from falling asleep. I snagged a big chocolate chip cookie from the back of the room.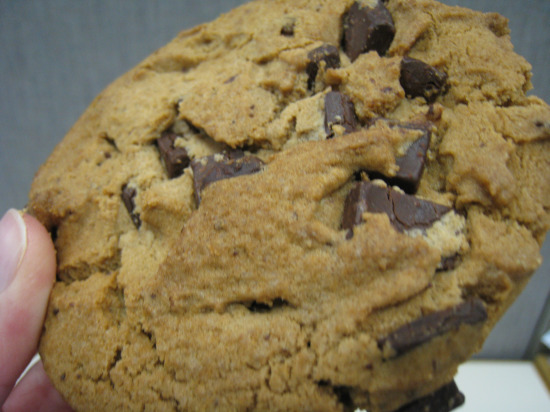 Holy cookie! It tasted so good, although after I ate it I felt cookie remorse. We continued with the meeting until about 5 PM. The group wasn't meeting at the restaurant until 6:30 PM so I just hung around the office and worked until it was time to leave.
As I mentioned earlier today, I was not able to take pictures of my dinner for fear of the strange looks I might get from my dinner companions. I will try to describe it in as much detail as possible though.
Dinner was held at a local and very trendy winery. When I arrived about 15 minutes early, there were already a few of my colleagues and business associates enjoying drinks in the lounge. I had a beautiful glass of chardonnay. It had hints of melon, apple, lime, and butterscotch, which made for a mighty taste drink!
For my entree, I enjoyed the linguini pasta tossed in a parmesan broth and mixed with chicken breast, spinach, sun-dried tomatoes, mushrooms, and cream. Amazing! I ate about 3/4 of the dish and now I'm so stuffed and it's been nearly 3 hours since I'm eaten! I am very glad that I do not go to these "business" dinner very often or else I would weigh a ton. But then again, business dinners are typically free so they are had to pass up.
I think I will pass on dessert tonight, especially because I have a full-day meeting tomorrow with a catered breakfast and lunch! 
Stay tuned to see if I can sneak a few food pics in tomorrow.
Take care everyone!