Hello all! Well, despite only getting about 6 hours of sleep, I woke up at 6:15 AM for my morning run at Disney World! Believe me, if there's anywhere you're motivated to run that early, it's Disney World. Besides, I wanted to get my run in before the conference started at 8 AM. I ended up going only about 4 miles, due to time constraints.
I won't bog you down with details of the conference, but I will say that Disney puts on an awesome "show" for business professionals. And, the food is amazing!!! Seriously, I've wanted to take pictures of everything, but it does really seem strange to take photos of food when everyone is standing around me. I'm going to attempt to take a few photos on the sly tomorrow.
However, I did get some pics of my fabulous dessert at Citrico's, a Mediterranean-themed restaurant in the Grand Floridian resort…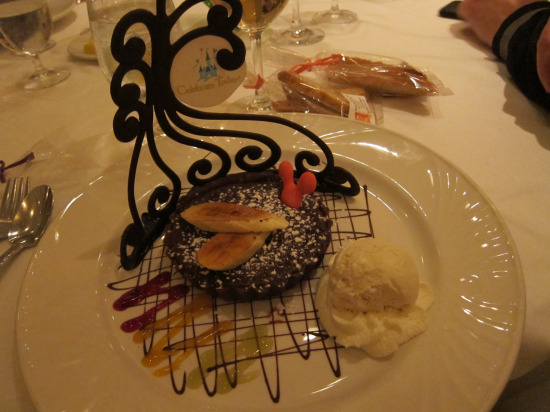 This was a banana chocolate lava cake – sooo good, but definitely pushed me from the "I'm slightly full" stage to the "I'm stuffed" stage – totally regretting eating it now. And yes, that dark swirly, crown looking thing was made out of chocolate – and I did try a bite or two! Our server also gave us each a little bag of biscotti to take home as a "gift". I scored two – yeah!
Heading to bed now. Have to be up and at 'em by 6:15 Am again for that brisk morning run to the Magic Kingdom!
Have a great night!