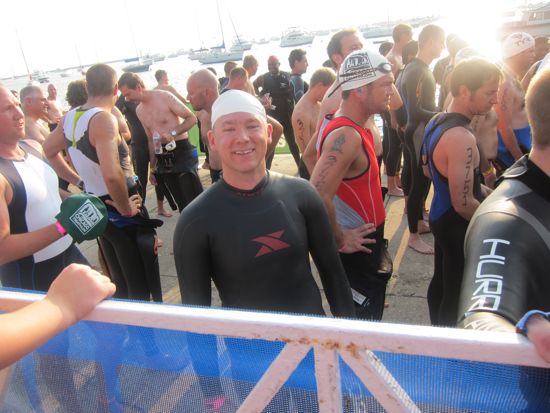 My husband Scott did the Olympic distance Chicago Triathlon this morning. But before I get to that, let me rewind a bit. We headed downtown early yesterday to check into the hotel and check out the Tri-expo. I headed straight to the Larabar booth to pick up a bunch of swag…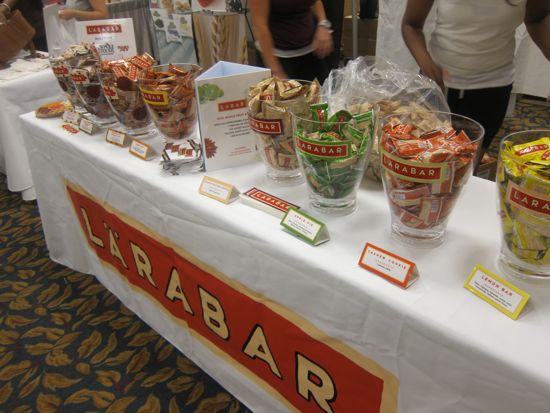 I love these bars and they came in so handy today while waiting for Scott to finish. The kids and I didn't get to eat lunch so it was Larabar to the rescue! After the expo we walked around for a bit in downtown Chicago. I had heard the Eiffel Tower was making an appearance at Macy's on State so I just had to stop in to see it for myself…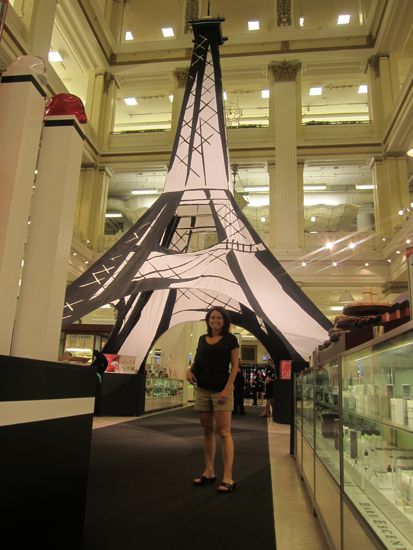 The girls at the Lancome counter probably thought I was crazy – or at least a tourist. I am neither, thank you.
After dinner at Maggiano's Little Italy, we attempted to go to bed at a reasonable hour, considering Scott needed to be up at 3:45 AM in order to get his bike to the transition area. But on our way back to the hotel, we heard the familiar sounds of Chicago's Summer Dance Festival – Puerto Rican salsa music, definitely one of our favorites. Since the festival was literally right across the street from our hotel, we decided to stop for a few minutes – it was a beautiful night to listen and dance to music under the stars!! On nights like those, I really miss living in the city.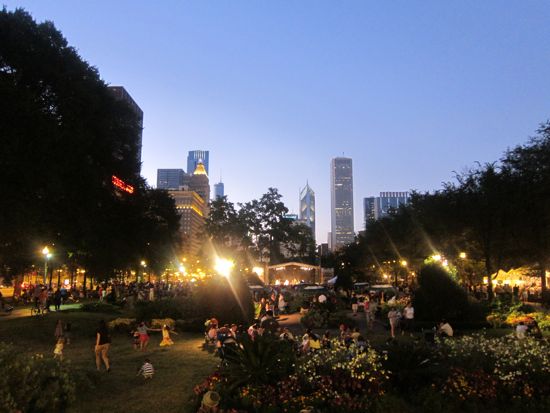 We ended up not falling asleep until after midnight, then both woke up at 3 AM and couldn't go back to sleep. Ugh!!!. Not fun for either of us.
In spite of our unintended lack of sleep, Scott was out the door on time. I even managed to get the kids up, ready, and out the door in time to see Scott shove off for the swimming portion which started promptly at 7:52 AM. The rest of the morning was spent walking around the race area and tracking Scott on his bike and run portions. Runkeeper is very cool in the iPhone – when it works – and really helped me pinpoint Scott in the last 20-30 minutes of the race. Toward the last stretch, I was able to see exactly where he was on the course. So, when he came into view, Mr. C and I ran out to jog with him for a minute – Mr. C was so excited to run with his Dad! I was so happy and proud of Scott that I almost cried!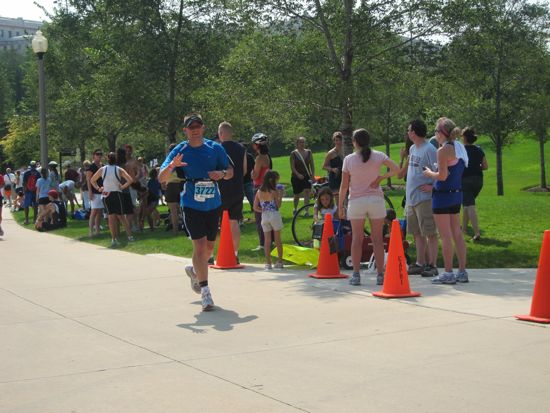 It really amazes me that Scott trained for the last 6-7 months and accomplished a full swim, bike, and run – something I have no interest in doing at this point in my life. He and the other triathletes are truly inspirational. They trained so hard and you could see the deep emotion in their faces as they ran along the last stretch of the race – excitement, exhaustion, determination, pride – you name it, every emotion was there. Scott ended up finishing in about 3.5 hours – that is amazing to me, especially considering it's his first race AND he was racing in 90+ temperatures! I'm actually surprised we didn't see more runners pass out from the heat, but I'll consider that a blessing. By the way, if you want to know how many calories he burned for his 3.5 hour workout – that magic number would be 3,500 calories! Yes, he definitely deserved that huge piece of chocolate cake tonight.
Congratulations to Scott and Ryan (Scott's brother who also raced) for a fantastic triathlon today! Just let me know when we're headed to St. Croix for the next one! 🙂