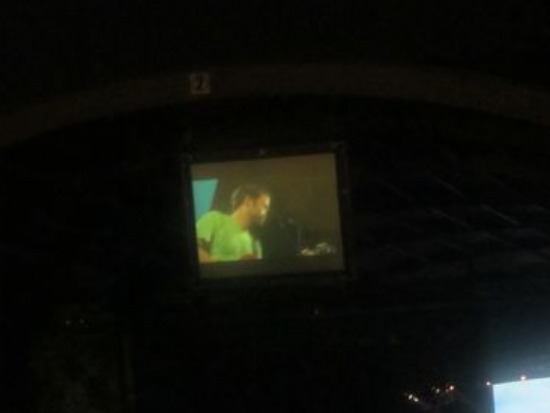 Last night, Scott and I went with another couple to see Jack Johnson. The concert was awesome  – yeah, like you couldn't tell from my Tweets! He played at least 25 songs including an surprising rendition of Steve Miller's The Joker – very cool! He also played several songs from his new CD – To The Sea. Again – awesome! Obviously, the photo above was taken at the concert. JJ looks so big on screen, but we were really waaaay back on the lawn. Jack looked like a green spec most of the time. I didn't mind that much though as long as I could hear him sing. What I did mind was all of the smoking – tobacco and other things. I probably had a pretty good contact buzz going considering I was engulfed in a fog for pretty much the whole concert. But there was really no way of getting away from it. The worst thing was that there were little kids there – from babies to 12-year olds. So glad I decided to leave Mr. C and Ms. M home, although Mr. C would have loved the concert. He likes JJ just like his mom!
What impresses me about Jack, aside from his awesome songwriting and voice, is that he can put on a great concert without a lot of fanfare – it's just Jack and his music and that's all I need.
After returning home at 1 AM, I was not about to get up super early to run. I ended up getting out the door around 9 AM this morning. It was a gorgeous morning – about 65 degrees and sunny! I ended up doing 6.5 miles with 8 min 20 second miles. Not bad for getting about 6 hours of sleep! Could have been the leftover contact buzz 🙂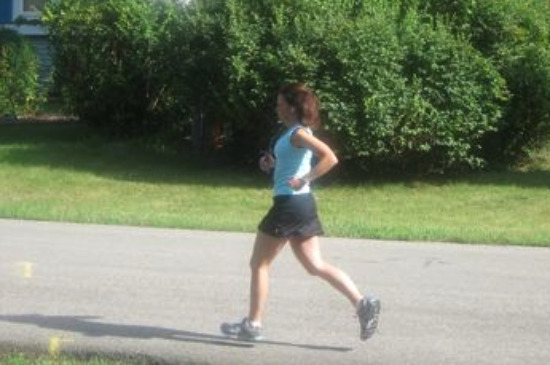 As you can see, I was sporting my brand new Lucy running skirt! I was a little apprehensive about wearing a running skirt at first. When I first looked at it, it looked VERY short. But then when I held it up to my regular running shorts, it was the same length! Oh, how our minds can play tricks on us. I'm going to give a full review of the skirt on Bookieboo.com on Wednesday. However, I will say that this skirt is a keeper. I felt comfortable and very chic at the same time -always a plus when I'm running!
After the run, we had more guests over for swimming and bbq-ing for lunch. Then, it was on to Ravinia, and outdoor lawn concert with the Chicago Symphony Orchestra. We were treated to a fantastic all-French night of music, including Ravel's Boléro – amazing!!! If you think you don't know this piece of work, listen to it on YouTube. Most people will recognize it immediately. It's sounds a tad like Memories from Cats, although I'm sure Ravel wouldn't appreciate that comparison.
Off to bed now, have a great night all.