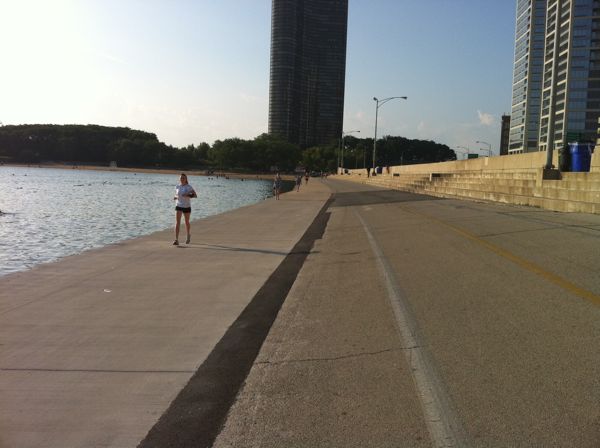 Like many people, before I travel I think of all of the sites I want to see, all of the restaurants I want to try, and the best places for shopping. In addition to these things, I also think about where I will run. I know I'm a little odd when it comes to running, but it's true. When I'm out of town, finding new, fun places to run is just as exciting as finding a cool new bistro.
In my many years of running, I've run in 8 countries, not including the US, and have run in 22 of the 50 United States. I've had so many wonderful running experiences – running along old and winding streets in Ireland, past Gaudi's legacy in Barcelona, by totem polls in Vancouver, and right up to the gates of the Magic Kingdom in Orlando. All of these places are reminders of wonderful trips and wonderful runs. However, I would not consider any my favorite.
In September, I was fortunate enough to be able to run my favorite route – a route I haven't run in years – the Chicago lakefront path. If you've ever been to Chicago's lakefront, you will know that the path goes on and on for miles. On one side of the path, you run with beautiful views of the Chicago skyline on the horizon. On the other side is the calming shoreline of Lake Michigan.
Years ago, when I worked and lived downtown, I would take my running clothes to work. After work, I would change and run home along the path, starting from Navy Pier and finally turning into the Lakeview neighborhood near Belmont Harbor. It was such an amazing feeling to combine my 45-minute commute with a strong running workout, something I've greatly missed while being in the suburbs. On days that I was not able to run home from work, I would get up extra early to run the lakefront. Rain, snow, or shine, I pounded that beautiful pavement with hundreds of other athletes, yet somehow, felt completely lost in my own thoughts and in my own world.
Each time I go back to the lakefront for a run, I have a slight melancholy feeling. I'm so happy that I'm running my favorite path, but sad – almost like not knowing when I will be reunited with an old friend. And when I do return, the path seems to say, "it's been way too long my friend, way too long."
Where is your favorite place to run?