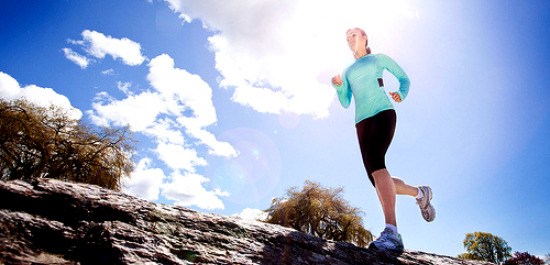 (Photo source)
Runner's rut – we all go through it at some point. The dreaded rut means different things to different runners. For many, runner's rut signifies that they've reached a training or performance plateau. After months of running, they just can't seem to get over the hump and improve. But for me, runner's rut means that running loses its luster and seems more like a chore than a treat.
Gasp! Yes, that's right. Although I love running, I have to admit that running can get monotonous. Think about it, who wouldn't get bored doing the same workout every day? And I don't just mean running on the treadmill – that's a whole other boredom story that I'll save for another time.
If you've ever experienced runner's rut, rest assured that there are some easy ways to snap out of it. To break through this monotony and keep running fun and fresh, you just need to change it up a bit. Try the following strategies – one is bound to stick and help you find your runner's high again.
Run with a Friend – Even if you're typically a lone wolf runner like me, running with partner or in a group can motivate us to push a little harder or even help us see running from a different perspective. At the very least, having someone to talk to helps the time go by faster!
Try a Different Route – Sometimes, all you need is a change in scenery to breath life back into your running routine. If you always run on the road, try a trail. If you always run in the city, try running along the lakeshore, etc.
Change Your Routine – We all get comfortable with our running routine. Heck, I ran the same 5 miles every day for months! Even if you can't add more miles to your workout, try interval runs or speed training to add some pizzazz to your workout.
Get Some New Tunes – If you know exactly what song you will end up on when you hit mile 3, it's time to change your tunes!
Set a Goal – It's easy to get motivated when you have something to look forward to, like a goal of breaking your 5-mile record or running a local 10K. Better yet, run for a cause and channel your extra motivation to help others!
Sport a New Outfit – OK, I just had to throw that in there. It may be pathetic, but I am motivated by cute running clothes. If I have on a new running shirt or shorts, somehow I feel stronger and sexier. What can I say, I am a runner, but I'm also a girl!
Take a Break – Give running a rest for a week and try something new. Go for a walk, try swimming, or organize a hike. Then, after a week, go back to running, hopefully feeling fully recharged!
How do you break through a running or workout rut?
Happy running everyone!