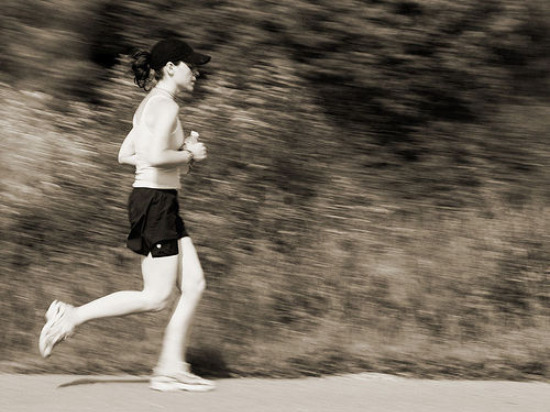 (Photo source)
As some of you know, I've been a runner for more than 20 years. For someone who is only in her 30s, that's a pretty long time to be a runner. Colleagues, friends, family members, and even bloggers have asked me why and how I started running. Good question. Every runner has a story about how and why he/she started running – and this, my friends, is mine….
When I was a Freshman in high school, I played on the girls fast-pitch softball team. I was a pitcher, and a pretty good one too. At the beginning of the season, I was told that I would be moved up to varsity by the end of the year. At that point, I decided softball would be my life. Little did I know that my dream of becoming a major league women's softball star would become derailed just as quickly as I could throw a pitch.
"You can swim…or you can run"
A few weeks after the start of the season, my throat began to hurt and I started running a high fever. My throat began to swell, so much that it was hard to swallow, and sometimes, even breath. I was extremely tired and felt weak all over. After a trip to the doctor, I learned that I had mononucleosis, the kissing disease, as it was so lovingly called in my school (I swear I contracted it from the softball water bottles!) I was told by the doctor that I could not play softball or any contact sports for the rest of the year because of the risk they posed to my enlarged spleen. Fearing I would gain weight and be out of shape for next softball season, I asked the doctor what I could do to stay in shape. He replied, "You can swim…or you can run."
When Life Hands You Lemons…
Not being much of a swimmer, I contemplated running. I never really gave it much thought before that day. However, I always ran faster and farther than the other girls on my softball team during our mile warm-up lap around the school. In the next few days, I was approached by the girls' track coach, who just happened to be the former coach of the national women's cross country team. He had heard about my softball situation and suggested I join the track team (apparently, he had seen me run during softball practice). So, running it was.
Just like softball a few months before, running quickly became my life. For four years, I ran on the track and cross country teams. During this time, I learned a great deal about running. My coach and the seasoned runners on the team taught me about warm ups, cool downs, running form, pacing, interval running, proper stretching….and about racing.
Convincing Myself…
Despite this new-found love for running, I didn't call myself a runner nor did I think I was any good at it. Although others may have seen me as a runner, I was constantly trying to prove (to myself) that I was a runner. Throughout college, I did strenuous running drills, because I thought that's what real runners did. I entered road races, because I thought that's what real runners did. I didn't win the races, but often finished in the middle of the pack or even at the end. Yet somehow, just being involved in racing made me qualify as a runner, or so I thought.
On Being a Runner…
Fast-forward 20 years. After many years of running and many races under my belt, I now know that it's not winning or even racing that makes you a runner. It's about the commitment to running and the enjoyment and benefit you receive from running. But most of all, it's about the desire to run.
If I were asked today, how do you know you're a runner? I would reply – You will know when you're a runner because you will run even when there is no race, no finish line, and no fans.
Yes, I am definitely a runner.
As I said, everyone has a story about how he/she starting running, biking, doing yoga, etc. So, what's your story?