Hello all and Happy Hump Day! I am having a very stressful day (and a BAD hair day which just adds to the fun). So please excuse me if I'm not my typical cheerful self. Despite being my off day for running, I woke up early to try to get a jump start on the day and that I did. 
Before I left, I ate a quick and healthy breakfast ….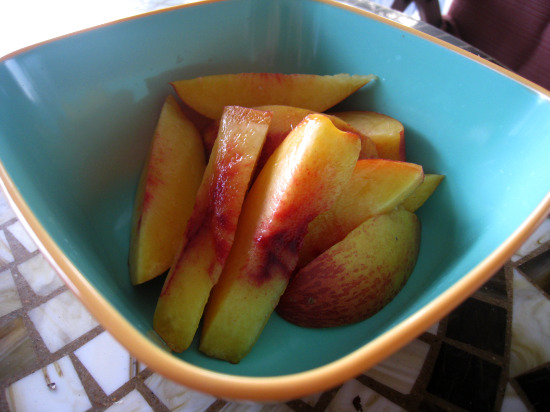 A super juicy nectarine! They've been so good this season – I don't think I've had a bad one yet. I also had a piece of Brownberry Double Fiber bread with a tbsp of MaraNatha all-natural creamy peanut butter.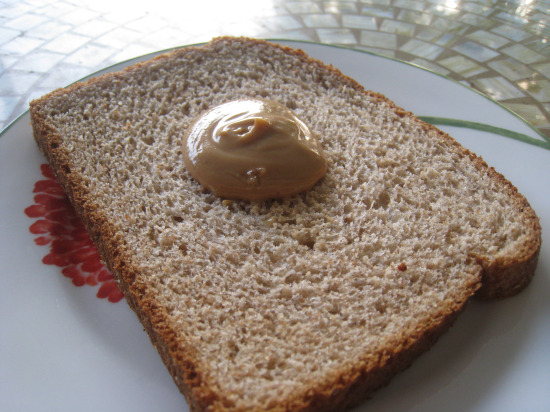 For quite a while, this was my go-to breakfast for the work week and on the weekends. It's simple but healthy because it has tons of fiber, protein, and MUFA! Throw a little fruit and a Daily Wellness shot and you're all set.
I arrived at work just before 8:30 without making any detours (although Starbuck's was calling my name). I am in charge of so many projects right now that all seem to have the same deadline – how the hell did that happen?? But, I have to keep reminding myself that many people out there have lost their jobs, so I should just be thankful that I still have one in this economy. 
In keeping with my simple but healthy theme, I ate a 1/2 ham and salami sandwich for lunch, with a side of sweet and crunchy carrots…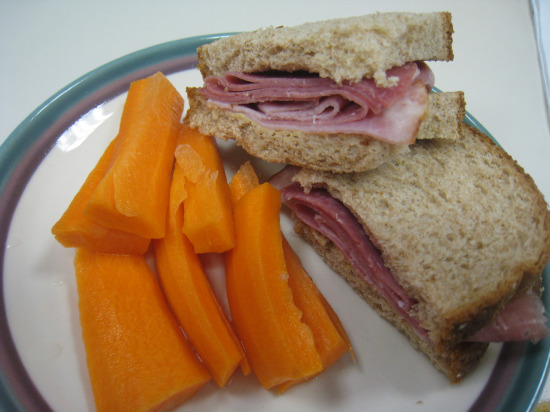 Not very fun, I know, but that's the way it goes sometimes. Now, I'm thinking about going to Starbuck's. And, it's not that I need the caffeine, it's more that I need a pick-me-up. I hate that I rely on Starbuck's to put me in a better mood. But I guess it's less expensive than going on a shopping spree!
Have to get back to work. Have a great afternoon everyone.