Hey everyone! I am so glad that today was not my day to run because it was pouring down rain when I woke up. Or I should say, when I got out of bed. I actually woke up around 3:30 AM and could not go back to sleep because of the noisy rain and my racing thoughts. If anyone has any recommendations on how to fall back to sleep during these situations (other than my husband's obvious suggestion), I'd love to hear them.
When I finally got out of bed at 6 AM, I made a cheerful and eye-opening breakfast…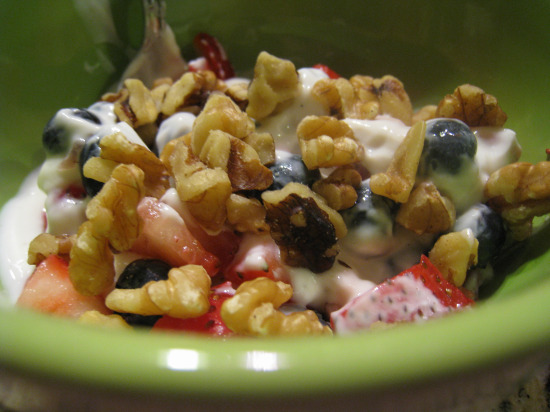 I mixed 1 carton of Trader Joe's nonfat Greek Yogurt – vanilla flavor – with 2 chopped strawberries, 1/2 cup blueberries, and 2 tbsp walnuts. After that, I was good to go until lunch! It's amazing how Greek yogurt can fill you up – and the added MUFA from the walnuts doesn't hurt either.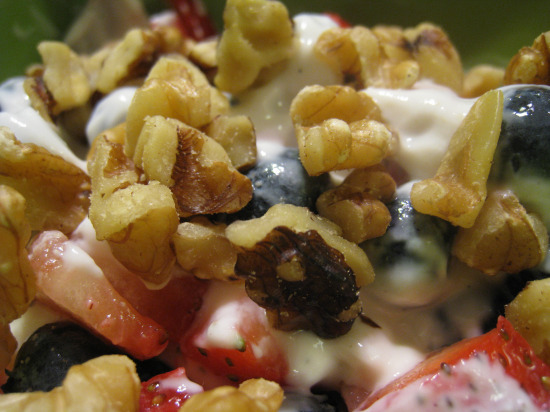 After a series of meetings, I was finally able to get a big chunk of work done – reading, writing, reviewing, etc. I hope I can be as productive this afternoon, although I'm feeling the itch to bolt out of here early.
Lunch was nearly identical to yesterday…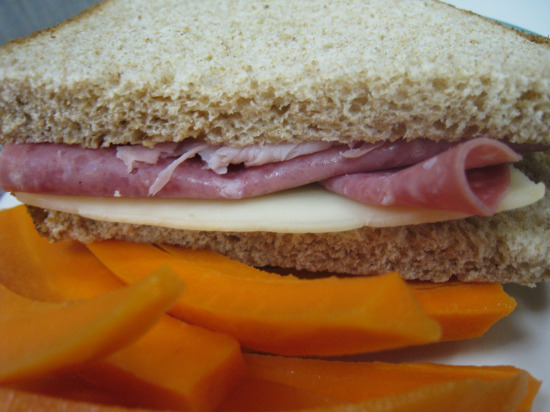 Low-fat salami and ham with a piece of Swiss cheese on Brownberry Double Fiber bread. Only today, I had it with carrots instead of tomatoes.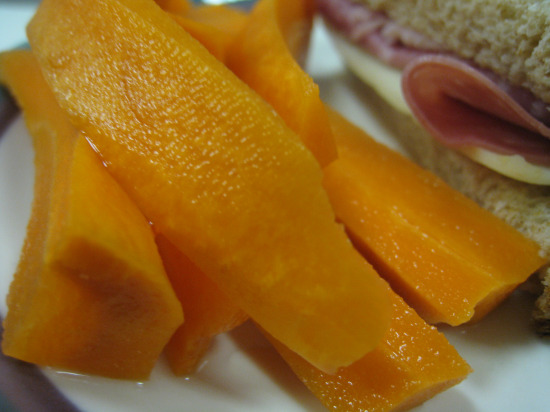 It's someone's 30th birthday in the office today and she brought a bunch of bakery treats. I am so wanting a piece of the chocolate coffee cake and the sprinkled butter cookies!
OK, back to work for me!