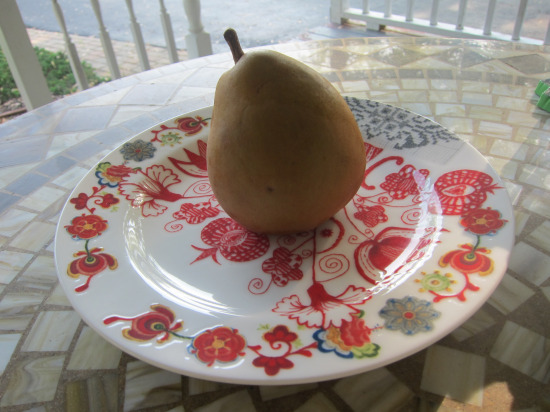 I've been on a fruit kick lately. Maybe it's because I'm trying to eat more fiber-rich foods. Or maybe it's because I'm wishing summer to get here! Whatever the reason, the other day I went to the grocery store and came back with:
Strawberries
Raspberries
Blueberries
Apples
Bananas
Apricots
Red seedless grapes
Pears
I wasn't even planning on getting all of this fruit but it looked soooo good at the store. One thing I noticed was that there were several more varieties of pears than normal. I didn't even think it was "pear season", but I guess with so many varieties, pears are always in season. Anyway, I usually stick to the green Bartlett pears – that's what I grew up with, so that's what I know. However, this time, I decided to try something different. I picked out one Taylor's Gold pear, pictured above, and 2 Bartlett pears. I am not very familiar with Taylor's Gold but learned that it is a New Zealand pear with golden-brown skin. According to Epicurious, the Taylor's Gold pear is good for making jams, jellies, and sauces. But, because it's very sweet and juicy, it's great for eating as well – I know, because I had it this morning and it was awesome!
If you want to learn more about pear varieties that are grown in the US, what they could be used for, and even what wine/cheese go best with each variety, check out USA Pears.