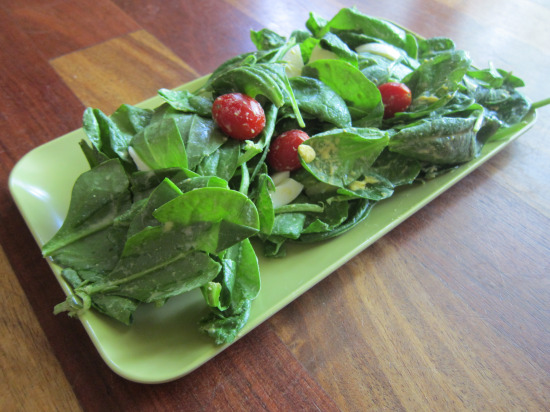 Hello all! Hope you all enjoyed your long weekend. My weekend has been extra looooong – I was on vacation today and I'm taking another day off tomorrow! Because today was the better of the two days (83 and sunny as opposed to tomorrow 75 and rainy), I spent a great deal of time outdoors. My day started with 5-mile run – of course – followed by cleaning up the house then heading out the door.
I ran several errands – all before 12 PM – including trips to Costco and the grocery store. I really do NOT like running "errands" on vacation, but sometimes you just have to suck it up.
Inspired by Fruit Not Fat, I came home from the store with loads of fresh fruit. Seriously, I think people were looking at me because of all of the fruit in my basket:
Bananas
Pears
Peaches
Watermelon
Blackberries
Strawberries
Blueberries
The blackberries looked fantastic. I wasted no time washing off a handful and making them disappear. Not the most glamorous way to eat, but hey, it was at least 6 g of fiber plus a ton of antioxidants.
For lunch, I made a huge spinach salad – I easily had 4 cups of spinach, as well as 1 hard boiled egg, 1/2 cup of cherry tomatoes, and a few cucumbers. When I totaled all of the fiber it came out to 17 g! As you can tell from the blackberries and spinach, I'm still on "fiber watch 2010" so I've been trying to incorporate as much fiber as I can at each meal. Although I can usually knock off around 10-15 g of fiber at breakfast (love you Kashi!), lunch and dinner are a little harder to fill with fiber. After reading The Full Plate Diet, I learned that spinach is fairly high in fiber for a vegetable – 4g per cup. And anyone who has made spinach knows that 1 cup of the greens does not go very far. More than likely, you'll eat 2-4 cups at a serving – especially if it's in a salad. Now I'm addicted to spinach salads!! I think I've eaten 5 in the last week – no joke – but I try to make a "different" salad each time. Spinach salads are very versatile – you can either add the normal veggies, or you can spice it up with raspberries, walnuts, various cheeses, etc. I also change up the dressing – sometimes it's balsamic vinegar with olive oil, other times it red wine vinegar, olive oil, and dijon mustard – all home made of course!
The rest of the day was spent in the garden and the yard. I would love to go on a rant about how much I detest those spinner things that fall from the trees (which now have made a thousand little trees all over my vegetable garden), but I won't.
OK, must get to bed. I'm off to yoga at 9 AM followed by a ton of "spring cleaning" – fun, fun, fun – can you believe I'm on vacation?