As most of you know, I attended a conference last week in Orlando. During one of the evening social events, which took place at Disney World (yeah!) there was a live feed filming all of the attendees as they arrived to the event. The live feed was projected on a giant screen for all to see, complete with the Black Eyed Peas blaring in the background (just a recording, Fergie was no where in sight). Take a look at my 15 seconds of fame…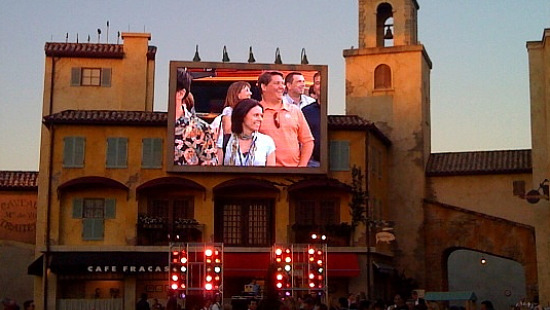 Yep, that's me in the light blue shirt with the scarf around my neck. A colleague of mine happened to snap this photo just as he saw me come up on the screen. How cool is that? I gotta feelin'….yes it was a good night. I should have been in pictures.
That's about all I have time for today. I'm scheduled to run at least 5 miles tomorrow (possibly in the rain) so must get to bed.
Have a great night everyone!