Hey All!
I had such an awesome day downtown with Anne! We met about 9:45 AM at the train station downtown and cabbed it to 1154 Lill in Lincoln Park. If you're not familiar with 1154 Lill, it is a boutique store where you can design your own purse, handbag, or a bunch of other accessories.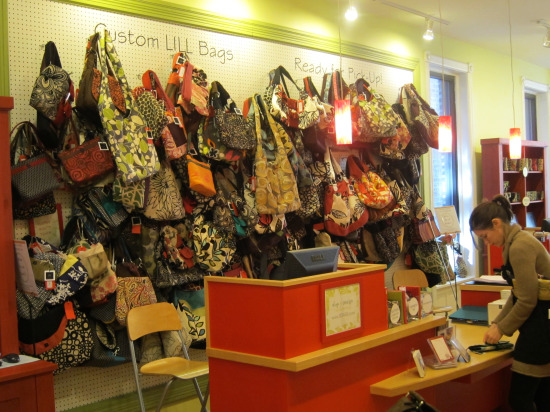 As you can see from the wall of purses, they have ready-made bags to buy on the spot, but you can also design your own – which I think is so much more fun. Anne and I arrived at the store just a few minutes after it opened (how's that for being punctual!) and then we were heads down for the next hour designing our purses. I originally went into the store wanting to design a laptop bag, but I had a difficult time figuring out what bag would actually fit my laptop. I decided on a bag called ERIKA…
I am still not quite sure that this will fit my 15″ laptop, but it was my favorite out of the choices. Now that I knew the bag I wanted, it was time to start designing! This meant throwing ourselves into the large and very colorful selection of fabrics on hand…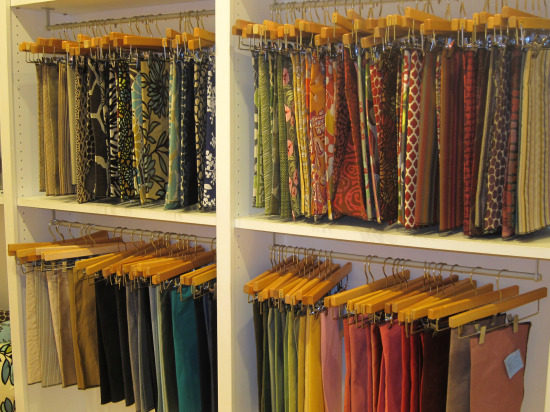 For the ERIKA bag, you have five areas on the bag to choose fabric – the main bag, the horizontal stripe, the straps, the inside bag, and the inside pocket. Oh, decisions, decisions! Because I want this bag to be a more professional work bag, I decided against doing pink or anything too frilly for the main fabric. I also wanted a darker color because I'd be using it quite a bit for travel.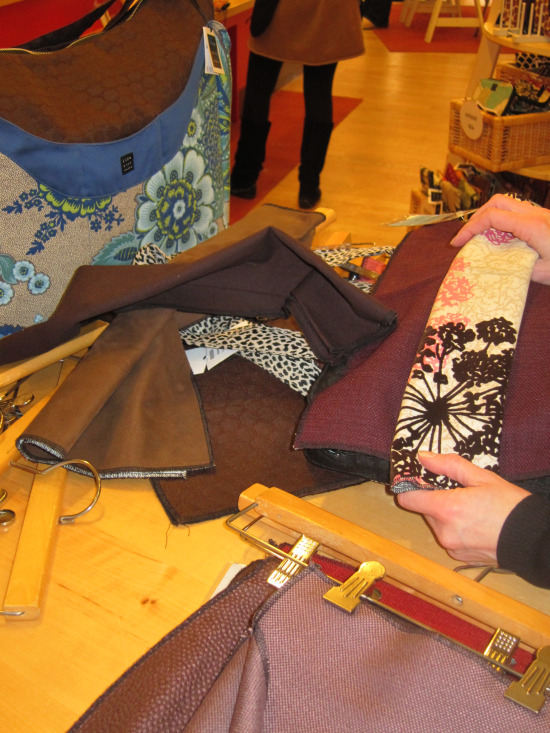 I decided on a deep shiraz color for the base. Now, it was time to decide on the horizontal stripe. This I had a little more trouble with. I am very much going through a leopard print phase right now, but was not sure if I wanted to show it on the outside of the bag. I opted for a velvet/satin blend of pink, tan, and brown Queen Anne's Lace fabric. The straps and inside pocket were easy – I knew I wanted a dark color to hide the wear, so I went with a dark brown. And finally, I went with the leopard print for the inside of the purse. This is really going to be a one-of-a-kind bag! Who knew that picking out a purse could be so fun and so overwhelming all at the same time!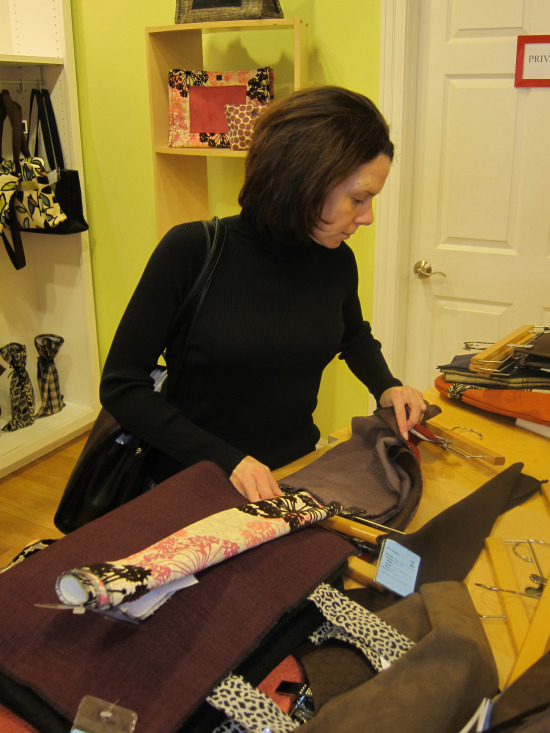 After making my laptop bag, I was extremely tempted to make another purse. But then frugality got the better of me – I was not so sure spending another $150 was wise right before vacation. So, only one bag for me today.
After our purse-making adventure, Anne and I walked about 15 minutes to her favorite little crepe place – Icosium Kafe in Lincoln Park. The cafe specializes in Algerian-style crepes, so there were a ton of influences from Greece, Moracco, Turkey, and Africa. It's amazing what you can put in a crepe these days!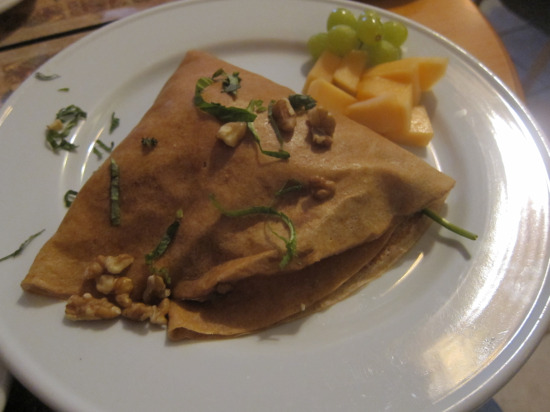 I had the Carthage crepe that was filled with mixed greens, peppers, mushrooms, walnuts, and feta cheese – soo good! I am a little embarrassed to say that I ate almost ALL of this huge crepe – but I justified it because I had a very light breakfast 🙂
After lunch, it was back on the train for both of us. But, we are already talking about heading back to 1154 Lill in the spring or summer to make another purse! By the way, if you're wondering what my final laptop bag looks like, check back after March 6 to find out! 
Now it's time to study – have a great night!