Hello Everyone!
I don't know about you but I felt like I could have slept all day today. Between the time zone change- going from Pacific to Central – and Daylight Savings time ending, my sleep schedule is all out of whack. I'm hoping I'm back to normal on Monday – my first day back in the office in about a week and a half.
Despite being super tired, I headed outside in the brisk air to run my Friday 4-miler. Although it was nearly 50 degrees, it felt much colder with the wind and the fact that I had just been running in 60 degree weather for an entire week.
Breakfast was a bowl of Kashi Go Lean, which I haven't had at all in over a week. The closest thing I could get to Kashi out in San Diego (at the hotel anyway) was Raisin Bran, which was not great, but adequate.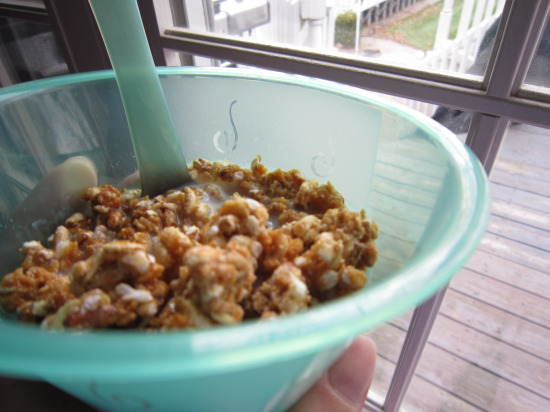 With the time change and just being plain tired from working 70 hours this week, I was moving in slow motion all day. Browsing through Target seemed like it took forever. I didn't even want to attempt to go to the grocery store.
Lunch happened to be leftover chicken soup that Scott made a few days ago…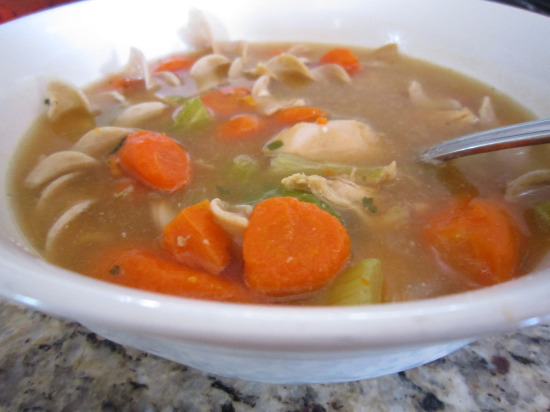 I guess you could say this was my first home-cooked meal in over a week. Ahh, chicken soup really does soothe the body and soul. 
I spent the afternoon cleaning and then rewarded myself with an hour's worth of reading a bunch of new magazines that were delivered right after I left for San Diego. Woo-hoo! I love holiday issues of magazines. They are always so thick – granted a lot of those pages are ads – and they have such colorful, creative, and festive photos.
Tonight, Scott and I went up to our local outdoor mall to see holiday fireworks. I know what you're thinking – holiday fireworks? It's only the week after Halloween! Well, I didn't make this year's fireworks schedule, but every year the mall welcomes the holiday season with a visit from Santa followed by fireworks. It seems that this day gets earlier and earlier every year.
Prior to the fireworks, we headed to Go Roma for dinner. I was really NOT in the mood to go to yet another restaurant. However, on the night of the fireworks, if you don't get there by 5 PM – dinnertime – you may not get a parking spot.
For dinner, we started with a little toasted ravioli…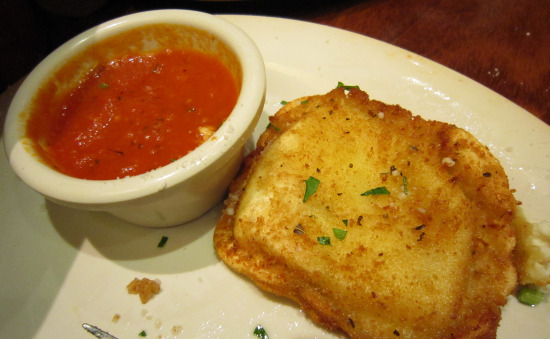 I seriously eat toasted ravioli probably every two years. It's not that I don't like it but, in most cases, it just does nothing for me. However, I had the toasted ravioli once or twice in San Diego and it was really good. So when I saw it on the menu tonight, I thought, why not?
We then split a full plank of pizza – 1/2 cheese and 1/2 pepperoni/veggies.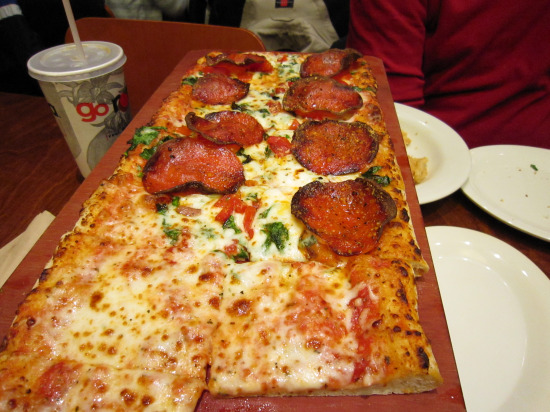 I am really surprised I didn't have pizza at all in San Diego, with how many times I went out to eat. 
After the fireworks, which were rather short this year due to the strong winds, we headed to Barnes and Noble for a little book browsing. I also topped off the night with – guess what? Another cupcake!!!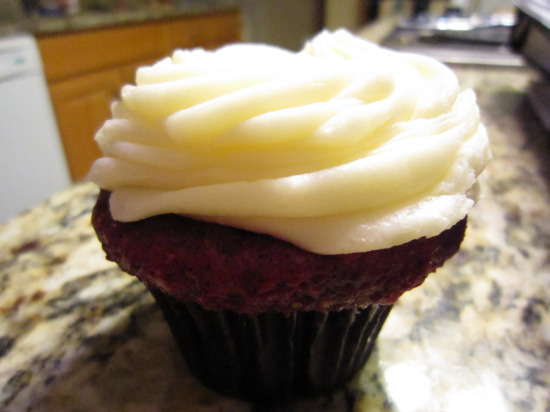 I really have to stop this cupcake obsession! But I just can't get past the cream cheese frosting – soo goood!!
Ok all, I need to get some sleep. Stay tuned for a some exciting things in the next week or so!