Hey all. This is going to be a quick post because I'm exhausted and want to get to bed early.
I had an afternoon full of meetings and phone calls. Being busy sure does make the time go by faster.
My husband and I had planned on having basil chicken stir-fry for dinner but at about 4:30 PM, we decided that neither of us wanted to cook. So instead, we headed to one of my favorite healthy quick-service restaurants, Corner Bakery Cafe.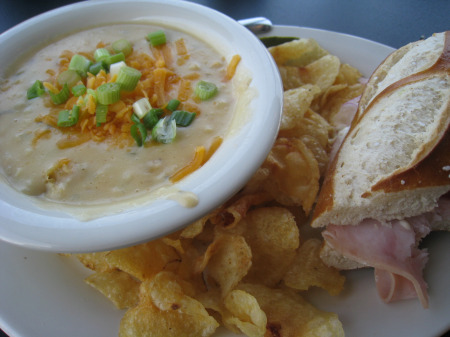 Dinner was a cup of baked potato soup and a 1/2 a Bavarian sandwich, with smoked turkey and Havarti cheese on pretzel bread. It's funny that even when I go out to eat, I choose a sandwich for my entree! I guess I really am a sandwich kind of a gal.
The soup was awesome! It is probably the best potato soup I've eaten at a restaurant yet.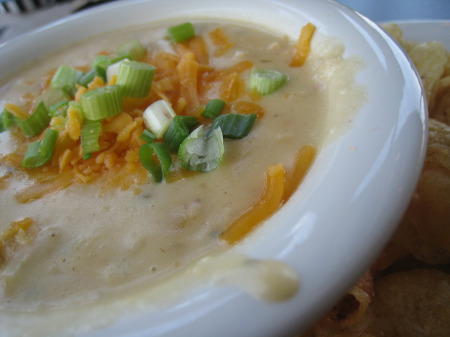 I'm sure it's really low in calories too (yeah, right!). I try to only eat it once in a while. The sandwich was pretty good as well but I decided not to finish it to have more room for soup.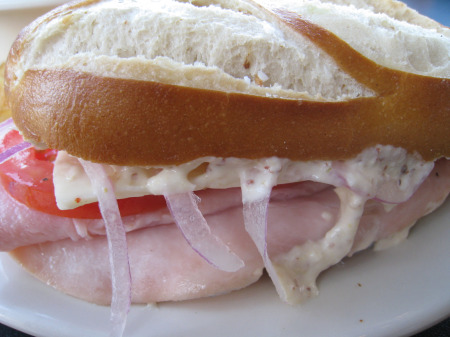 Now I'm fairly content, but still plan on having a couple homemade chocolate chip cookies tonight before bed.
I forgot to mention that before heading home after work, I stopped at our local Gala Tea store to buy my mom her birthday present. I bought her the cutest light blue tea pot from Amsterdam and a matching cup and saucer. I hope she likes it. And, if she doesn't, I will gladly take it off of her hands – wink, wink! It's already wrapped so I'll post pictures of it next week after she opens it.
Now it's off to bed for me. Good night all!