It snowed the ENTIRE day today here in Chicago. Much like the rest of the Midwest and Mid-Atlantic, we are under a winter storm warning until tomorrow morning. I'm still hoping for a snow day 🙂 My office did let us out at 2:30 PM which was great. The roads and traffic were not too bad, thankfully. 
I had originally planned on making turkey burgers for dinner, but had a change of plans at the last minute. Our favorite local Italian cafe was running a "snow day special" – buy one get one free pizzas or pastas. We ended up getting the equivalent of a small pizza and a family size pasta for just $10. Now that's my kind of snow day deal.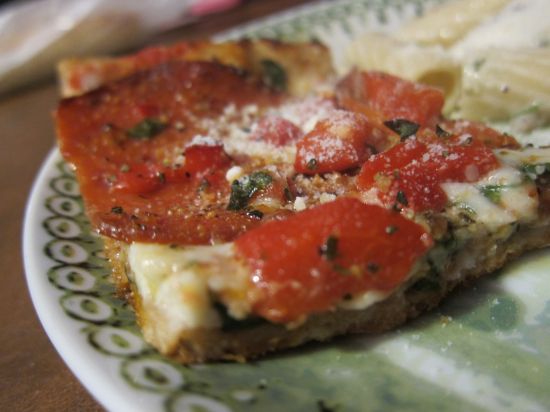 I haven't had their pizza in sooo long due to our restaurant diet. It was a welcome change from our usual weekday meals. Our pizza included huge slices of pepperoni, red bell peppers, and spinach, all on whole grain crust – it was awesome. We also ordered the country-style rigatoni, which was made with Italian sausage and mushrooms, all in a light garlic cream sauce..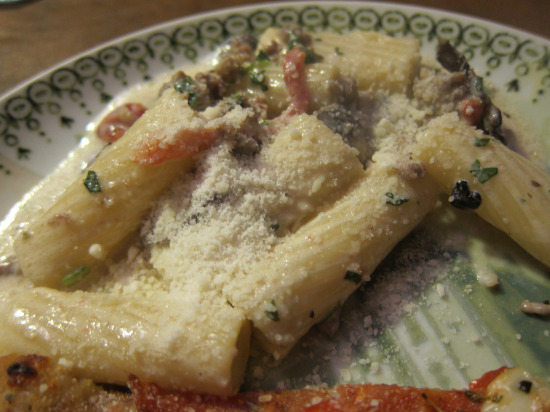 Again – soo good! Although, any meal that I don't have to cook is a good meal.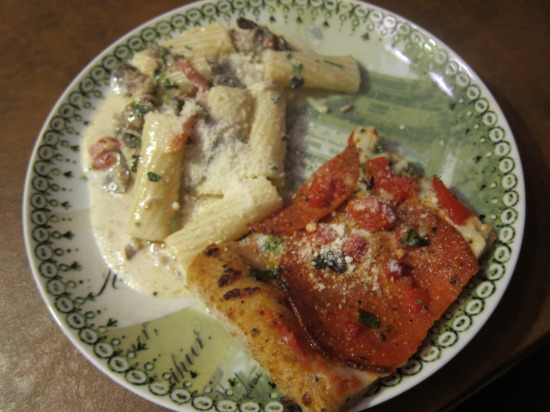 Despite the huge amounts of snow, I was surprised to get a special package delivered to the house tonight. Through all of the snow and darkness, I could just barely make out a huge object and red lights sitting in front of our driveway. At first I thought it was a snow plow, but no – it was UPS! Oh how Brown makes me smile! The very reliable UPS man delivered a huge box of Hint water – all for me!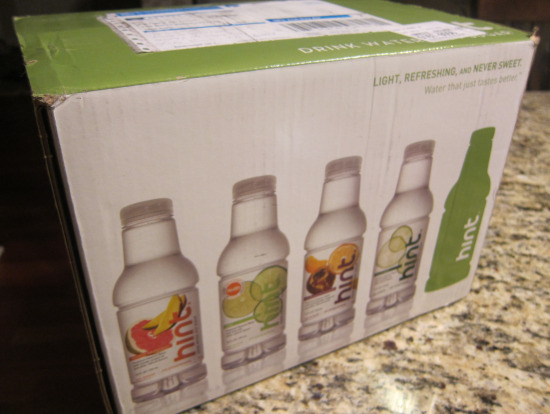 The folks over at Hint were kind enough to send me a few samples of their unsweetened, no calorie, flavored water. As a runner, I absolutely LOVE water. I drink at least 8 – 8oz glasses a day and usually prefer it icy cold. But every now and then, water becomes bland, boring, or just doesn't seem to be enough for my taste. That's where Hint can fill this void. It also is a great alternative to my usual diet coke or sweetened coffee drinks. What I also love about Hint water is that it's made with all-natural ingredients and no sugar.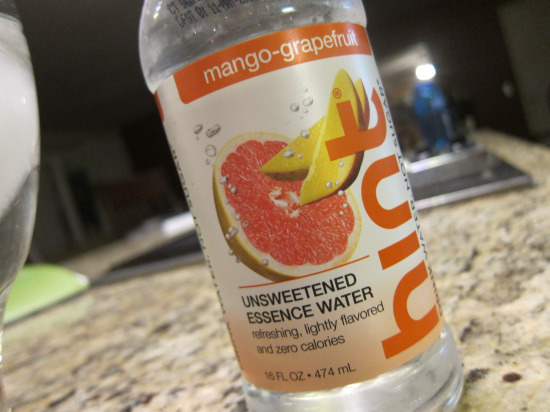 When I received the packaged, I immediately tore it open and viewed my new flavors. I received 6 of their 10 flavors. All of the bottles were delivered icy cold, no doubt due to the weather. I gave the Mango-Grapefruit a try and was not disappointed. The water had a delicious, but rather strong scent. I expected the actual taste of the water to follow suit, but the mango flavor ended up being very light – just a Hint as a they say. I can really see this being a summer drink for me, either drinking it a alone, or adding it to ice tea or lemonade. Can't wait to try my next flavor – Raspberry-lime – doesn't that just sound fantastic? It really makes me wish for summer!
Gotta run for now! See you all tomorrow.