Want to try an awesome Crabtree & Evelyn product for free? Enter my Bistro Chic giveaway! 
Hey All!
OK, did anyone else but Chicago get slammed with snow today? I really should be used to the snow by now after living in the Midwest my whole life, but the first big snow of the season always seems to catch me off guard. 
I didn't know what to expect from the roads this morning, so I ate a quick breakfast of cereal and granola and headed out the door…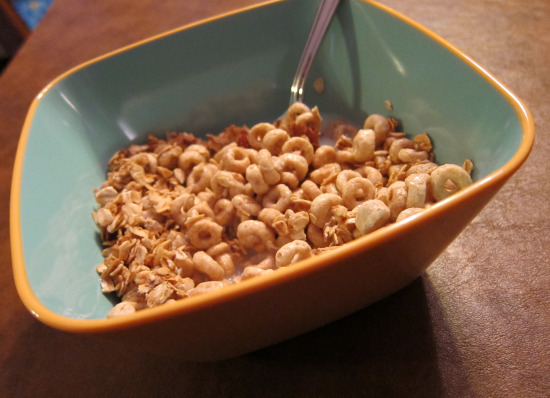 Almost forgot, I enjoyed a lovely pear too…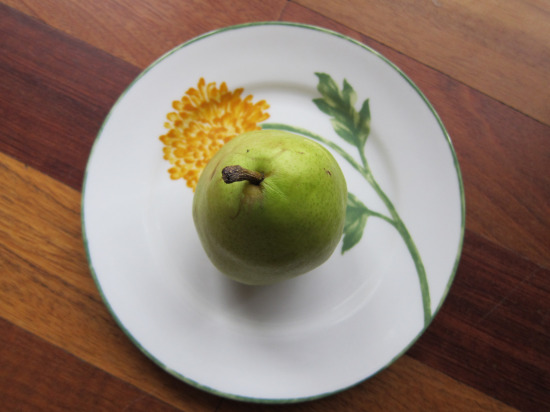 It took me about an hour to get to work – which is not extremely long given that it usually takes me about 40-45 minutes. Of course, when I arrived at work, everyone was talking about the snow. It seems the only things that we can discuss at work are the weather and people's kids. We eat a lot of food – but we don't talk about it – it's the unwritten rule. Strange, I know.
The rest of the day went like clockwork with me trying to get ahead before I take my 10-day vacation at Christmas – woo hoo! Can't wait for that! 
Dinner was a makeshift meal – a concoction of Newman's Own Mushroom Marinara, Italian sausage, and broccoli…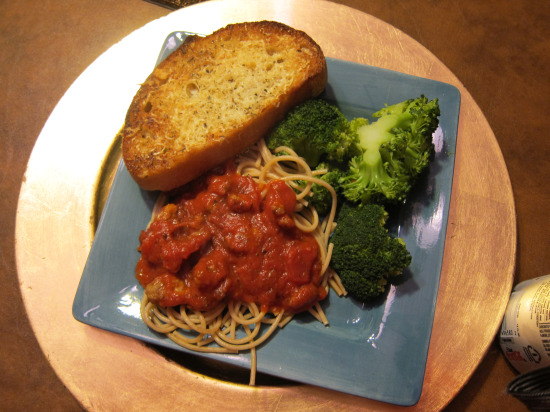 Not too bad for dinner on the fly. Scott's contribution (other than shoveling all of the snow this morning!) was some awesome Texas-toast style garlic cheese bread…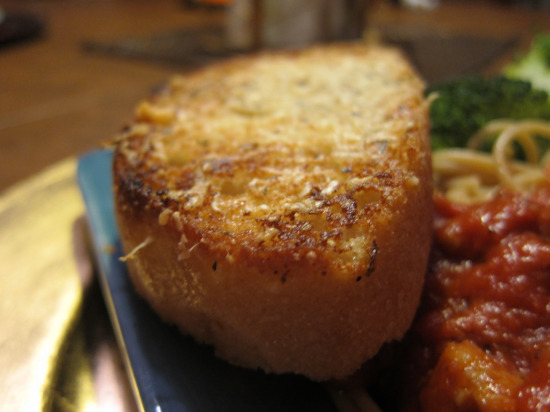 Ahh Yeah! It was so good, I had two pieces!
Tomorrow is my work's holiday party. Each year, a different department plans the event, which is usually held off site at a restaurant. The party typically includes entertainment – a game, a slide show, a crazy gift exchange, etc. The plans are all very hush hush until about a week before the event – don't ask me why, that's just the way we roll.
I've mentioned before how my office loves food. Well, we also love to drink – and not soda if you know what I mean.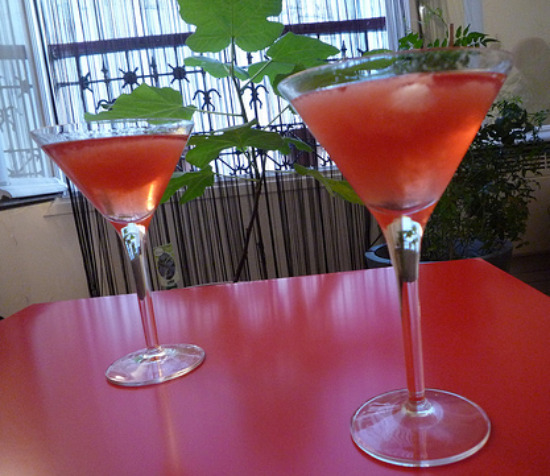 I have yet to attend a work party that did not include alcohol and lots of it. Hmm…are they trying to tell us something?? The problem is, the holiday parties usually start at 11:30 AM and go until 2:30 AM. I haven't started drinking that early since College – or at least when I'm on vacation in Hawaii. I usually only have a drink or two – after all, I DO have to drive home after.
The holiday party is also the time when everyone gets his/her holiday bonus. Unlike the for-profit world, this does NOT mean thousands of dollars. But, it is a nice surprise to open your holiday envelope and find crisp cash inside 😉 There are talks of cutbacks in bonuses due to the recession, etc. I just hope they don't pull a Clark Griswold and give me a jelly-of-the-month club membership instead 🙁
OK, gotta hit the sack to get some Beauty Rest!
Have a great night everyone!