Hola Todos and Happy Halloween! California is still sunny and beautiful, and I still have 4 days left here!
I started my Halloween with a super fast 4-mile run on the treadmill. I woke up around 6:30, jumped out of bed and was in the hotel fitness center by 7 AM. About 5 minutes into the run, as I was staring out the window at the ocean, I thought, why the hell am I running inside? Duh – I don't know what I was thinking.
Due to a few work issues that came up, I had a late breakfast, which ended up being a very small bowl of blueberry yogurt with chopped walnuts…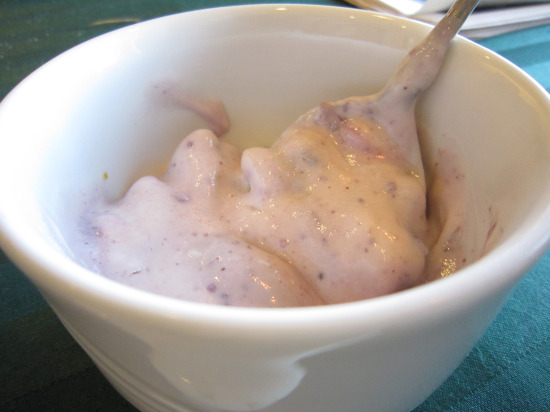 I spent the morning working on a few projects that I should have finished last week, but just didn't have time. Through all of the work and chaos today, I did actually find time to eat lunch. However, because I was so hungry, I completely forgot to take a picture of what I ate. It would have also helped if I would have brought my camera to the restaurant. Anyway, I had a huge turkey and brie sandwich – the sandwich was serious 6 inches high!! I only ended up eating 1/2 the sandwich, but I polished off the fries in record time.
Later in the afternoon, as things were winding down for today's activities, a colleague and I walked to a nearby pastry shop that specializes in cupcakes. Heavenly Cupcake is located in the Gaslamp District of San Diego. They sell AMAZING cupcakes. They have different flavors of cupcakes each day, such as pumpkin, carrot, vanilla caramel, and lemon coconut. I had one of the best cupcakes I've every eaten…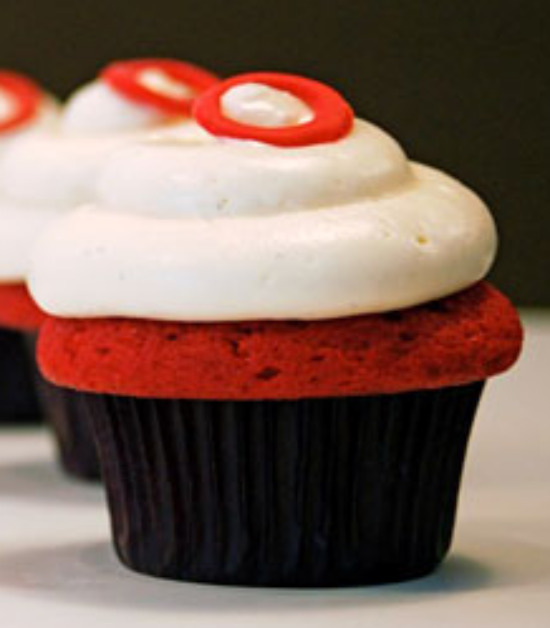 A red velvet beauty with cream cheese frosting. Oh my, absolutely sweet and sinful! Obviously, this is not the actual cupcake I ate (photo from Heavenly Cupcake web site) but you get the idea of how gourmet these babies are. We were so excited at our new found dessert heaven that we purchased a dozen cupcakes to put in our staff lounge at our meeting. I highly recommend this boutique dessert store (although the staff were NOT very friendly) although you may need to save your pennies to eat here.
Tonight, I attended a special VIP dinner. I did not pick the menu personally, so therefore there were very few things that I ate at the dinner. However, I did start off with a very nice salad…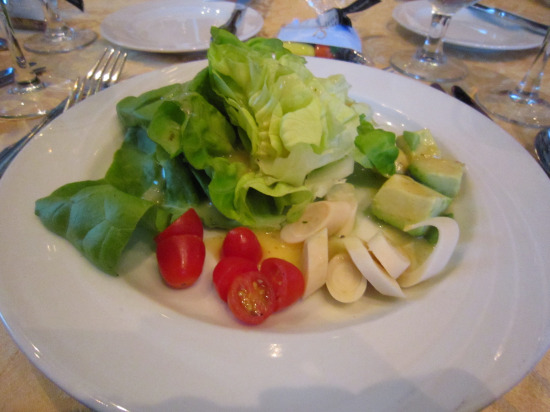 It included what looked like bibb lettuce, grape tomatoes, and hearts of palm – all topped with lime dressing. Very good, although I wish my salad had been bigger. When the entree came out, I was give the beef with a side of sweet potatoes and asparagus. Hmm, who needs beef when you can eat pureed sweet potatoes?
Having a lighter-than-normal dinner made it easier to say yes to the super awesome dessert that was served at the dinner…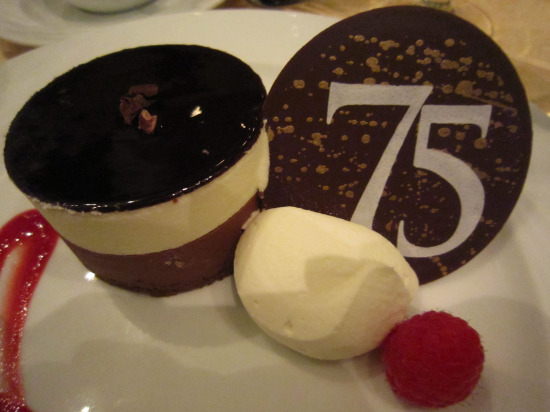 This dessert was cross between chocolate mousse and a white chocolate torte. So yummy indeed, but I only ate about 1/3 of it because of the cupcake I had earlier today.
Once again, I am falling asleep as I'm typing away. I must go recharge my battery with a good night's sleep.
Happy Daylight Savings Time!