Hello All! So, is everyone still recovering from last night? 😉 I took it easy because I've been kind of sick the last couple of days. Surprisingly, I was still able to run yesterday morning – which seemed to help a little. Since Scott's parents were coming over for New Year's Eve (and spending the night), I split my day between errands and cooking.
After running out for groceries (I love Trader Joe's!), I started to bake, and cook, and bake again! I think I mentioned last week that I managed to go through the whole Christmas season without making a single Christmas cookie. Well, yesterday, I sure made up for lost baking! Aside from making my usual chocolate chip oatmeal cookies (a la Nieman Marcus), I also made one of my favorite Fine Cooking recipes…Banana Chocolate swirl coffee cake…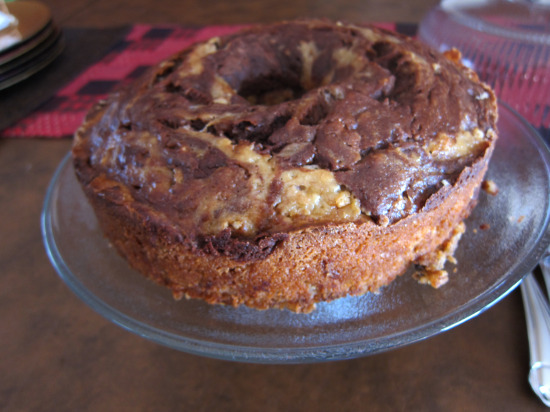 I said it before and I'll say it again, I don't know how they can get away with calling this a coffee cake – it's really more of a dessert!
If you can believe it, this was only 1/2 the chocolate I had planned for our New Year's celebration. Scott has been repeatedly asking me to make chocolate mousse. I find mousse time-consuming and, unless you really know what you're doing, it just doesn't seem to turn out right. But, I obliged and made a simple chocolate mousse...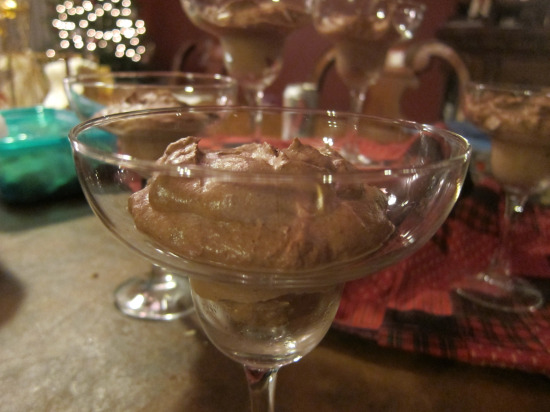 I followed the directions exactly, except for omitting the rum – because we only had spiced rum, not the dark rum that it called for. I thought is was just so-so, but everyone else seemed to like it – of course, after a few drinks, everything tastes better!
Just before my in-laws arrived, I also made a batch of Ina Garten's cheese puffs…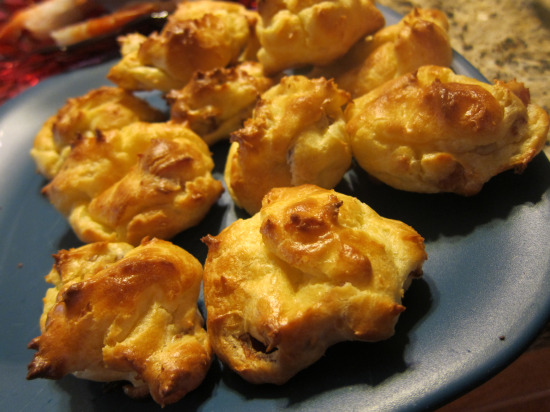 Hmm, these are soo good and really easy to make. I added crunchy, uncured bacon to give the puffs a little crunch and even more flavor – fantastic!
Although I don't eat seafood, everyone seemed to love the shrimp cocktail, courtesy of Scott's parents…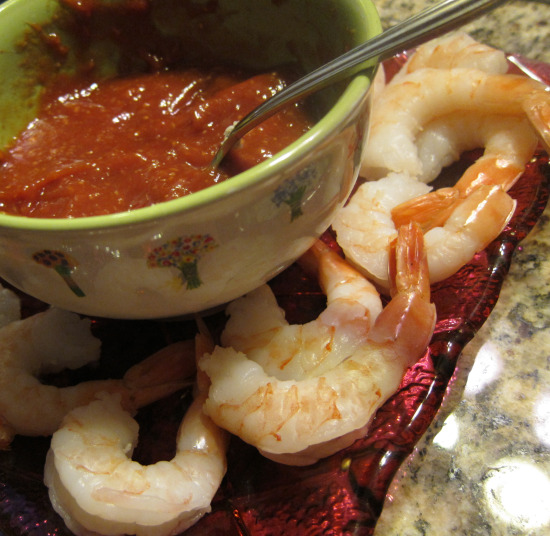 Sorry – I have a very difficult time even thinking about eating these little crustaceans. 
For our main course, I suggested we have a make-your-own salad bar to offset the not-so-healthy eating that we'd be doing for most of the night.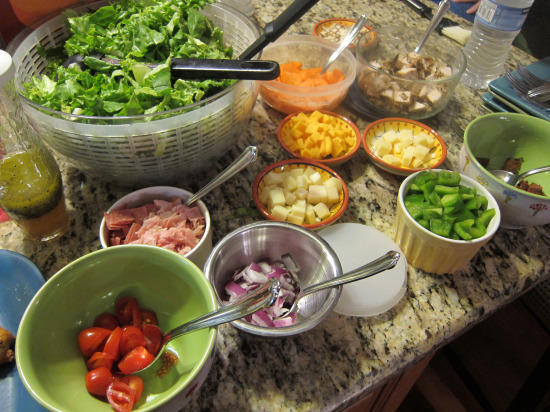 I ended up not eating a salad after all because I think my stomach troubles have been linked to salad – either the dressing or the lettuce – and I didn't want to chance it. 
I did attempt (and I'm using that term loosely) to drink some wine, but my stomach as still cramping up – ugh! I guess it was meant to be because the white wine ended up being bad after sitting in the fridge for too long…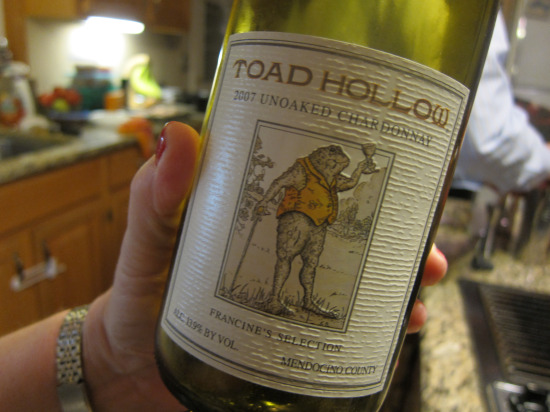 Although, how cute is that little toad! Reminds me of the Wind in the Willows 🙂
The whole evening was spent chatting, eating, and listening to music (I think a little dancing happened somewhere in between). Just after midnight, we all wanted to call it quits for the night – that's what happens after college, you just can't keep up with your old self anymore!
By the way, did anyone catch Dick Clark on TV last night? It seriously hurt just to watch him, I had to look away whenever he came on the screen. He did a relatively good job though, considering everything that he's been through health-wise. 
Ok, be back later with the scoop on today – which involved more running, eating, and taking down Christmas decorations – sniff, sniff 🙁