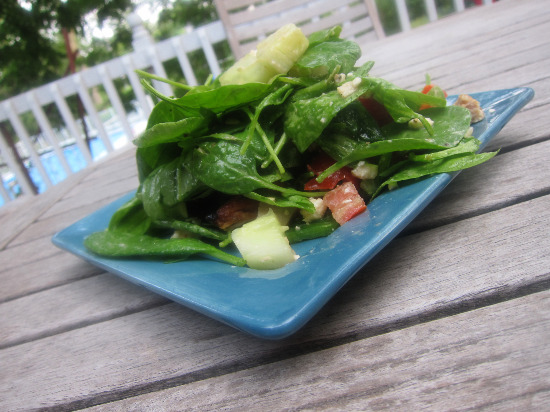 Morning! I finally got some sleep last night – a whole 7 hours! Of course, after reading a few pages of Eat, Pray, Love the other night, I just had to read a few more pages last night – it's getting so good! Despite getting a full night's sleep, I woke up with a headache, as if I had been grinding my teeth all night. I'm sure some of you know what I mean. I also felt like I had a fever. Even Ms. M and Mr. C who were pretending to take care of me, said I felt hot. So, no running for me today, not even a walk. Hopefully, I'll feel better for yoga tomorrow! It's been two weeks since my last session – oddly, that sounds like I'm going to confession.
You may remember last month I was on a spinach kick, eating spinach at least twice a day. It seems that spinach kick is back! Really, there could be worse things than going on a spinach kick. I remember hating – loathing – spinach as a kid. I probably hated because it was always served in a creamed form with onions or something.
So last night, I made a HUGE spinach salad – soo good! It was made with baby spinach from the store, but then I added tomatoes, cucumbers, and green peppers – ALL from my garden! Woo hoo! I love that my garden is starting to actually produce – except for the spinach which has been eaten by rabbits.
Then this morning, I made a two-egg omelette with white cheddar, salsa, and spinach…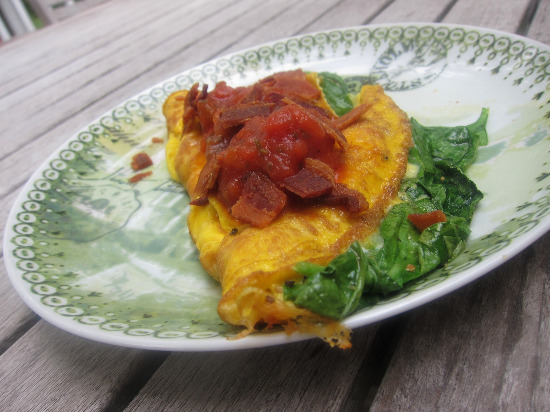 Tomorrow, we have two events to attend: a 75th anniversary party for our subdivision and a Renaissance Festival at our local library. Both things are so townie, but I've been living here for 9 years – I guess that makes me a townie.
Do you consider yourself a townie? What things do you do that are townie-ish?
Gotta run – Barnes and Noble Cafe is beaconing….