Happy Christmas Eve²!
I can't believe Christmas is nearly here – time sure flies when you're busy. Although Wednesday is usually my day off for running, I decided to do a fast 30 minutes on the treadmill (Yes, my name is Jennifer and I'm a running addict) knowing that I may not run on Friday. About an hour after running, I headed to the gym for a much-needed 60-minute yoga session.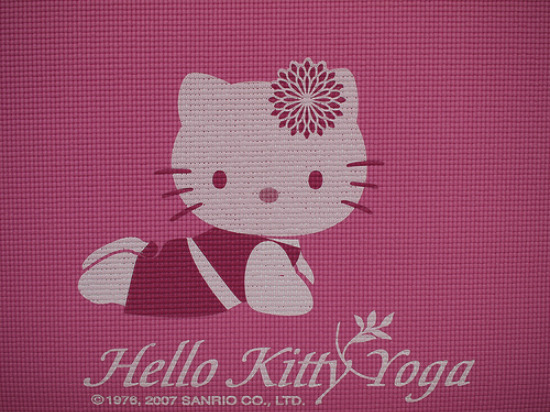 Don't let this picture fool you. There was nothing cute and cuddly about this yoga class. I have to admit, this class kicked my A-S today! Of course, I haven't been to yoga since October, so the a-kickin' was to be expected. Every pose seemed harder than the next. I had to really concentrate the whole time, when I can usually relax and just go with the flow. The only person that seemed to be having as much trouble was the 60-year old guy next to me – not a good sign on my part. I really think I overdid it between running and then yoga (and barely eating breakfast). I actually felt sick during shavasana but tried to lay there calmly to let the nausea pass. 
Anyway, I did get to show off my new yoga shirt from Lucy…
Each year about this time, Lucy comes out with its limited edition Breathe t-shirts. I don't know why I haven't seen these shirts until this year, but as soon as I saw them I just had to buy one…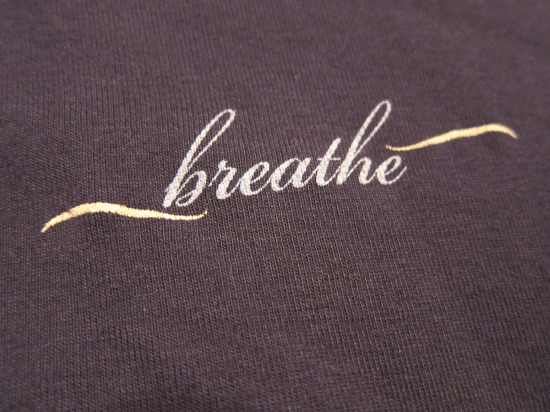 Merry Christmas to me! How perfect is this for yoga, running, or really any sport! In addition to having "breathe" written on the front, the shirt sleeves also were creatively detailed. Too bad the shirts only come in white and black, otherwise I think I would have bought more (maybe that's a blessing to my bank account!).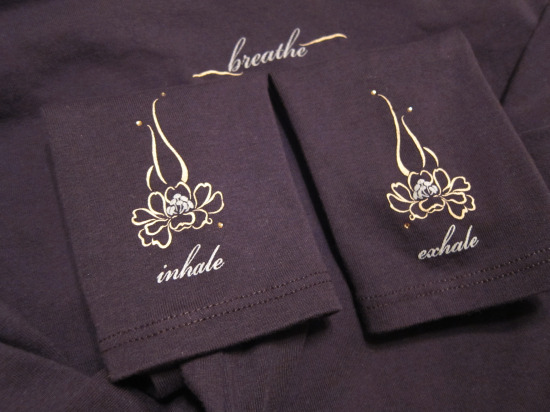 After yoga, I spent the rest of the day wrapping gifts – save for an hour or two getting my hair cut (finally, time to relax!). I think I counted 35 gifts that I wrapped just today! I wrapped about 10 over the weekend, and that doesn't even count the gifts that I already gave to my family members in Michigan over Thanksgiving. I really think we went way overboard on Christmas this year. Did anyone else overdo it on presents this year?
Gotta run to prepare for all of the festive fun for tomorrow. Have a wonderful night!