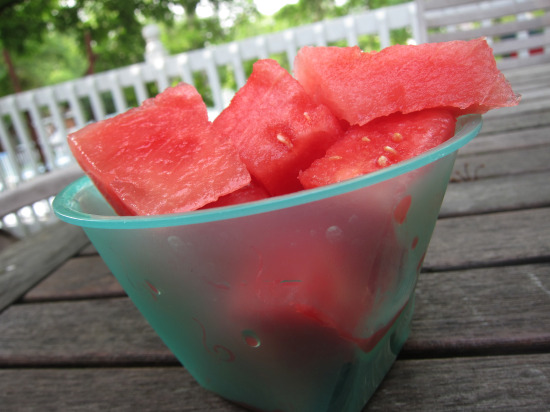 Yes, I totally meant that to be a random Poi Dog Pondering reference. I used to be really good at obscure 80's movies references – a la Breakfast Club, etc, but my husband has absolutely no clue when it comes to 80's movies so my retro humor is lost on him.
But seriously, I have been eating watermelon ALL DAY! I know that too much of anything is usually not a good thing, but can you really have too much watermelon? It must be the hot, hot, hot weather that's making me crave cool things. Aside from watermelon, I had an awesome spinach, feta, and chicken salad today, plus loads of ice water.
Most of my "day off" was spent outside. I did everything from cutting down evergreen branches, to weeding my huge garden, to going to the park with Mr. C and Ms. M. Oh, and by the way, this was all after a 5-mile run this morning. Between the run and  working outside in the hot weather, I must have burned like a thousand calories!
Ok, signing off for the night. I've got yoga at 8AM followed by a much-needed lunch with my friend Anne B. Can't wait!