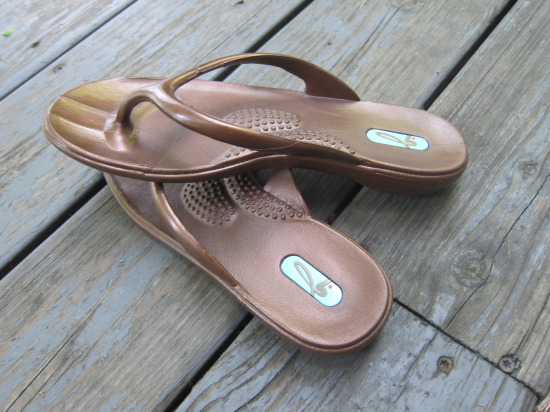 I woke up with a killer headache this morning. It was so bad that I did not go for a run. Between work stress (taking on much more responsibility) and my house falling apart, I knew it was bound to catch up with me. My house is not literally falling apart, it's just that with a near 40-year old house, there's a ton of work to be done  – and the work just never ends!
Despite all of my complaining, I've actually had a great couple of weeks in regard to receiving surprises in the mail. I'd love to cover all of these goodies in one post, but I don't think that's going to happen. Last week, I received a pair of OKA b sandals (the Shoes That Love You) in the mail to try out. They were the thong sandals, the kind that go between your toe – not my first choice, but I gave them a try. OKA b sandals are made with Microplast™ material and are waterproof, antibacterial, and have a seamless design. They also have the company's signature reflexology massage beads and ergonomic footbeds built right in.
So what did I think? Marvelous! As a runner, I'm always looking for a way to pamper my feet a little bit more and I think I've found the trick. Seriously, I put on these sandals after a LONG day at work and I felt like my feet were being massaged as I walked.  I've worn them every day since (not all day long, but at least part of the day) because I like the beads so much, he he!
The only thing I did not like about these shoes is that they were thong sandals. Some people love thong sandals but I'm not a huge fan. I've yet to find a pair that look good on my feet and feel good between my toes. I took several photos of myself actually wearing the sandals but opted not to post them – believe me, you don't want to see my feet in thongs!!! I'd love to try the OKA b slides – I think they'd much more suit my style.
And speaking of style, they have so many styles and colors online – one for every outfit I'm sure – day or night! And, what would a cute sandal be without a cute name? They all have such trendy and chic names like Claire, Lucy, Madison, and Malia. I don't suppose they have one named Jennifer??? I would definitely buy that one!
Overall, I can see these becoming very popular in day spas, high end resort spas, and yoga studios. I can also see these being the new croc shoe, but they are waaaay more stylish than crocs. If you are a runner or know a runner who needs a little pampering, give these shoes a try, I doubt you'll be disappointed.