We all have our stressful times of the year. You may have stress associated with an annual project at work, final exams, planning a wedding, or the holiday season. While most of these stressors are short-lived, some people are prone to stress more consistently throughout the year.
I know that when I'm stressed I tend to do one of two things:
Eat bad food
Spend money
Both of these reactions to stress can leave me feeling even more stressed in the end – eating bad food makes us feel bad eventually and spending lots of money, although a temporary mood booster, may leave us with buyer's remorse. If you're like me and find yourself eating and shopping in times of stress, it may be time to take action.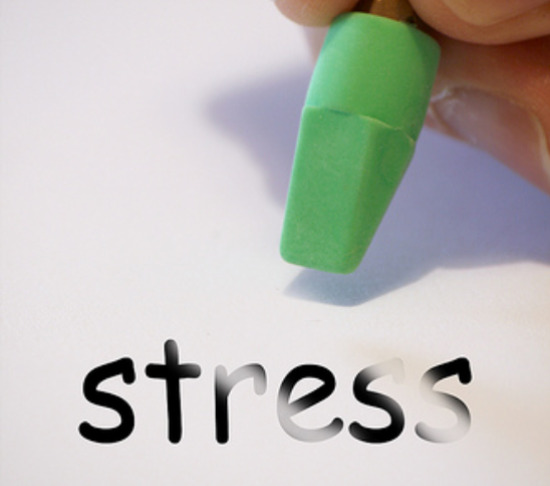 I came across a recent article in Woman's Day magazine about foods that help you fight stress. I don't normally read Woman's Day, online or in print, but the title intrigued me. What should I be eating to reduce stress? I wondered. Before I get to this, let's look at the culprit itself – STRESS!
According to the Mayo Clinic Web site, stress is the  normal psychological and physical reaction to the demands of daily life. When we're stressed, our bodies release two hormones:
Adrenaline – a hormone that increases our heart rate and blood pressure, and boosts our energy.
Cortisol – the primary stress hormone. It increases sugars in the blood stream, alters immune system responses, and suppresses the digestive system, the reproductive system, and growth processes. Research suggests that cortisol directly influences food consumption, stimulating a person to eat food that is high in fat and/or sugar.
So, if we are naturally conditioned to eat when we are stressed, why not eat something healthy? Makes sense, right?
Thank goodness Woman's Day has identified 8 mood-boosting foods that are not only healthy but can help us lower our overall anxiety. Let's take a look at the top stress-fighting foods:
8 Foods to Help Fight Stress
(adapted from Woman's Day)
Dark Chocolate

– Dark chocolate is high in the flavonoids, which are known for their relaxing properties. And, the darker chocolate, the better – aim for 70% cacao or higher.
Skim Milk – Studies have shown that women who drink four or more glass of milk a day are less likely to experience stress than those who don't.

Oatmeal

– This should be an easy one for all you food bloggers out there! As mentioned above, when we're stressed, we crave carbs. You can indulge these carb cravings with healthy carbs like oatmeal, which is high in fiber and keeps you feeling full longer.

Salmon

– Foods rich in omega-3 fatty acids, like salmon, help reverse stress by boosting serotonin levels. An omega-3 rich diet may also help suppress cortisol and adrenaline production.

Walnuts

– As we all know, stress can have a significant impact on our blood pressure. Walnuts help keep our blood press in check.

Sunflower Seeds

– These folate-rich seeds help the body produce dopamine, a pleasure-inducing chemical in the brain.

Spinach

– This leafy green is high in magnesium which helps to improve the body's response to stress.
Blueberries – These little berries pack a huge punch with all of their antioxidants, which counteract the effects of stress hormones.
Although there's no proof that combining all of these foods in one sitting will make you a stress-fighting superhero, combining these foods may make it a littler easier to get your stress-free food fix throughout the day. But, if you are really feeling stressed – you could always try this super-charged, stress-reducing breakfast:
Stress-Free Breakfast: Steel-cut oats made with skim milk, topped with blueberries, walnuts, sunflower seeds, and dark chocolate chips – oh yeah, and don't forget the spinach wrapped salmon on the side!